Jun 15, 2018
The Better Mom - A Book Review
As moms, I think we'd all agree our desire is to always be a better mom!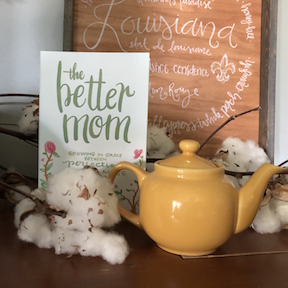 In Ruth Schwenk's new book -The Better Mom: Growing in Grace Between Perfection and the Mess, she doesn't give us an easy list of how to's or even a definitive answer of how to, but she does offer her friendship and insights as she walks the same path and ultimately points us to the source of all grace - Jesus.
In our busy lifestyle culture that screams at us to do more or do better, Ruth offers us a window into her own soul and how to be better. Ruth shares many of her own shortcomings as well as her mom victories to help us see how God is at work and is with us supporting us.
The titles to her chapters encompass many silent thoughts & questions that have bombarded most moms from one time or another along this journey. We probably have all thought - "Everything depends on me," or "I want to make a difference," or even "I miss my friends!" The table of contents is filled with such notions and can easily lead us to encouragement, laughter, and even tears to help us move closer to our Father Who has called us to this privilege of being a mom.
Ruth also highlights a brief thoughtful phrase for each chapter making it easy to pick up for a quick word of encouragement. For the chapter "I Don't Have Enough Time Left", she writes "God calls us to be obedient today and to trust Him for tomorrow." Another that I really liked was - "We love not for our own sakes but for the benefit of our children."This is from a chapter called - "No One Appreciates All That I Do!" Hmmm…I think we've all thought that a time or two!
We also find hope and guidance from Scripture sprinkled throughout this book. A highlighter will come in handy!
Ruth emphasizes motherhood is not a competition of being the better mom; it's a journey together encouraging one another to seek what's important, to treasure what really matters, and to choose His best for our family, not just better.
Although our own four children are grown and out of the nest, this book has still encouraged me in knowing that even though I sure didn't do everything right, the one thing we did strive to do (although not perfectly) was most important - seeking God first and following Him so our kids could follow us.
----------
This book may be purchased through our affiliate marketing links, which means we may get paid commission; our editorial content is not influenced by advertisers or affiliate partnerships.
The Better Mom: Growing in Grace Between Perfection and the Mess
By Ruth Schwenk / Zondervan