Search our site:

Christian Easter Activities & Lessons

Make your Easter celebration a "Christian Easter!"   Just like Christmas, Easter has become commercialized. We must keep Jesus at the center and teach our children the true meaning of Easter and the wonderful hope it holds.
There are many creative ideas to help us as Christian families, ministry leaders, or Sunday School teachers to incorporate fun while also instilling the Biblical message of Easter.
One way is to turn commercialization around and use the symbols of Easter that are displayed to share Jesus with our kids and others around us!
Christian Easter Bible Object Lessons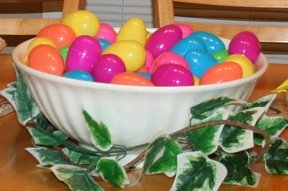 Use a variety of Easter eggs to share a wonderful Easter object lesson or a fun Easter devotion for children. 
The colors of Easter eggs can teach six important truths about Jesus!
Purple

– Jesus is the King of Kings; He is fully God & rules over all.

Orange

– Jesus was fully man; He understands.

Pink

– Jesus is Savior; His blood brings forgiveness for our sin when we believe & trust in Him

Green

– Jesus gives new life, eternal life.

Blue

– Jesus is always with me through His Holy Spirit.

Yellow

– Jesus is preparing a home for believers in Heaven.
Easter egg hunts, Easter candy, and other objects we see around Easter time can be used to share the Gospel story through unique and fun Easter object lessons!
Easter Bible Lessons



Countdown to Easter with ten short, interactive Bible study lessons focused on the Gospel of John's account of Jesus' last week. 


These are great for personal devotion, family worship or any age class as you walk through Bible passages and discuss topics such as worship, serving, abiding and more while also applying these to everyday life.

A quick Bible lesson for Easter morning from the John 20 -
Becoming a Secret Servant - John 13
Or if you need Easter Bible lesson ideas for youth, try this complete 14-page ebook detailing a themed night with ice breakers, Easter activities as well as a reflection time on the true meaning of Easter. It's written by Grahame Knox and he calls it Easter Eggstravaganza! And did I mention? It's free!
Christian Easter Games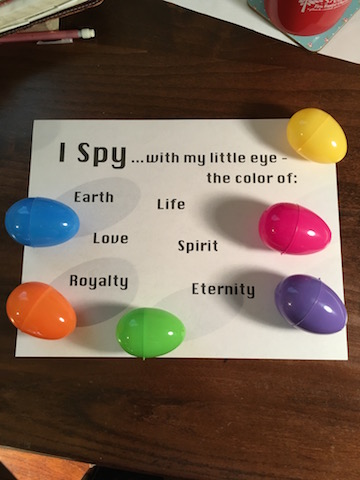 Our family loves to have fun!  These Christian Easter games can be used for the same for your family, Sunday School class, or other Easter get-togethers. 
Each has a Scripture basis to use and brief instructions as well as Bible lessons for children.
Christian Easter Family Times:

One way we did this as our four children were growing up was to make Resurrection Cookies.  This recipe is fun to make and also teaches the wonderful hope found in a Christian Easter.
An even easier Easter activity is to bake Resurrection rolls using Crescent rolls, marshmallows, butter, sugar & cinnamon!
We always read the Easter Story from Scriptures and then creatively tie it into our Easter Egg Hunts and Easter games for fun ways to celebrate Jesus' resurrection!

The Gospel EGG

Before Familylife's Resurrection eggs, we used a single "Gospel Egg" as our golden surprise egg and had our kids share the Easter story and gospel message when they found it!

Christian Easter Story Eggs

Something else we did with our children was to make our own Easter Story Eggs to tell the wonderful story of Easter.
This year we will be making and hiding a numbered set of Resurrection Eggs for our church's Easter egg hunt.  With such a large group of children, I needed an interactive Resurrection Egg Easter story that would be Biblical, share the Gospel, keep the kid's attention, and incorporate the resurrection eggs!
Preschool Easter Story eggs are a simplified version using only six eggs and spelling out E.A.S.T.E.R; this would be a great for a homeschooling alphabet lesson too!
*Affiliate Link - You can purchase the original Resurrection Eggs by Familylife here:

Resurrection Eggs, Updated Edition
By FamilyLife

These colorful, redesigned Resurrection Eggs help kids celebrate the days leading up to Easter! A dozen plastic orbs in their egg carton holder are filled with reminders of Jesus' final moments before his crucifixion---except the last one, symbolizing the empty tomb. The accompanying bilingual Spanish/English storybook explains the significance of each surprise. Fun stickers are also included. Ages 5 and up.

Christian Easter Egg Hunt Ideas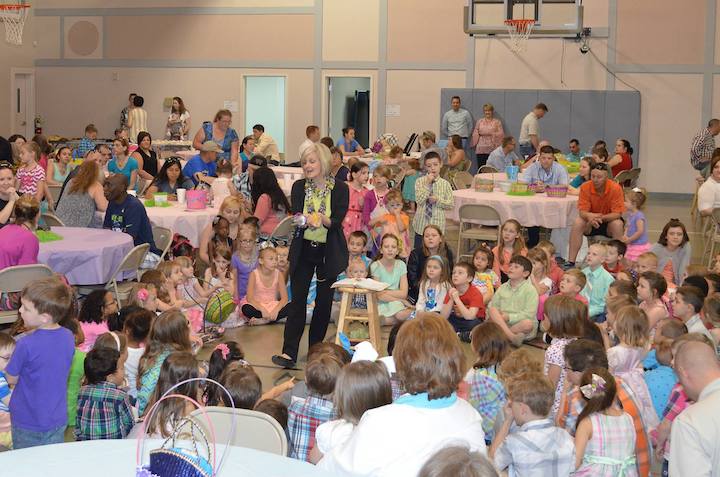 Countdown to Easter - Egg Hunt

A great idea is to use Christian Easter eggs as a meaningful countdown to Easter! Number your eggs 1-12 and then find one each day leading up to Easter with the final egg being the empty one and have an Easter Sunday celebration - "He is risen!" This helps kids (and us!) begin early building our anticipation as we look for our Blessed Hope, and points us to continue to watch for His second coming!
Easter Egg hunt - Sharing the Gospel with Kids & Parents

This Easter Egg Object Lesson is called "Empty to Faith-filled" - (Found, Forgiven, Filled, Family & Forever).  We used it for our church Easter Egg Hunt to share the Gospel message with the children & parents right before the hunt.
You'll need a basket of empty plastic eggs of different colors and sizes, a bag of candy, a piece of paper to make a capital E, and a marker or pen handy.  There is also a printable script available.


Christian Easter Books for Children

My all time favorite Children's book to read during the Easter season is The Tale of Three Trees!   

Not only does it teach a wonderful Bible lesson of God's special plans for us, but it walks through the life of Jesus in a very unique way; the ending will leave you with a joyful sigh!
An Easter book that takes a similar approach of telling the Christian Easter story as the Resurrection Eggs is:

Benjamin's Box: The Story of the Resurrection Eggs
By Melody Carlson, illustrated by Jack Stockman / Zonderkidz

This tale of a child following Jesus during Biblical times to find out who he is will teach your children lessons from the Bible.

What are the treasures in Benjamin's Box? Come along with Benjamin and see. Like all boys and girls, Benjamin is very, very curious. Unlike children of today, however, Benjamin lives during the days of Christ! When Jesus comes to Jerusalem, Benjamin decides to follow Him and find out who He really is. At first, he thinks Jesus is a teacher, then a king. At last, Benjamin learns the good news--news that every child (and grown-up!) will want to share. Recommended for ages 4 to 7.
Here are some other of our favorite Children's Easter Books!

These Christian children's books can help us teach kids Bible lessons about the true celebration of Easter - the death, burial & resurrection of Jesus Christ! In our materialistic world with Easter eggs, Easter candy, Easter decorations, etc., the Cross of Christ can sadly become obscured from view.

Easter Evangelism

Easter is the ideal time to share the love of Christ with others! I love this family fun Christian Easter idea that I've seen going around called "You've Been Egged!" Secretly hide a dozen plastic eggs in someone's yard. Before you do, fill eleven with treats and leave one empty. You could even make and use the Resurrection Eggs mentioned above and share the Gospel through them!
Make a sign that says –
"YOU"VE BEEN EGGED!
There are twelve eggs hidden in your yard!
Enjoy the hunt, but don't be discouraged
when you find one empty…
that's a reminder of Jesus' empty tomb…
HE IS RISEN!
Or use this free printable from HappyHomeFairy!

Evangelism with Candy!

Kids (as well as adults) enjoy Easter candy!  Use M&Ms and Jelly Beans to share the sweet Good News of Easter! 

Use a bag of M&Ms and this M&M Easter Poem by Bethany Tapp through Ministry-to-Children to share the Easter Story!

The Jelly Bean Prayer

Place at least one jelly bean of each color in a small bag; tie with a ribbon and add this Jelly Bean Prayer printable to spread the Good News of Jesus Christ!

Find other super cute Jelly Bean Prayer templates & crafts at Church House Collection too! They offer free printable coloring sheets, bracelets, bookmarks and more for the Jelly Bean Prayer!
Other ways to share your faith...



Other Christian Easter Ideas & Resources:



Follow our Pinterest Page for more ideas!
Special note: We do preview the websites to which we link, but are unable to peruse them completely. We try to check others' faith statements and make sure they do profess Jesus Christ as God's Son and salvation is found only in Him. It must, however, be your responsibility to personally dig into God's Word and allow the Holy Spirit to be your first and final teacher on all subjects.

"Our website may contain affiliate marketing links, which means we may get paid commission on sales of those products or services we write about. Our editorial content is not influenced by advertisers or affiliate partnerships. This disclosure is provided in accordance with the Federal Trade Commission's 16 CFR § 255.5: Guides Concerning the Use of Endorsements and Testimonials in Advertising."
---
Creative Bible-Bits Newsletter:

Let us help you keep up with what's new at Creative Bible Study with free Bible study lessons and ideas straight to your email!  Your information will be kept confidential and not be used for solicitation.

Free Ebooks: