Search our site:

A Creative Prayer Life

Creative Prayer - for many of us, it's time to allow God to breathe new breath into our prayer life!  Face it, we are creatures of habit and easily fall into the rut of rote.  What I mean by that is we may know how to pray and even the church lingo that goes with it, but have our hearts grown cold?
Through prayer we commune and know God, but we also open ourselves to be known by Him.  We open our lives in obedience and worship.
Photo credit - Pexels.com
Recently while leading a Bible study dealing with prayer, I caught myself saying that prayer is communication with God.  Communication involves talking "with" someone not "at" them or even just "to" them; it's a balance of talking and listening that brings a connection.  And that is true, but prayer is so much more...it is communion with God.  Prayer connects us to God in such a way that we become encompassed by His presence and power!
Prayer is more than communication with God...it brings communion with God.
We speak of "prayer life" because prayer is to be a constant part of our daily lives. Think about the times that most us do pray - at church, during our quiet times, before meals, before bed, in times of crisis.
1 Thessalonians 5:17 tells us to "pray continually" (NIV), "without ceasing" (KJV and NAS), "at all times" (Message).
Throughout this website we've compared Bible study to eating - which brings about nourishment and growth to our spirit. Let's think of prayer as "breathing."
Just as breathing is essential to our physical lives so our prayer life is essential to our spiritual lives.
Breathing consists of both inhaling and exhaling. Likewise, prayer is to be not only a process of talking to God, but also listening or receiving from God.
Prayer Releases All Your Eternal Resources

-Priscilla Shirer #ArmorOfGodStudy
Scriptures on Prayer

The Bible contains many Scriptures on prayer, the how-to of prayer, examples of prayers, and Scripture truths to pray!
Following are six Scriptures on prayer; notice how many times you see a form of the word rejoice/joy and thanks/thanksgiving:
James 5:16  "Therefore, confess your sins to one another, and pray for one another so that you may be healed. The effective prayer of a righteous man can accomplish much. "
1 Thessalonians 5:16-18  "Rejoice always; pray without ceasing; in everything give thanks; for this is God's will for you in Christ Jesus."
Philippians 4:4-7  "Rejoice in the Lord always; again I will say, rejoice!  Let your gentle spirit be known to all men.  The Lord is near.  Be anxious for nothing, but in everything by prayer and supplication with thanksgiving let your requests be made known to God.  And the peace of God, which surpasses all comprehension will guard your hearts and your minds in Christ Jesus.
1 Timothy 2:1  "First of all, then, I urge that entreaties and prayers, petitions and thanksgivings, be made on behalf of all men,"
Romans 12:12  "rejoicing in hope, preserving in tribulation, devoted to prayer, contributing to the needs of the saints, practicing hospitality."
Colossians 4:2  "Devote yourselves to prayer, keeping alert in it with an attitude of thanksgiving;"

Needless to say, our creative prayer life should not be a duty or "hum-drum!"

 
"True prayer is a way of life, not just for use in cases of emergency. Make it a habit, and when the need arises you will be in practice."
- Billy Graham


Creative Prayer Life Ideas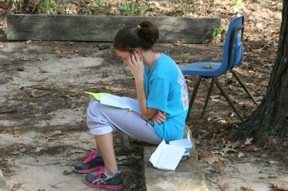 Pray through your daily routines:

When you first wake up - Praise our Creator
When you shower or bathe - Ask for cleansing of your soul; confess, repent & receive forgiveness
When you eat - Give thanks not only for the food, but for your family, home, life, etc.
When you go to work or school - Pray for those with whom you come into contact
It is said that Ruth Graham, wife of Billy Graham, had a plaque over her kitchen sink saying - "Divine service will be conducted here three times daily."  Anytime, anywhere is an opportunity for prayer!
10 More Creative Prayer Strategies...

---
Creative Prayer Journaling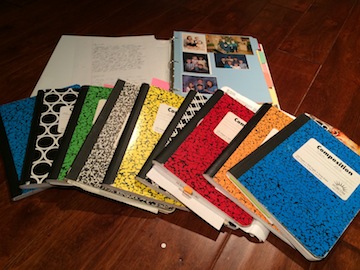 Keeping a prayer journal has several benefits:
Keeps me focused
Keeps a record of my prayers to go back & see how God answered
Leaves a legacy for your family
Gives me a place to jot down things the Holy Spirit teaches me

Do NOT let keeping a prayer journal cause you to put God in a box though!  As with anything, we can become too stringent and routine making our prayer life again become just a habit.
I have kept prayer journals in two basic ways: 
A Photo journal in a binder with loose leaf sheets which can travel with me anywhere and dividers on which I place photos of my family as I pray for them.  This journal is a little more structured with many prayers written out as I pray Scripture over my family, church and various situations & needs.  I'll try to include some examples here soon!
Composition Notebooks - These are more of daily prayer journals with jots and thoughts of Scriptures I'm reading, prayer lists, and informal notes I write to God. 

I also like to include my memory verses in these too for reviewing during my time alone with the Lord!
The following is a video from Jenny@The Littlest Way which will take you step by step in creating your own special prayer journal.  Jenny even includes prayers she prays for her own family and free printable prayer journal pages!

---
Creative Prayer Stations & Ideas

In teaching kids and youth about prayer and actually practicing prayer, creative prayer stations are a great tool!  They are great for us as adults too, and may help us breathe some new life into our prayer life!
Here are several we have saved to our Pinterest Prayer Page:

Special note: We do preview the websites to which we link, but are unable to peruse them completely. We try to check others' faith statements and make sure they do profess Jesus Christ as God's Son and salvation is found only in Him. It must, however, be your responsibility to personally dig into God's Word and allow the Holy Spirit to be your first and final teacher on all subjects.

"Our website may contain affiliate marketing links, which means we may get paid commission on sales of those products or services we write about. Our editorial content is not influenced by advertisers or affiliate partnerships. This disclosure is provided in accordance with the Federal Trade Commission's 16 CFR § 255.5: Guides Concerning the Use of Endorsements and Testimonials in Advertising."
---
Creative Bible-Bits Newsletter:

Let us help you keep up with what's new at Creative Bible Study with free Bible study lessons and ideas straight to your email!  Your information will be kept confidential and not be used for solicitation.

Free Ebooks: