Search our site:

The Tale of Three Trees - Lesson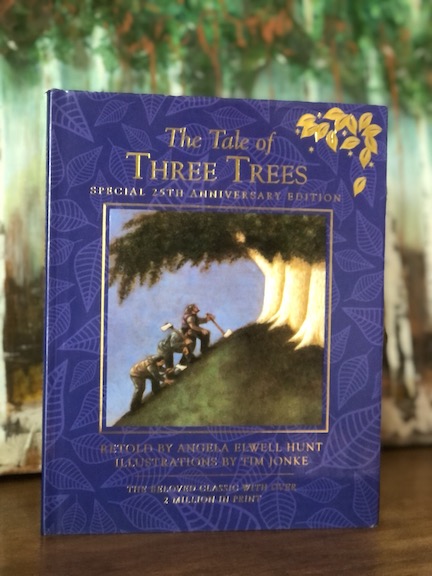 The Tale of Three Trees is probably my favorite children's picture book EVER! The powerful message that God has a special plan for our lives permeates through the story of three trees that have dreams of what they want to be when they grow up. Years pass and eventually woodcutters come to their mountain. Each tree finds itself in a place they never desired to be, yet in the end - 
"God's love changes everything."


Use this Christian children's book to paint a beautiful picture of how God has a wonderful plan for our lives. It's ideal to use during the Easter season, but may be used really any time of the year. Don't think it is only for children either; it's message reaches out to all ages. This book brings encouragement and hope, and would even be a wonderful gift to a child, a graduate, or a special friend that needs a ray of hope.
Following is how I've used this special book for a children's Bible lesson and devotional talk. This can be adapted for Children's church, a children's sermon, or even adult devotional talk. Children's books can be made into wonderful Christian object lessons!
Tale of Three Trees

Summary:

Although Easter is the ideal holiday for which to use this story, we also have a special Christmas Bible study lesson to go along with it.


The Tale of Three Trees (Hardcover)
By Angela Elwell Hunt / David C. Cook

Featuring the wonderful illustrations of Tim Jonke, this best-selling children's book tells the Easter story from a new and unusual point of view. Three trees on a mountain dream of what they wanted to become when they grew up. One wants to be a treasure chest, another an ocean-going boat, and the third a signpost to God. Their wishes come true in a way they never expected. Children will be deeply touched as they understand, perhaps for the first time, the significance of Christ's life and his atoning sacrifice on the cross. Recommended for ages 4 and up.


[The above link is an affiliate link; this means that if you purchase through this link, we will receive a small percentage.  This helps keep our site going.]
Bible Lesson

for Tale of Three Trees

:
Introduce the reading of the book by asking your audience to share what they dream (or dreamed) of becoming one day.
Share Jeremiah 29: 11 - "For I know the plans I have for you," declares the Lord, "plans to prosper you and not to harm you, plans to give you hope and a future."
God has a plan for each of us. There may be times we lose sight of our dreams, and we may not understand things that take place in our lives. We must remember though that God loves us, has a plan for us, and is in control; therefore we can trust Him.
When reading The Tale of Three Trees aloud, it's always wise to practice reading before reading for an audience. I suggest getting in front of a mirror. If you are able, hold the book facing the audience as you read. I usually hold it near my right shoulder facing out and turn slightly towards it to read. Don't be afraid to get into the "characters" of the book. Reading a book aloud is like reading a play. Use your voice and the speed of your reading to bring the story to life.
After reading the story. Share Romans 8:28 - "And we know that in all things God works for the good of those who love him, who have been called according to his purpose."
I end my lesson with a Christian object lesson using a chocolate cake to help illustrate this Biblical truth.
Children would enjoy acting out the parts of the three trees also either in part or using a full play script with pictures of costume ideas!

Listen to The Tale of Three Trees being read aloud:
Read the traditional American folktale of The Legend of Three Trees - printable copy available.

Find out other fun & educational ways to use Tale of Three Trees when reading to kids.


More Christian children's books with free lessons
Special note: We do preview the websites to which we link, but are unable to peruse them completely. We try to check others' faith statements and make sure they do profess Jesus Christ as God's Son and salvation is found only in Him. It must, however, be your responsibility to personally dig into God's Word and allow the Holy Spirit to be your first and final teacher on all subjects.

"Our website may contain affiliate marketing links, which means we may get paid commission on sales of those products or services we write about. Our editorial content is not influenced by advertisers or affiliate partnerships. This disclosure is provided in accordance with the Federal Trade Commission's 16 CFR § 255.5: Guides Concerning the Use of Endorsements and Testimonials in Advertising."
---
Creative Bible-Bits Newsletter:

Let us help you keep up with what's new at Creative Bible Study with free Bible study lessons and ideas straight to your email!  Your information will be kept confidential and not be used for solicitation.

Free Ebooks: