Search our site:

Christian Easter Object Lessons
Use the items used at Easter to teach fun Christian Easter object lessons!   Just like Christmas, Easter has become commercialized. We must keep Jesus at the center and teach our children the true meaning of Easter and the wonderful hope it holds.

Colors of Easter
Use a variety of Easter eggs to share a wonderful Easter object lesson or a fun Easter devotion for children. 
The colors of Easter eggs can teach six important truths about Jesus!
Purple

 – Jesus is the King of Kings; He is fully God & rules over all.

Orange

 – Jesus was fully man; He understands.

Pink

 – Jesus is Savior; His blood brings forgiveness for our sin when we believe & trust in Him

Green

 – Jesus gives new life, eternal life.

Blue

 – Jesus is always with me through His Holy Spirit.

Yellow

 – Jesus is preparing a home for believers in Heaven.
Easter Egg Hunting

Found, Forgiven, Filled, Family, Forever!
This Easter Egg Object Lesson is called "Empty to Faith-filled" - (Found, Forgiven, Filled, Family & Forever).  We used it for our church Easter Egg Hunt to share the Gospel message with the children & parents right before the hunt.
You'll need a basket of empty plastic eggs of different colors and sizes, a bag of candy, a piece of paper to make a capital E, and a marker or pen handy.  There is also a printable script and video demonstration available HERE.
The Gospel Egg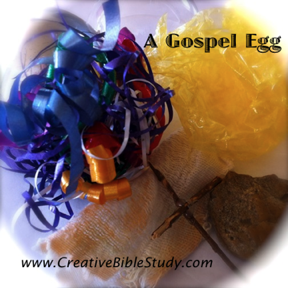 Instead of a Golden Egg this year, create a Gospel Egg to tell the story of Jesus death and resurrection!
Seeds - Death to Life
Seeds can become wonderful Christian Easter object lessons as they teach how life can come from death!  Jesus came to die that we may have life both eternal and abundant!
Easter Story Eggs
Make your own set of Easter Story eggs with 12 objects in 12 plastic eggs to share the Biblical story of Easter!
You can also use these as a meaningful countdown to Easter! Number your eggs 1-12 and then find one each day leading up to Easter with the final egg being the empty one and have an Easter Sunday celebration - "He is risen!" This helps kids (and us!) begin early building our anticipation as we look for our Blessed Hope, and points us to continue to watch for His second coming!

Easter Candy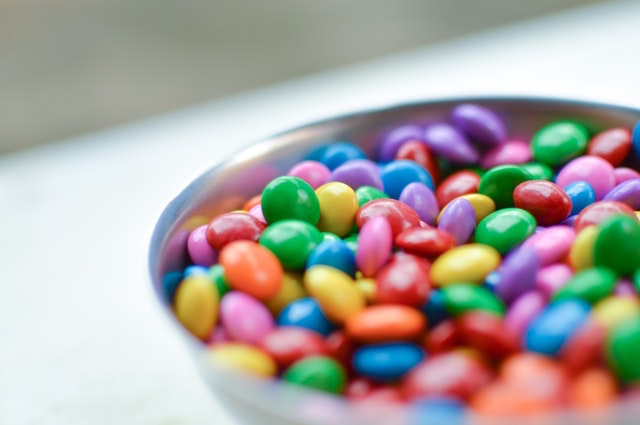 M&Ms Candy 
This M&Ms Object Lesson can be used any time of the year to share God's love!
Also, here is a cute printable of the M&M Easter poem by Bethany Tapp to give kids to take home with them!
Jelly Beans
The colors of jelly beans is also a fun way to teach an Easter Bible lesson!  Just like in the Wordless Book inspired by Charles Spurgeon, basic colors can be used to share the Good News of the Gospel! 
Black - We have all sinned and fallen short of the glory of God. (Romans 3:23)
Red - So Jesus came and shed His blood as He died on the cross to pay the penalty for our sin. (John 3:16; Romans 6:23; Romans 5:8)
White - When we accept Jesus as our Lord and Savior inviting Him into our lives, He forgives us and washes our sin away so we are white as snow. ( John 10:9; John 10:13, Psalm 51:7)
Blue - Jesus also gives us His Holy Spirit to be with us and help us become more like Jesus. (john 14:16-17)
Green - Jesus changes us as we grow to be more and more like Him in our faith. (2 Peter 3:18)
Yellow - One day we will be with Him in Heaven where the Bible describes the streets like gold. (Revelation 21:18,21)
Resurrection RolLs
Both Resurrection rolls and Resurrection cookies make great hands-on Christian Easter object lessons that are also delicious!
---
Still More Ideas for

Christian Easter Object Lessons:

There are Christian Easter object lessons waiting to be taught all around us.  We can also use Christmas crafts and stories too!
| | |
| --- | --- |
| | The Tale of Three Trees is a wonderful story that touches on the birth of Jesus, His ministry, death & resurrection along with dreams of unexpected proportions coming true in the hands of God! |
| | |
| --- | --- |
| | Using empty egg shells, soil, and grass seed, create a mini Easter garden as you tell the Easter Story through this object lesson activity. |
Find more Christian Easter ideas including games, Bible lessons, family activities, etc. on our Easter page!
Special note: We do preview the websites to which we link, but are unable to peruse them completely. We try to check others' faith statements and make sure they do profess Jesus Christ as God's Son and salvation is found only in Him. It must, however, be your responsibility to personally dig into God's Word and allow the Holy Spirit to be your first and final teacher on all subjects.

"Our website may contain affiliate marketing links, which means we may get paid commission on sales of those products or services we write about. Our editorial content is not influenced by advertisers or affiliate partnerships. This disclosure is provided in accordance with the Federal Trade Commission's 16 CFR § 255.5: Guides Concerning the Use of Endorsements and Testimonials in Advertising."
---
Creative Bible-Bits Newsletter:

Let us help you keep up with what's new at Creative Bible Study with free Bible study lessons and ideas straight to your email!  Your information will be kept confidential and not be used for solicitation.

Free Ebooks: