Search our site:

Salvation Object Lesson -

Seeds in Need of Living Water
This salvation object lesson uses a seed as such a beautiful picture of salvation!  Several of Jesus' parables talk about the planting of seeds.
By itself, a seed appears to be dead, and for all basic purposes in and of itself, it is.  There is no life, no growth, until….
Every seed has potential for life and potential for growth, but it is not until water is added that life and growth begin to take place!
Think about it, you can place a seed in the sunlight, but nothing will happen.  You can stick it into dry dirt, but nothing will happen.  Oh these are important, but it isn't until the seed comes into contact with water that life begins!
This is such a picture of us and salvation!  We have potential for eternal life; Ecclesiastes 3:11 and Romans 1:19 both tell us God has placed it with in us.  We can see and absorb the sunlight of His Word and that is important, and we can be placed with in the fertile soil of a church, but it is not until we come into contact with the Living Water, Jesus Christ, that eternal life begins!
Once our heart, soul & mind have been submerged in the life-giving blood of Christ and His forgiveness washes over us, we are changed!
Yes, then the soil of the church is important to give us support as we grow, and the sunlight of His Word is necessary to provide food for spiritual growth…but it is Jesus only, the Living Water, Who brings and sustains eternal life within us!
Any time you see or plant a seed let it remind you of the truth of this salvation object lesson.
Salvation Object Lesson

John 7:37-39
"On the last and greatest day of the festival, Jesus stood and said in a loud voice, "Let anyone who is thirsty come to Me and drink.  Whoever believes in Me, as Scripture has said, rivers of living water will flow from within them." By this He meant the Spirit, whom those who believed in Him were later to receive. Up to that time the Spirit had not been given, since Jesus had not yet been glorified."
Items needed: Seeds, small containers of dry soil, small ziplock bags, paper towels, water
Salvation Object Lesson Main Idea: Only Jesus, the Living Water, is necessary for salvation & eternal life.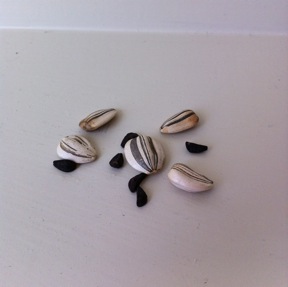 Salvation Object Lesson:

Give each student a seed; ask if the seed is alive or dead.  This can be a very interesting discussion depending on their ages. 
Get them to a point where they can agree that it has potential for life, but not on its on.  Point out that a seed is a good illustration of salvation – new life in Christ.
We are like the seed, by ourselves we are spiritually dead, but God has put within us a desire an inner pull towards knowing Him.
* Ecc. 3:11 - "He has made everything beautiful in its time. He has also set eternity in the hearts of men; yet they cannot fathom what God has done from beginning to end."
* Romans 1:19  - "because that which is known about God is evident within them; for God made it evident to them."
Ask them what a seed needs to give it life.  Their answers may include sunlight, soil, water, etc.
If you are able to go outside, allow them to lay their seeds in the sunlight and ask them if they will now come to life and grow.  Of course, the answer is no.  Sunlight alone cannot give them life.
Have small containers of (dry) dirt/soil ready for each student.  Have them place their seeds in the dirt and ask if the seeds will come to life and grow now.  Again, dirt alone cannot give them life.
Ask them again what else may be needed.  When they say "water", share with them how Jesus talked about living water in our focal Bible verse John 7:37-39.
Explain that all that is really needed to give life to the seed is water.  In the same way, Jesus is all that's needed for eternal life!
The soil is like the church and important to give us support and help as we grow, but neither the church nor religion can give us eternal life.
The sunlight is like God's Word.  It shines the truth on us, and after we become believers in Jesus and have life, it helps us grow in our faith, but it alone cannot save us.
Both the soil and the sunlight are important, but they cannot take the place of the water!
Take Home Activity for Salvation Object Lesson: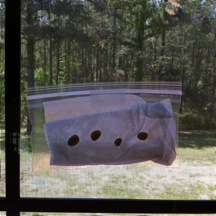 Dampen the cotton balls or paper towels and place in the ziplock bags.  Draw attention to actually putting water on them.  Then have students place their seeds in the bags.  Tell them to tape it to a window at home and watch for the new life that will come forth remembering that the water was the necessary element in giving life to the seed.  Depending on the ages of your students, you can discuss more about salvation and trusting Jesus as Lord & Savior. 
I have also heard of putting the seeds in a small plastic jewelry bag with a damp cotton ball.  A hole is punched in the top of the bag so that a string or yarn can be used to make it into a necklace for the kids to wear.  They call them their "bean babies" and tuck the necklace under their clothes for the seeds to stay warm. 
You could tie in that after Jesus comes into our life it is important for us to stay close to God's warmth to grow.  The idea of being born again could possibly be related too.
Allow them to take the containers of dirt home to replant their seeds in once they have sprouted.
*Bean seeds work well for this project.
© Copyright 2015 Susan Smart.

Try these other great free Bible object lessons!
Special note: We do preview the websites to which we link, but are unable to peruse them completely. We try to check others' faith statements and make sure they do profess Jesus Christ as God's Son and salvation is found only in Him. It must, however, be your responsibility to personally dig into God's Word and allow the Holy Spirit to be your first and final teacher on all subjects.

"Our website may contain affiliate marketing links, which means we may get paid commission on sales of those products or services we write about. Our editorial content is not influenced by advertisers or affiliate partnerships. This disclosure is provided in accordance with the Federal Trade Commission's 16 CFR § 255.5: Guides Concerning the Use of Endorsements and Testimonials in Advertising."
---
Creative Bible-Bits Newsletter:

Let us help you keep up with what's new at Creative Bible Study with free Bible study lessons and ideas straight to your email!  Your information will be kept confidential and not be used for solicitation.

Free Ebooks: