Search our site:

The Christmas Bible Story
Discover the Christmas Bible story through the eyes of those there that first Christmas.
Many of us have heard the Christmas story so often we've allowed it to lose its wonder.  Sometimes the sense of wonder can be found again when we allow ourselves to "wonder."
How different the story would seem if we had been there...
We've also included interactive ideas for telling the Christmas Bible Story with Scriptures from Genesis through Revelation sharing the Good News.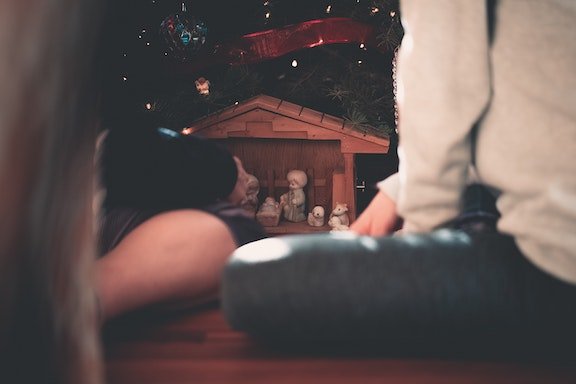 Photo by Craig Adderley from Pexels

Christmas Bible Story - Mary & Joseph
If we were to count up how many times in our life we have heard the Christmas Bible story, it would probably amaze us! It's a wonderful story, but so many times, as it is with other familiar stories, we tend to lose our awe of it and the amazement of God's love.
Use this interactive Christmas Bible story along with the pieces of your Nativity set for really any age group that hopefully will bring us back to a place of amazement as if hearing it for the very first time!
Christmas Bible Story - "Wonder!"
The Innkeeper
To introduce this Christmas Bible Story, give each person a small container and a handful of cotton balls.  When you say start, tell them to stuff as many as they can into the cup while keeping count.  For a larger group, you can make teams or use blown up balloons and a garbage bag for stuffing. Make a chart to see how many each could fit. 
Ask - Why didn't you stuff more in?  Their answer should be something like, no more would fit!
Christmas Bible Story - "Too Full and Too Busy"
The Shepherds
To introduce this Christmas Bible Story, give everyone a candy cane or talk about candy canes and how they were designed like a shepherd's staff turned one way and the letter J turned upside down.  God revealed the birth of His Son first to the ones others tended to shun, yet God showed His love is for everyone through the shepherds.
Christmas Bible Story - "All Matter to God"
The Wisemen
To introduce the Christmas Bible story, either have a star, a photo of a star or have everyone draw a star.  Take a few minutes to talk about stars.  They were created as lights.  Stars have been used as guides for thousands of years; we can determine directions from them.  As we dig deeper into the Wisemen or Three Kings of the Christmas story, let's keep these two facts at the forefront of our thinking - 
Stars were created to give light.
Stars can guide and give direction.
Christmas Bible Story - "Seek & Worship"
The Christmas Bible Story Continued
Sometimes the sense of wonder can be found again when we allow ourselves to "wonder."  And maybe there are a few characters we have overlooked like Simeon and Anna.  Characters that can point us to Jesus and the hope found in Him alone.

The holidays can be the hardest for so many people. This Christmas Bible story is meant to bring hope into lives that may be wondering if God has forgotten. It is a reminder to all of us that God is faithful no matter what we may see with our eyes or feel with our hearts.
Christmas Bible Story - "Hope for the Heart"
Pexels.com
Special note: We do preview the websites to which we link, but are unable to peruse them completely. We try to check others' faith statements and make sure they do profess Jesus Christ as God's Son and salvation is found only in Him. It must, however, be your responsibility to personally dig into God's Word and allow the Holy Spirit to be your first and final teacher on all subjects.

"Our website may contain affiliate marketing links, which means we may get paid commission on sales of those products or services we write about. Our editorial content is not influenced by advertisers or affiliate partnerships. This disclosure is provided in accordance with the Federal Trade Commission's 16 CFR § 255.5: Guides Concerning the Use of Endorsements and Testimonials in Advertising."
---
Creative Bible-Bits Newsletter:

Let us help you keep up with what's new at Creative Bible Study with free Bible study lessons and ideas straight to your email!  Your information will be kept confidential and not be used for solicitation.

Free Ebooks: