Search our site:

Beach - Free Bible Study Lessons!

Our family loves to go to the beach!  These free Bible study lessons come from many of the experiences we have had as a family when God has revealed Himself in new and creative ways through sea shells, waves, sand and more!
Our prayer is that you and your family will be inspired to seek God wherever you go!  And if you get to go to the beach this summer, maybe these will help!

Shell-Seekers -
Free Bible Study Lessons
One of our favorite beach activities is to look for sea shells!  They don't have to be big or fancy; we love to look for the tiny creations God places there too! 
Tiny But Totally Unique!

My Crazy Life As... A Sea Shell Seeker is a short devotion Bible study lesson that one of our daughters wrote on how the tiniest of sea shells reminds her that she too is unique and a special creation of God!
What Kind of "God-seeker" are we?

It's really interesting watching other shell seekers too!  There are:


Big shell-seekers- these are only watching for the "big scores" - those that can easily be seen and quickly grabbed.

Sifters - these scoop up nets filled with sand and shell pieces in hopes that there may be some whole shells they can pick out and keep.

Waders - these give it all they have! They'll wade out in the water getting their clothes wet in hopes of seeing that special illusive shell! (In our family it's the search for sand dollars!)

Micro-seekers - these stop, bend down, and really seek out the tiny treasures left along the wayside that others have missed.


In watching all of this, it caused me to wonder - what type of "God-seekers" are we? Are we only noticing the big blessings that are obvious? Are we sorting through the pieces of life in hopes of finding a  glimpse of Him?  Are we willing to take risks and wade out into unknown waters? Are we stopping along the way long enough to notice the tiniest of His blessings?

Let's not miss out on Him anywhere!  Let's seek Him everywhere!  He want to be found!

Jeremiah 29:13 - "You will seek Me and find Me when you search for Me with all your heart."

Psalm 27:8 - "When You said, "Seek My face," my heart said to You, "Your face, O LORD, I shall seek."

New American Standard Bible Copyright © 1960, 1962, 1968, 1971, 1972, 1973, 1975, 1977, 1995 by The Lockman Foundation, La Habra, California.  All rights reserved.
Sand dollars -
Free Bible Study Lessons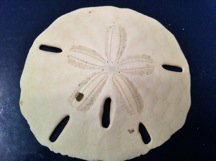 The ultimate find for us as a family is when we find a sand dollar!  It doesn't happen that often, but when it does....

Last year there were mainly just tiny shells washed up on the beach, and after a period of time we settled...not really expecting to find  anything else.

But then it happened...when we weren't even really looking....our favorite thing to find - a small, perfect sand dollar!

It reminded us of how God brings so many blessings in our lives even when we're not really looking or expecting them!  He gives little glimpses of His love and care just because He loves us! 

Don't think those special things that come along in your life are by accident!  God has placed them there as reminders of His love and presence!

"Every good and perfect gift is from above, coming down from the Father of the heavenly lights, who does not change like shifting shadows."  James 1:17 NIV
If you are able to find a sand dollar or if you can buy one at a beach sea shell shop, spend some time with your family reading the Legend of the Sand Dollar Story free Bible study lessons and remembering all Christ has done for us!

Waves of Faith -
Free Bible Study Lessons
The waves at the beach are so rhythmic and relaxing.  There are also many free Bible study lessons they can teach us!
Forgiveness 
Write something in the wet sand before the tide comes in. (Make sure you don't write it too high in the sand where the waves won't reach it!)  You could have your kids write something they are sorry for, a mistake they made, or other sins.  This would be fun to do in the evening before going to bed.  After they're ready for bed, read the following Bible verses to them and talk about God's forgiveness.
1 John 1:7-9
"But if we walk in the light as He Himself is in the light, we have fellowship with one another, and the blood of Jesus His Son cleanses us from all sin. If we say, "We have no sin," we are deceiving ourselves, and the truth is not in us.  If we confess our sins, He is faithful and righteous to forgive us our sins and to cleanse us from all unrighteousness."
Hebrews 8:12
"For I will be merciful to their wrongdoing, and I will never again remember their sins. "
Take time and show them how David prayed in Psalm 51 for God to wash his sins away. 

In the morning let them go check and see if their writing is still there! Hopefully the tides have come in and they're all washed away, thereby teaching them how God washes our sin away so that He sees it no more!

Grace
Watch the waves and notice how consistent and constant they are.  The waves of the ocean can teach us wonderful lessons about God's grace.
Many times it helps me to read a single verse from several different Bible translations.  Each translation may vary in the mechanics, but each brings a fuller meaning to God's Word.
John 1:16 reads as follows in the following translations:
New International Version
"Out of his fullness we have all received grace in place of grace already given."

New Living Translation
"From His abundance we have all received one gracious blessing after another."

English Standard Version
"For from His fullness we have all received, grace upon grace."

New American Standard Bible
"For of His fullness we have all received, and grace upon grace."

King James Bible
"And of his fulness have all we received, and grace for grace."

Holman Christian Standard Bible
"Indeed, we have all received grace after grace from His fullness,"
Just as the oceans splashes upon the shore with wave upon wave, so out of God's fullness He sends grace upon grace.  His grace never stops in our lives, but is truly sufficient for each moment. 
2 Corinthians 12:9 "But he said to me, "My grace is sufficient for you, for my power is made perfect
in weakness." Therefore I will boast all the more gladly about my weaknesses ..."
May the waves remind you and your family of God's constant provision and presence.  As you watch the waves come in, whisper to yourself, "Grace upon grace" and let God' Truth fill you.

Beach Sunsets - Free Bible Study Lessons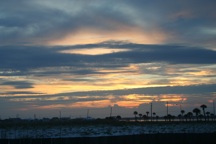 Sunsets at the beach are absolutely spectacular!  We are in awe of the many colors God paints across the sky!  And they can also teach us free Bible study lessons for our family!

One night as the colors were fading and the darkness was taking over, I was commenting that it was sad they were gone.  One of our sons spoke up though and noted that the dusk has to succumb to the darkness so that the stars can come out and shine!

What a thought!  It made me think of the darkness of our world, but yet even in the darkness God causes His stars to shine!  The beauty of the sunset fades to darkness so His stars can shine brighter. Yet the darkness won't be forever...for the Son will come again!

"For you were once darkness, but now you are light in the Lord.  Walk as children of light"  Ephesians 5:8


"In the same way, let your light shine before men, so that they may see your good works & give glory to your Father in heaven." Matthew 5:16

So no matter where you are in this world or in life, let the sunsets remind you that God wants to use us to shine His light, His love, His life into this dark world around us!  But also let it bring you hope - for the darkness WILL succumb to the Light - the Son's coming again!  Come, Lord Jesus, come!

Let's shine His light in the world He's placed us!
Take time with your family to watch the sunset and wait for the stars to appear one night to have these free Bible study lessons discussion with your kids!

Footprints in the Sand -
Free Bible Study Lessons
Walks on the beach happen daily for our family when we are there on vacation!  When my children were little, they would try to walk in there Daddy's footprints; it took a little stretch for their small legs!  These days I find myself walking behind my children and placing my feet in their footprints.
Jesus has left us footprints to follow too.  Yes, it's a stretch for us to walk in His ways, but He graciously makes it possible by giving us His Holy Spirit.  Once we accept Jesus into our lives, we are never alone again.  He is before us, beside us, behind us, and in us to help us follow His steps!
Before &  Beside - Deuteronomy 31:8 "The LORD himself goes before you and will be with you; he will never leave you nor forsake you. Do not be afraid; do not be discouraged."
Behind - Psalm 139:5 "You hem me in behind and before, and you lay your hand upon me."
In - Colossians 1:27 "To them God has chosen to make known among the Gentiles the glorious riches of this mystery, which is Christ in you, the hope of glory."

Have your family try to walk in each others' footprints.  As you do, let it remind each of these truths about following Jesus and His promised presence with us.
The  "Footprints in the Sand" poem by Mary Stevenson is great to go along with these free Bible study lessons too.

Special note: We do preview the websites to which we link, but are unable to peruse them completely. We try to check others' faith statements and make sure they do profess Jesus Christ as God's Son and salvation is found only in Him. It must, however, be your responsibility to personally dig into God's Word and allow the Holy Spirit to be your first and final teacher on all subjects.

"Our website may contain affiliate marketing links, which means we may get paid commission on sales of those products or services we write about. Our editorial content is not influenced by advertisers or affiliate partnerships. This disclosure is provided in accordance with the Federal Trade Commission's 16 CFR § 255.5: Guides Concerning the Use of Endorsements and Testimonials in Advertising."
---
Creative Bible-Bits Newsletter:

Let us help you keep up with what's new at Creative Bible Study with free Bible study lessons and ideas straight to your email!  Your information will be kept confidential and not be used for solicitation.

Free Ebooks: