Search our site:

Our Identity in Christ

We can avoid identity crises by finding our identity in Christ.

This is one of my favorite pics from our Vacation Bible School this year!  We had water games and all our 5th & 6th graders stuck their name tags on Carrie and dubbed her "The Name Tag Nanny!"
She appeared to be having an identity crisis!  That got me to thinking…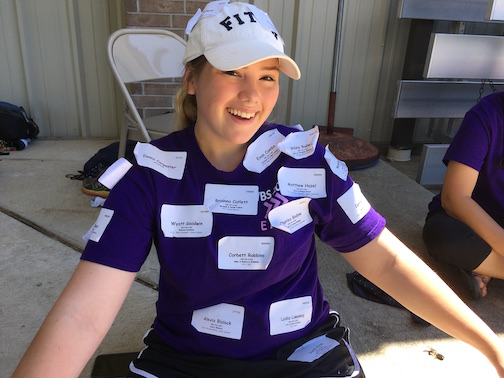 A Bible Lesson - Finding Our Identity in Christ

How often do we have identity crises?  When life changes, as it often does, it may cause us to feel like our identity changes with it.  When our job changes, we may go from identifying ourselves as "employed" or a job title such as a "librarian" or "nurse"  to "unemployed" or  "retired."  No longer does that skill or title define us.  When our family changes, we may go from "mom or dad of (insert child's name)" to "empty-Nester" or "unknown." Other family changes may be due to a change in marital status or a broken relationship.  Our health may change causing us to go from "able" to "dependent."  Life brings so many changes – both natural and those caused by circumstances.  Many of these changes can bring feelings of fear and uncertainty.
But the Good News is that when we become a believer in Christ, our identity is made certain because God doesn't change. (Hebrews 13:8)  No longer is our identity based on what we do or who we are, but on Whose we are.  We are now forgiven, accepted, redeemed, declared righteous, and so much more based on Who Jesus is.  Now we find our identity in Christ!

We may know this in our heads, but how do we live this new identity out and not revert to our old ways of thinking?  God's Word speaks to this!
Ephesians 4:23-24 says we are – "to be made new in the attitude of your minds.  And to put on the new self, created after the likeness of God in true righteousness and holiness."
Living out our new identity in Christ has to take root in our thinking – "our attitude of our minds."  It must be based on Who God is – "His likeness," not on ourselves.
Recently this has become an active part of my quiet time with God which has helped me.  As I read Scripture, I look for Who He is – a name, characteristic, or comparison.  Then I write who I am in contrast or who I am because of Who He is.  Here are just a few examples:
In John 4 Jesus talks to the Samaritan woman at the well and speaks of living water.  He is the Living Water…in contrast, I am the one who is thirsty, the recipient of His refreshing.
In John 8:12 Jesus calls Himself the Light of the World, and in Matthew 5:14-16 He says we are the light of the world.  He is the Light…because of that, I am to be His reflection and shine His light.
In 1 John 4 John tells us in verse 8 that "God is love." Then he continues in verse 18 – "There is no fear in love, but perfect love casts out fear."  He is love – the Fear Conqueror.  I am the one who takes refuge in Him.
Isaiah used this same identity clarification thinking when he calls God the Potter and we are the clay.
One of my favorites is found in Roman 15:13 where Paul refers to the God of hope filling us with joy, peace & hope.  He is the Filler…I am the filled.
When I focus on Who Christ is, it helps me accurately clarify who I am.
In Christ, I am God's child!  John 1:12 – "But as many as received Him, to them He gave the right to become children of God, even to those who believe in His name,"
In Christ, I have been made new!  2 Corinthians 5:17 – "Therefore if anyone is in Christ, he is a new creature; the old things passed away; behold, new things have come."
In Christ,  I live for Him! Galatians 2:20 – "I have been crucified with Christ; and it is no longer I who live, but Christ lives in me; and the life which I now live in the flesh I live by faith in the Son of God, who loved me and gave Himself up for me."
His love changes everything…even my identity!  We don't have to be a "Name Tag Nanny" wearing everyone else's name tags when we can wear one that says we belong to Jesus!  Let's find our identity in Christ.

More Bible Verses

Here are 27 Scriptures that identify who we are in Christ.  We are accepted, secure & significant!  Let's share this Good News with others today!
Special note: We do preview the websites to which we link, but are unable to peruse them completely. We try to check others' faith statements and make sure they do profess Jesus Christ as God's Son and salvation is found only in Him. It must, however, be your responsibility to personally dig into God's Word and allow the Holy Spirit to be your first and final teacher on all subjects.

"Our website may contain affiliate marketing links, which means we may get paid commission on sales of those products or services we write about. Our editorial content is not influenced by advertisers or affiliate partnerships. This disclosure is provided in accordance with the Federal Trade Commission's 16 CFR § 255.5: Guides Concerning the Use of Endorsements and Testimonials in Advertising."
---
Creative Bible-Bits Newsletter:

Let us help you keep up with what's new at Creative Bible Study with free Bible study lessons and ideas straight to your email!  Your information will be kept confidential and not be used for solicitation.

Free Ebooks: