Search our site:

A Christian Children Book


God Gave Us Heaven


A Christian children book is a wonderful way to introduce important topics such as Heaven.  Let's face it, we all wonder about Heaven and this little book shares some very important Biblical facts through story format.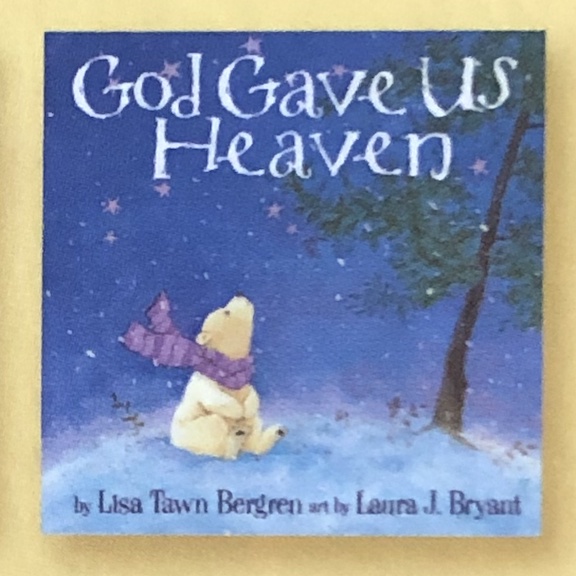 Summary
It begins...
"Papa, what's heav'n?"
"Why, heaven is God's home...
the most amazing place we'll ever get to see."
Little Cub continues to ask important questions about Heaven and how to get there.  Questions such as:
When do we get to see Heaven?  When we die?
Will we eat in Heaven?
What will we do in Heaven?  Will we get bored??
Can we take our stuff to heaven?
What will God look like?
Will we be angels?
Will we see each other in Heaven?
How do we get there?
Lisa Tawn Bergren does a wonderful job of including sound biblical answers in terms both children and adults will understand.  If you are teaching children about Heaven, this would be a wonderful read aloud to introduce important biblical truths.  Then take them to the Bible to see these in God's Word.
How to Get There - Salvation through Jesus
But this Christian children's book goes beyond facts about Heaven and shares the seed of the Gospel in a very simple way!
Papa Bear has Little Cub look out at a canyon.  
"Let's say this side of the canyon is life here, on earth.  And that side over there - where we find the path home - is Heaven.  God Knew that our bad choices might keep us from Him forever.  Might even wash us away!  He didn't want that. He loves us too much. "
"So He sent His very own Son, Jesus, to be our bridge."
Little Cub thinks on this and then says, "I like Jesus!"
Comfort from this Christian Children Book
I also love that this Christian children book opens up the topic of death in a non-scary, matter-of-fact manner.  
Little Cub asks if she will be old like Grandma when she goes to heaven.  Papa Bear says he hopes so, but some get there sooner than later.  He is honest and says some get sick or bad things happen...but then immediately follows this with the fact that nothing bad happens in Heaven. There won't be any sickness or tears or anything bad.  Only good and only smiles!
What if we plant these truths in little hearts early that because of Jesus we don't have to fear death! 
1 Corinthians 15:55-57 - 
"O death, where is your victory? O death, where is your sting?" For sin is the sting that results in death, and the law gives sin its power. 57 But thank God! He gives us victory over sin and death through our Lord Jesus Christ."
Christian Children Book


More Bible Verses



There is a real Heaven prepared for God's children after our earthly bodies die.  This part of the book will become a wonderful comfort to children especially if they have lost someone they love. 2 Corinthians 5:8 - "Yes, we are fully confident, and we would rather be away from these earthly bodies, for then we will be at home with the Lord."
The Bible speaks of a wedding supper and feast in Heaven. Revelation 19:9 - "And the angel said to me, "Write this: Blessed are those who are invited to the wedding feast of the Lamb." And he added, "These are true words that come from God."Matthew 8: 11 records Jesus saying- "And I tell you this, that many Gentiles will come from all over the world—from east and west—and sit down with Abraham, Isaac, and Jacob at the feast in the Kingdom of Heaven."
The Bible differentiates over and over between mankind and angels.  Both are created beings, but we do not become angels when we die.  We are created in the image of God and as God's children, will receive new bodies like Jesus.  I love how Hebrews 1:14 points out this difference -  "Therefore, angels are only servants—spirits sent to care for people who will inherit salvation."  
Read Aloud
Where to Purchase
ChristianBook.com is a great place to purchase a copy of this Christian children book and others.  Following is an affiliate link.  This means CreativeBibleStudy will receive a small percentage when you purchase through the link making it possible for us to continue providing free Christian Bible study resources.

God Gave Us Heaven
By Lisa Tawn Bergren / Waterbrook Press

Children are often confused by the subject of heaven--and who can blame them, so are adults! Little Cub is no different, and so she asks her Papa one day what heaven is like. The two set off for a day together, and spend a lot of time talking about what heaven is like, and what it is not. Little Cub asks things like, "How do we get there?" "Do we get to be angels?" "Will we sleep in heaven?" With tender words, Papa answers her questions and gives her biblical insight as to what he knows about our "forever home." The book features thirty-two full color illustrations, taking the familiar, endearing characters from the bestselling books God Gave Us You and God Gave Us Christmas, and enlisting them in a journey of exploration in nature, while having this important conversation. Recommended for ages 4 to 8.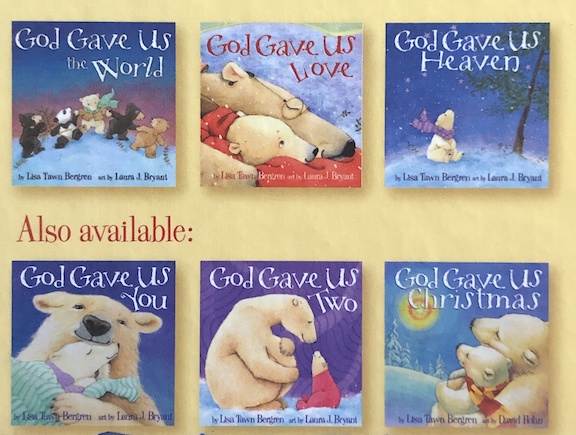 Special note: We do preview the websites to which we link, but are unable to peruse them completely. We try to check others' faith statements and make sure they do profess Jesus Christ as God's Son and salvation is found only in Him. It must, however, be your responsibility to personally dig into God's Word and allow the Holy Spirit to be your first and final teacher on all subjects.

"Our website may contain affiliate marketing links, which means we may get paid commission on sales of those products or services we write about. Our editorial content is not influenced by advertisers or affiliate partnerships. This disclosure is provided in accordance with the Federal Trade Commission's 16 CFR § 255.5: Guides Concerning the Use of Endorsements and Testimonials in Advertising."
---
Creative Bible-Bits Newsletter:

Let us help you keep up with what's new at Creative Bible Study with free Bible study lessons and ideas straight to your email!  Your information will be kept confidential and not be used for solicitation.

Free Ebooks: