Search our site:

The Duck & the Devil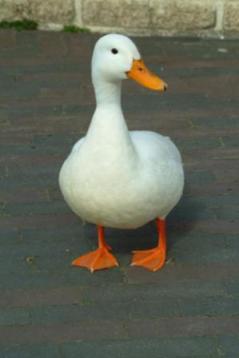 "The Duck & the Devil" is one of my favorite story illustrations! How we all fall into this trap from time to time. If we would only realize that God's sees and knows everything already; He's just waiting for us to come and ask for His forgiveness.
---
The Duck & the Devil:

There was a little boy visiting his grandparents on their farm. He was given a slingshot to play with out in the woods. He practiced in the woods, but he could never hit the target. Getting a little discouraged, he headed back for dinner. As he was walking back he saw Grandma's pet duck.
Just out of impulse, he let the slingshot fly, hit the duck square in the head, and killed it. He was shocked and grieved.
In a panic, he hid its dead body in the wood pile, only to see his sister watching! Sally had seen it all, but she said nothing.
After lunch the next day Grandma said, "Sally, let's wash the dishes." But Sally said, "Grandma, Johnny told me he wanted to help in the kitchen.Then she whispered to him, "Remember the duck?" So Johnny did the dishes.
Later that day, Grandpa asked if the children wanted to go fishing and Grandma said, "I'm sorry but I need Sally to help make supper." Sally just smiled and said," Well that's all right because Johnny told me he wanted to help." She whispered again, "Remember the duck?" So Sally went fishing and Johnny stayed to help.!
After several days of Johnny doing both his chores and Sally's... he finally couldn't stand it any longer.
He came to Grandma and confessed that he had killed the duck. Grandma knelt down, gave him a hug, and said, "Sweetheart, I know. You see, I was standing at the window and I saw the whole thing, but because I love you, I forgave you. I was just wondering how long you would let Sally make a slave of you." 
- Original author unknown

The Lesson:

Whatever is in your past, whatever you have done... and the devil keeps throwing it up in your face (lying, cheating, debt, fear, bad habits, hatred, anger, bitterness, etc.), ..whatever it is....You need to know that God was standing at the window and He saw the whole thing..... He has seen your whole life; He wants you to know that He loves you and that you are forgiven.
He's just wondering how long you will let the devil make a slave of you. The great thing about God is that when you ask for forgiveness, He not only forgives you, but He forgets..... It is by God's grace and mercy that we are saved.
God is at the window.
Bible verses:

"O LORD, you have searched me and you know me. You know when I sit and when I rise; you perceive my thoughts from afar. You discern my going out and my lying down; you are familiar with all my ways" (Psalm 139:1-3).
"And I will forgive their wickedness, and I will never again remember their sins."(Hebrews 8:12)
Jesus answered them, "Truly, truly, I say to you, everyone who commits sin is the slave of sin. "The slave does not remain in the house forever; the son does remain forever. "So if the Son makes you free, you will be free indeed." (John 8:34-36)

"But if we confess our sins to him, he is faithful and just to forgive us our sins and to cleanse us from all wickedness."  (1 John 1:9)

Other Christian short stories and illustrations

Special note: We do preview the websites to which we link, but are unable to peruse them completely. We try to check others' faith statements and make sure they do profess Jesus Christ as God's Son and salvation is found only in Him. It must, however, be your responsibility to personally dig into God's Word and allow the Holy Spirit to be your first and final teacher on all subjects.

"Our website may contain affiliate marketing links, which means we may get paid commission on sales of those products or services we write about. Our editorial content is not influenced by advertisers or affiliate partnerships. This disclosure is provided in accordance with the Federal Trade Commission's 16 CFR § 255.5: Guides Concerning the Use of Endorsements and Testimonials in Advertising."
---
Creative Bible-Bits Newsletter:

Let us help you keep up with what's new at Creative Bible Study with free Bible study lessons and ideas straight to your email!  Your information will be kept confidential and not be used for solicitation.

Free Ebooks: