Search our site:

Mary and Martha Object Lesson -


Sweet And Salty 

This Mary and Martha object lesson is great for any age teaching how God has "wired us up" each in unique ways to be used in His Kingdom.  The problem comes when we try to compare ourselves to others.

Main Point:  Whether we're sweet or salty, we are our best selves when we have taken time to sit at Jesus' feet.

Jesus loves us and wants to use us for His Kingdom. He doesn't want us to fall into the "comparison trap." 


Object:  Salt & Sugar (or salty and sweet snacks)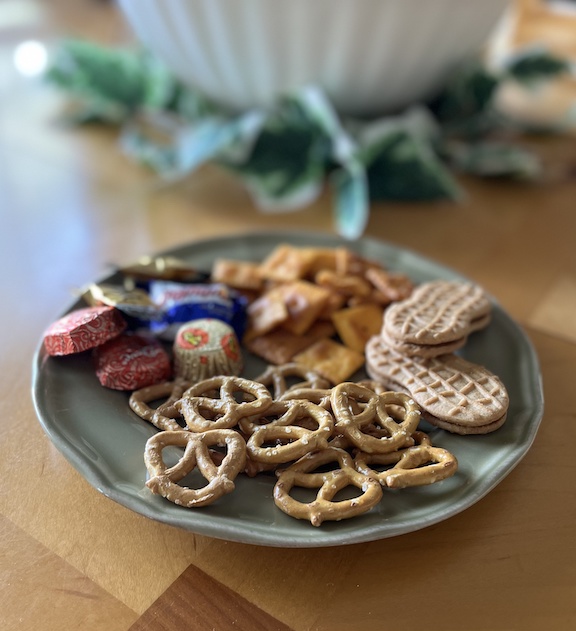 Mary and Martha Object Lesson 

Comparison Taste Test
Begin this Mary and Martha object lesson with a taste test.  Ask students if they prefer sweet or salty snacks.  Allow each to choose either something sweet or salty from your assortment of snacks.  
Keep a tally of how many chose something sweet and how many chose salty.  Also count how many would have liked to have had one of each.
Discuss why they like one over the other.  Is one necessarily better than the other in any way?
It is easy for us to want to compare and judge one better than the other, but comparison can become a trap that brings about pride (we're better) or envy (they're better).
The Bible tells about two sisters, Mary and Martha.  Many times we want to compare them and deem one better than the other, but that wasn't the lesson Jesus was trying to teach.
Bible Connection -
Mary and Martha Object Lesson
Ask how many know the story of Mary and Martha in the Bible.  Write "Mary" and
Martha" on a board or sheet of paper.  Underneath each list all the things they can name about each one.
There are basically three stories in the Bible that mention Mary and Martha by name.  The most familiar we use to talk about the two sisters is found in Luke 10:38-42.
"As Jesus and his disciples were on their way, he came to a village where a woman named Martha opened her home to him. 39 She had a sister called Mary, who sat at the Lord's feet listening to what he said. 40 But Martha was distracted by all the preparations that had to be made. She came to him and asked, "Lord, don't you care that my sister has left me to do the work by myself? Tell her to help me!"
41 "Martha, Martha," the Lord answered, "you are worried and upset about many things, 42 but few things are needed—or indeed only one. Mary has chosen what is better, and it will not be taken away from her." NIV
Martha usually gets the "bad rap" from this story.  Have students think of adjectives to describe each sister and add these to the previous list. Encourage them to include both positive and negative such as Martha was distracted, but she was being industrious and her motive was to serve.  Mary was being intentional listening to Jesus, while also tuning out her sister's requests.
We tend to want to compare these two sisters and find Martha lacking, but that wasn't Jesus' intention.  Jesus was actually pointing out He is the ultimate source of fulfillment and any of us can become distracted in the "doing" when first we should be focused on the "being" with Him.
John 11:1-57 shares another story of when Lazarus becomes sick and dies.  Mary and Martha send for Jesus telling Him His "dear friend" is sick.  By this we are reminded there must have been many times Jesus visited and spent time with this family.  
In this story, Martha is the one to seek Jesus first while Mary stays in the house.  Martha says, "Lord, if only you had been here, my brother would not have died.  But even now I know that God will give you whatever you ask."
Indeed it seems Martha learned to be with Jesus and had grown in understanding.  She even confessed her faith in Him as the Messiah and her total trust in Him.
When Mary comes out to Jesus, she falls at His feet weeping and says, "Lord, if only you had been here, my brother would not have died."  Now she is distracted by grief and sorrow. 
Finally the third story involves just Mary.  John 12:1-11 tells of Mary anointing Jesus feet right before His triumphant entry into Jerusalem before His crucifixion and death.  Mary's total abandonment in worshiping Jesus came from having spent time with Him both in good times and bad times.  The same can be said of Martha.
It wasn't the difference in these sisters' personalities that should be our focus.  Martha's direct and industrious personality was different from Mary's laidback and passive personality, but neither was wrong.  What was right was when they put their total trust in Jesus and spending time with Him as a priority.
Back to Sweet & Salty - Mary and Martha Object Lesson
Go back to the list you made for the sisters.  Ask which they would label "sweet" and which "salty"?  Would they say being sweet is wrong or being salty is wrong?
Just as sweet and salty are different and yet one is not necessarily better than the other, the same can be said for Mary and Martha.  The same can be said of each of us.  God doesn't mean for us to be exactly the same; differences are good!
Each sister had both strengths and weaknesses like all of us.  The important message is that we are our best self when we place our dependence and trust in Jesus as our source of fulfillment and not ourselves or others.
Encourage students to remember this Mary and Martha object lesson the next time they eat something sweet or salty.
We are our best selves when we have taken time to
sit at Jesus' feet.

© Copyright 2022 Susan Smart


More Bible Object Lessons like this Mary and Martha object lesson.

Another Sweet & Salty object lesson


Special note: We do preview the websites to which we link, but are unable to peruse them completely. We try to check others' faith statements and make sure they do profess Jesus Christ as God's Son and salvation is found only in Him. It must, however, be your responsibility to personally dig into God's Word and allow the Holy Spirit to be your first and final teacher on all subjects.

"Our website may contain affiliate marketing links, which means we may get paid commission on sales of those products or services we write about. Our editorial content is not influenced by advertisers or affiliate partnerships. This disclosure is provided in accordance with the Federal Trade Commission's 16 CFR § 255.5: Guides Concerning the Use of Endorsements and Testimonials in Advertising."
---
Creative Bible-Bits Newsletter:

Let us help you keep up with what's new at Creative Bible Study with free Bible study lessons and ideas straight to your email!  Your information will be kept confidential and not be used for solicitation.

Free Ebooks: