Search our site:

Family Bible Devotions -
"As We Walk Along the Way"
Family Bible devotions do not have to occur at a specific time on a certain night of the week; they can happen as we walk along the way!
As families, we do many things together as we go about our day whether it's mom and child, dad and child, or everyone plus some cousins!  We do everyday things like cooking, cleaning, washing, playing, and running errands. We also have fun doing different things like going fishing, gardening, building and traveling.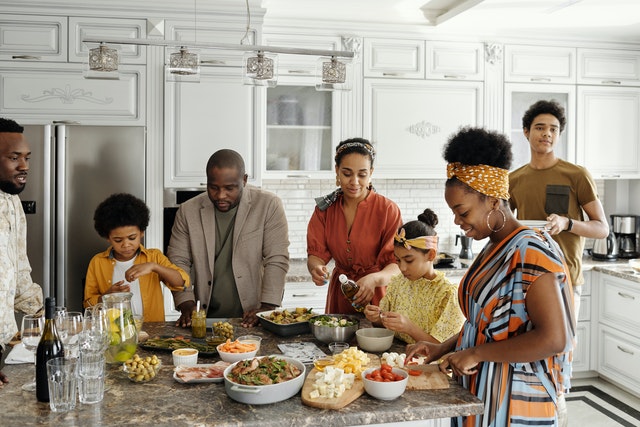 Photo Credit: August de Richelieu @ Pexels
In Deuteronomy 6, Moses writes the following instructions:
"The commandments I give you today must be in your hearts.  Make sure your children learn them. Talk about them when you are at home. Talk about them when you walk along the road. Speak about them when you go to bed. And speak about them when you get up. " (verses 6-7 NIrV)
These activities lend themselves to teaching our children God's Word as we go along our way.  We have paired these as well as other "along the way opportunities" with Bible stories and Scriptures in these family Bible devotions to assist you in changing the ordinary into extraordinary moments for eternity!
Family Bible Devotions -


Everyday Moments
Cooking - Mary & Martha
Inviting your child to cook with you can end up being so much more than a meal or a mess; it becomes an eternal "so worth it" experience!  Ask for your child's help preparing a meal whether it's a sandwich or more. 
Become very rushed and hurried while speaking instructions very quickly to your child.  Do this for one to three minutes and then all of a sudden just stop.  This will get your child's attention. 
Say something like "all this rushing is making me grumpy and anxious."  Ask how it's making them feel.  Have your Bible close by to grab and have your child sit with you on the floor or elsewhere.  Coach them to take a few big breaths and relax.
Turn to Luke 10:18-42 and begin reading the story of Mary and Martha.  Talk about how rushed and worried Martha was becoming.  What was the one thing Jesus said was really needed?  Point out that you both are doing that as you stopped, sat down to be still and are reading and talking about Jesus.  He's the best part!
While you sit to eat the meal or whatever you have prepared together.  Practice memorizing Psalm 46:10a with your child:
"He says, "Be still, and know that I am God." (NIrV)
Encourage your child to remember the story of Mary and Martha the next time they feel rushed or anxious and stop, be still and remember Jesus is with them.
Bathtime
Family Bible devotions can help kids remember God's truth even in ordinary daily activities!  Bath time can be a perfect time to talk about forgiveness. 
Before heading to the bath, ask your kids what they did to get dirty that day.  Tell them the Bible talks about sin which can make us dirty on the inside.  It says we've all sinned in Romans 3:23.  Therefore, we all need a bath!
When we take a bath we take off our clothes; they would just hinder us from getting clean.  Hebrews 12:1 says,
"Therefore, since we are surrounded by such a great cloud of witnesses, let us throw off everything that hinders and the sin that so easily entangles. And let us run with perseverance the race marked out for us,"
We then get in the water and use soap to get us clean.  1 John 1:9 says,
"f we confess our sins, He is faithful and righteous, so that He will forgive us our sins and cleanse us from all unrighteousness.
Confess means for us to admit to God we were wrong in what we did, said or even thought and God promises to wash us clean on the inside!
Your kids probably take baths regularly.  Remind them we also need to "come clean" with God regularly taking time to sit and allow Him to show us what dirt (sin) we may need to ask Him to wash away for us.
Family Bible Devotions -


Special Times
Photo by cottonbro studio @ Pexels
Fishing
There are so many stories from the Bible which can be used to go along with a fishing trip!  Here are just a few:
Calling the Disciples - Matthew 4:18-22
The Big Catch - Luke 5:1-11; John 21:1-14 (You may not have known it happened twice!)
Fish for Lunch - John 6:1-15
Gardening
God Plants a Garden
In the beginning...Yes, God created everything in the beginning; He also planted a garden!
Chapter 1 of Genesis gives us the overall days of creation as God speaks everything into being; there He is called Elohim.  In Chapter 2 things get a little more personal.  God isn't just an all-powerful being somewhere out there; He wants to know us up close and personal.  Chapter 2 mentions God by His personal name, the one He told to Moses out of the burning bush (another story entirely!).  He is called Yahweh or Jehovah meaning "I AM"; you'll notice it all throughout your Bible as you see LORD in all capital letters.
This personal God Who desires relationship with us planted a garden, a place to experience His presence.  
As you are working in the garden with your child or planting in pots, talk about how God created everything you are holding - the dirt, the seeds, the materials & know how to make the tools and pots, etc.
Ask them if they knew that God is a gardener just like them.  Write the following verses on strips of paper to read as you work and talk or have your Bible close by to look them up.
vs. 8-9
"Now the LORD God had planted a garden in the east, in Eden; and there he put the man he had formed. 9 The LORD God made all kinds of trees grow out of the ground—trees that were pleasing to the eye and good for food. In the middle of the garden were the tree of life and the tree of the knowledge of good and evil."
vs. 15-17
"The LORD God took the man and put him in the Garden of Eden to work it and take care of it. 16 And the LORD God commanded the man, "You are free to eat from any tree in the garden; 17 but you must not eat from the tree of the knowledge of good and evil, for when you eat from it you will certainly die."
Talk about what kind of trees God may have planted there and thank God for the trees around you and those which give us food, shade, oxygen, etc.
Point out the two trees in the middle of the garden.  We may wonder why God even put the tree of the knowledge of good and evil there.  It was not that God was tempting Adam, but He offers us each a choice to trust Him or not to trust Him, to love Him or not or not to love Him.
Genesis 3:8-9
"Then the man and his wife heard the sound of the LORD God as he was walking in the garden in the cool of the day, and they hid from the Lord God among the trees of the garden. 9 But the Lord God called to the man, "Where are you?"
God spent time with Adam and Eve in the garden; it was a place of relationship and spending time together.  Mention that you and your child are spending time together in the garden talking and working along side each other.  God wants this type of relationship with us too. 
Sometimes we disobey and do what we want even though we know it is wrong and not what God says is right; this is called sin. It makes us want to run and hide like when we get in trouble with mom or dad. And just like our parents, God doesn't give up on us, He keeps calling out to us wanting to spend time with us and make things right!
A garden is a wonderful place to work together or sit and talk together.  It's also a special place to sit and spend time with God!
Becoming Gardeners
As you work in the garden talk about all that needs to be done for the plants to grow and who is going to take care of each part such as planting, weeding, watering, etc.  Then ask - "Who is going to make it grow?"
In 1 Corinthians Paul talks about how each of us have a part to do in caring for God's "kingdom" garden.  We may each do something different, but each is needed.  However, God is the only one who is able to make the garden, each plant or each person, grow.  We can know that if we do our part of what we are able, God will do His part which only He is able!
1Corinthians 3:6-11
"I planted, Apollos watered, but God was causing the growth. So then neither the one who plants nor the one who waters is anything, but God who causes the growth. Now he who plants and he who waters are one; but each will receive his own reward according to his own labor. For we are God's fellow workers; you are God's field, God's building. According to the grace of God which was given to me, like a wise master builder I laid a foundation, and another is building on it. But each man must be careful how he builds on it. For no man can lay a foundation other than the one which is laid, which is Jesus Christ."
Building
In His sermon on the mount, Jesus tells a wonderful story of two men building houses.  It's found in Matthew 7:24-27.
This makes a memorable family Bible devotion when used either when actually building something or even when playing with legos, blocks or magnetic tiles.  You may want to consider trying to build on something unstable like a thick carpet, grass, etc.; then try again on a solid surface relating this to how Jesus is our solid rock on which we can build our lives!
Family Bible Devotions -


Traveling
Aquarium 
Jonah & the Big Fish - Book of Jonah
Zoo
Noah & the Ark - Genesis 6-9
In the Car
Using your GPS or car headlights at night make for some fun on-the-go family Bible devotions whether you're running errands or traveling for vacation!
Beach
Vacations at the beach are some of our family's favorites!  There are so many great beach Bible lessons to learn!
In a Boat or on a Cruise
You could use Noah and the Ark again for a fun Bible devotion in a boat or on a cruise or playing with a boat! 
There are also several instances Jesus was in a boat; here are two:
Jesus calms the storm is found in all three of the synoptic Gospels.  Read each and see what new information each adds. Luke 8:22–25; Matthew 8:23–27; Mark 4:36–41 
The story of Jesus walking on the water comes from John 6:16–21.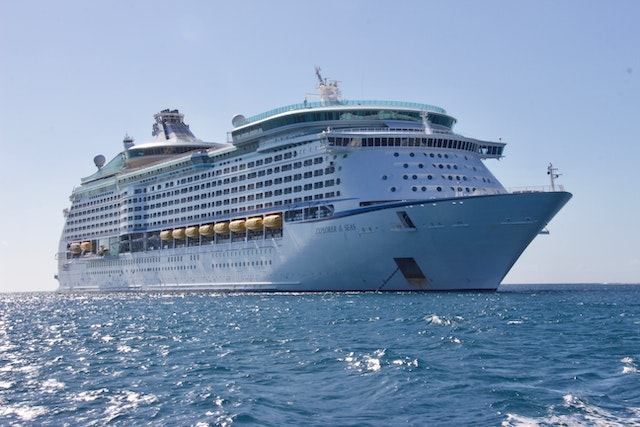 Photo by Matthew Barra @ Pexels
Save a Pin or check back often; we're constantly adding new family Bible devotions!
You may also want to take a quick look at our Bible object lessons for throughout the day or Godprint Devotions with family activities.
Special note: We do preview the websites to which we link, but are unable to peruse them completely. We try to check others' faith statements and make sure they do profess Jesus Christ as God's Son and salvation is found only in Him. It must, however, be your responsibility to personally dig into God's Word and allow the Holy Spirit to be your first and final teacher on all subjects.

"Our website may contain affiliate marketing links, which means we may get paid commission on sales of those products or services we write about. Our editorial content is not influenced by advertisers or affiliate partnerships. This disclosure is provided in accordance with the Federal Trade Commission's 16 CFR § 255.5: Guides Concerning the Use of Endorsements and Testimonials in Advertising."
---
Creative Bible-Bits Newsletter:

Let us help you keep up with what's new at Creative Bible Study with free Bible study lessons and ideas straight to your email!  Your information will be kept confidential and not be used for solicitation.

Free Ebooks: