Search our site:

One Year Bible Reading Plan
Many people like to choose a one year Bible reading plan that helps them read through the Bible in a year. This is a great idea to do at least once in your lifetime.
You may or may not have ever read the Bible all the way through, but I am here to encourage you - it's worth it!  When we read a story by skipping around, it can become confusing.  The Bible is God's story and how He desires for us to become a part of it.
But the Bible is even more than a story; it's an experience - a life changing experience!  Hebrews 4:12 tells us God's Word is living and active; it's unlike any other book you've ever read.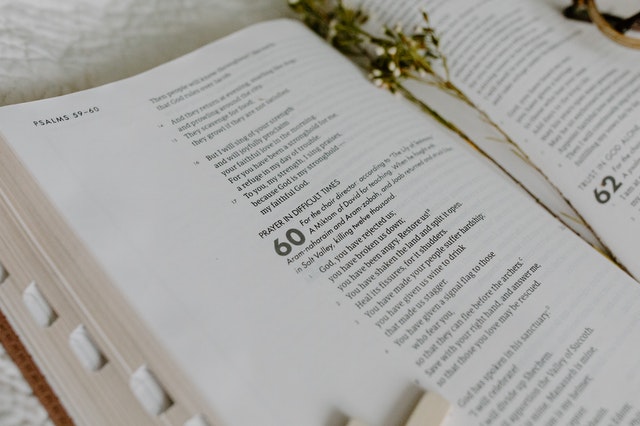 Making Connections

 a One year Bible Reading Plan
This "doable" one year Bible reading plan will take you from the beginning and help you make the connections of how the 66 books of the Bible all join together into one beautiful love story!

It is designed with 5 readings for 5 days a week (with a bit of flexibility) to read through the Bible in one year, or take your time and read at your own pace.  The  "Making Connections" plan may be printed and used to mark off verses as you go.
• Flexibility: Start whenever you're ready with a flexible start date any time of the year. Move at your own pace; although the readings are possible to be finished in a year, take as long as you need.  Adapt this plan to you.  No matter how you use it, this Bible reading plan will take you on a journey to better understand God's story as a whole.
• Wiggle Room:  Each week contains five days of reading – your choice of which days.  Reading at least five days a week will help you form a habit; it will keep you consistent. This leaves you two extras just in case your schedule becomes super busy or you just want to have a couple of days for your choice of reading or time to study a little deeper.  This plan can actually be finished in 50 weeks with fewer readings toward the end as we get into the Book of Revelation.
• Balance:  Each week contains readings from Psalms for praise, Proverbs of wisdom, lots of Old Testament reading (there are 929 verses in the OT!) and a New Testament reading.  This gives both a variety and continuity.  Many events in the Old Testament portray God in His sovereignty and justice.  Balancing this with His revealed love we see through Jesus gives us a full picture of His character balanced with justice and love, righteousness and compassion, truth and grace.
• Warning:  Be careful of chasing rabbit trails!  There will be times you will be tempted to follow themes or go deeper into a topic.  Other times there will be things that may shock us or we don't understand; just keep reading!  It's easy to become distracted, confused or stuck and therefore stop.  Keep going!  Use your extra two days for time to dig deeper or to veer off the set readings.  
• Keep going:  Use the printable to mark off chapters as you read. If you do get off track, lose the path, or just need a break, it's easy to jump back in where you left off.  The journey doesn't have to fit into a determined time period.  The goal is to see the journey through to the end – to read the whole story all the way through.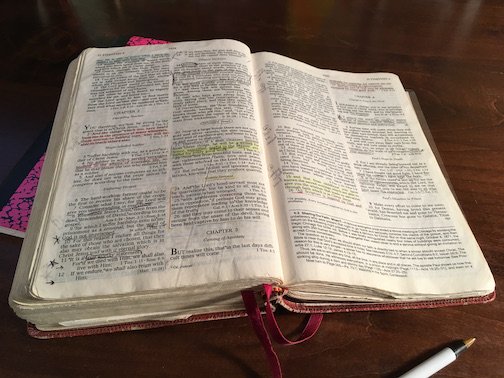 Chronological One Year Bible Reading Plan
Chronological means in the order of timing events happened; so basically this is reading a timeline of the Bible from Genesis to Revelation.
George Guthrie has done an excellent job of creating a chronological one year Bible reading plan which walks you through combining verses of different books of the Bible into a timeline.  Therefore, you won't be reading entire books alone, but in context of combining books into one sequential story.  For instance, events mentioned in both 1 Kings and 2 Chronicles will be read together; also events contained in more than one of the Gospels are read at the same time.  Many times this will give you a broader, more detailed telling of the same event. 
Blue Letter Bible offers a chronological Bible reading plan.  Since the Bible is not laid out completely in chronological order, this plan helps you put the pieces together for the overall story of the Bible from Genesis to Revelation and all the 64 Books in between.
Another option is this chronological Bible reading schedule by Skip Andrews which is available on Bible.net.  It also contains interesting notes that help keep you on track and bring understanding to what you read.
Photo by RODNAE Productions @ Pexels.com
Just the New Testament
Reading through the whole Bible in a year with several chapters a day may seem a bit too daunting.  That's why reading through the New Testament in a year may be a place to begin!
There are 52 weeks in a year with 5 work days in each week totaling up to 260 work days for a year.  And guess how many chapters there are in the New Testament...260!
If you need a one year Bible reading plan for a group such as your congregation, your family, youth group, children's ministry, etc., this may be the perfect plan so no one gets left behind.  Reading one chapter a day leaves room for meditation and sharing in discussion. And you still have two weekend days to catch up if you miss time during the week.
Reading Through the New Testament Plan
Other One Year Bible Reading Plans
This "Through the Bible in a Year" Bible reading plan will take you straight through the Bible in a year from Genesis through Revelation.

If you need a little variety and flexibility though, Discipleship Journal offers a great printable One Year Bible Reading Plan You can stick it in your Bible or notebook. They have boxes to check beside each Scripture to keep a record of your progress. Because it is printable, you actually could start at any time of the year. This plan is set up so that you read from four different places in God's Word each day.
If you like variety & change, you may enjoy a 52 week Bible reading plan that gives a Bible reading segment from a different section of the Bible each day of the week - Sunday (Epistles - NT Letters), Monday (The Law), Tuesday (OT History), Wednesday (Psalms), Thursday (Poetry), Friday (Prophecy), and Saturday (Gospels & Acts).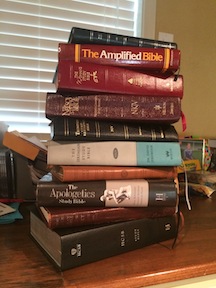 On-the-Go Bible Reading Plans
We have a huge advantage in this technological age.  If we have a smart phone, then we have access to several options for a one year Bible reading plan in our hands! 
YouVersion  offers several available on their App for phones & iPad or they are accessible from your computer.  A very creative one that I plan to use for 2018 is "Bible in One Year 2018".  Each day begins with a devotional Bible commentary setting the tone and giving you insights to be aware of as you read a variety of Bible passages from different Bible books each day. 
---
Whether you choose to use a one year plan or not, it is so important that we dig into the Scriptures as often as we can as we continue to spend time with Christ.
Too many times our Bibles, our swords, are placed to the side and never read. When we do that, we are spiritually starving. Just think what would happen if you physically only ate one meal a week...talk about a drastic diet that would be so unhealthy!
Special note: We do preview the websites to which we link, but are unable to peruse them completely. We try to check others' faith statements and make sure they do profess Jesus Christ as God's Son and salvation is found only in Him. It must, however, be your responsibility to personally dig into God's Word and allow the Holy Spirit to be your first and final teacher on all subjects.

"Our website may contain affiliate marketing links, which means we may get paid commission on sales of those products or services we write about. Our editorial content is not influenced by advertisers or affiliate partnerships. This disclosure is provided in accordance with the Federal Trade Commission's 16 CFR § 255.5: Guides Concerning the Use of Endorsements and Testimonials in Advertising."
---
Creative Bible-Bits Newsletter:

Let us help you keep up with what's new at Creative Bible Study with free Bible study lessons and ideas straight to your email!  Your information will be kept confidential and not be used for solicitation.

Free Ebooks: