Search our site:

One Year Bible Reading Plan
Many people like to choose a one year Bible reading plan that helps them read through the Bible in a year. This is a great idea to do at least once in your lifetime.
It will give you an overall view of the Bible and help you see the continuity and consistency of God's Word. There is a Bible reading plan for a year available online or many Bibles contain one. These have passages of Scripture for every day of the year so you will read through the entire Bible in one year. Of course, you can set your own pace.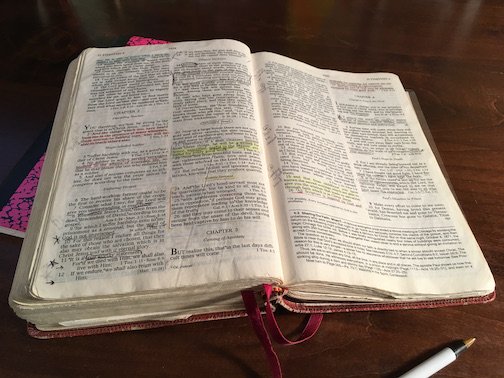 This "Through the Bible in a Year" Bible reading plan will take you straight through the Bible in a year from Genesis through Revelation.

If you need a little variety and flexibility though, Discipleship Journal offers a great printable One Year Bible Reading Plan You can stick it in your Bible or notebook. They have boxes to check beside each Scripture to keep a record of your progress. Because it is printable, you actually could start at any time of the year. This plan is set up so that you read from four different places in God's Word each day.
If you like variety & change, you may enjoy a 52 week Bible reading plan that gives a Bible reading segment from a different section of the Bible each day of the week - Sunday (Epistles - NT Letters), Monday (The Law), Tuesday (OT History), Wednesday (Psalms), Thursday (Poetry), Friday (Prophecy), and Saturday (Gospels & Acts).
Chronological One Year Bible Reading Plan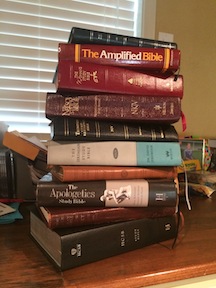 Blue Letter Bible offers a chronological Bible reading plan.  Since the Bible is not laid out completely in chronological order, this plan helps you put the pieces together for the overall story of the Bible from Genesis to Revelation and all the 64 Books in between.
Another option is this chronological Bible reading schedule by Skip Andrews which is available on Bible.net.  It also contains interesting notes that help keep you on track and bring understanding to what you read.
On-the-Go Bible Reading Plans
We have a huge advantage in this technological age.  If we have a smart phone, then we have access to several options for a one year Bible reading plan in our hands! 
YouVersion  offers several available on their App for phones & iPad or they are accessible from your computer.  A very creative one that I plan to use for 2018 is "Bible in One Year 2018".  Each day begins with a devotional Bible commentary setting the tone and giving you insights to be aware of as you read a variety of Bible passages from different Bible books each day. 
---
Whether you choose to use a one year plan or not, it is so important that we dig into the Scriptures as often as we can as we continue to spend time with Christ.
Too many times our Bibles, our swords, are placed to the side and never read. When we do that, we are spiritually starving. Just think what would happen if you physically only ate one meal a week...talk about a drastic diet that would be so unhealthy!
Special note: We do preview the websites to which we link, but are unable to peruse them completely. We try to check others' faith statements and make sure they do profess Jesus Christ as God's Son and salvation is found only in Him. It must, however, be your responsibility to personally dig into God's Word and allow the Holy Spirit to be your first and final teacher on all subjects.

"Our website may contain affiliate marketing links, which means we may get paid commission on sales of those products or services we write about. Our editorial content is not influenced by advertisers or affiliate partnerships. This disclosure is provided in accordance with the Federal Trade Commission's 16 CFR § 255.5: Guides Concerning the Use of Endorsements and Testimonials in Advertising."
---
Creative Bible-Bits Newsletter:

Let us help you keep up with what's new at Creative Bible Study with free Bible study lessons and ideas straight to your email!  Your information will be kept confidential and not be used for solicitation.

Free Ebooks: