Search our site:


Favorite Christian Children Books
Christian children books contain stories that go beyond the read.  Just as Jesus used parables, stories which taught spiritual lessons, we can use these best books for kids as a spring board into valuable life lessons for our kids.
The Tale of Three Trees
One of my favorites is based on a folktale with an unknown origin.  In book form it has been brought to life by Angela Elwell Hunt and Tim Jonke.
Because it touches on both the birth of Christ and also His crucifixion, it is a wonderful addition to both Christmas and Easter reading lists for all ages.
It begins...
Once upon a mountaintop,
three little trees stood and
dreamed of what they wanted
to become when they grew up.
A beautiful story of hope flows as the trees dreams are not realized in the way they thought, but in yet a better, unthought of miracle.  
Tale of Three Trees Bible Lesson - When Our Dreams Come True in a Different Way (Jeremiah 29:11, Romans 8:28)
Max Lucado's

Christian Children Books

: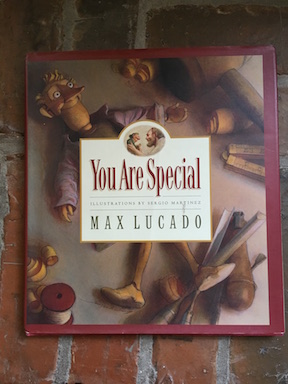 One of my favorite authors of Christian children books is Max Lucado. I've read these to children, youth and adults; their message of God's love and truth are relevant to any age group.
You Are Special
What a powerful message needed by our young ones today - "You are special!"  This Christian children book begins...
The Wemmicks were small wooden people.
All of the wooden people were carved
by a woodworker named Eli.
Punchinello receives a lot of bad marks in the form of gray dot stickers from the other Wemmicks.  He begins to feel like he is worthless until he meets a new friend who has no stickers at all.  She tells him about his Maker, Eli the woodcarver and takes him to meet Eli.  
Such valuable lessons of identity, worrying about what others think and the truth of what God thinks will encourage any child or adult.
Bible Lesson Using You Are Special
Below are summaries and affiliate links for other stories of Punchinello the Wemmick.  This means if you make purchases through these links, our website receives a small percentage.
Max Lucado's Wemmicks: Volumes 1-3, Picture Books
By Max Lucado / Crossway Books & Bibles

Your little ones will feel great compassion for Punchinello, a chipped puppet who questions his own value. In You Are Special, Eli the Woodcarver helps Punchinello understand his worth---marks and all. And in You Are Mine, Punchinello discovers that status isn't a matter of things, but being a child of God. And in If I Only Had a Green Nose, he learns that being just like everyone else is not always what it's cracked up to be. Recommended for ages 4 and up.
The Oak and the Acorn
The Oak Inside the Acorn
By Max Lucado / Tommy Nelson

In his touching picture book, master storyteller Max Lucado reveals that each one of us was created for a special purpose. The Oak Inside the Acorn is a heartwarming parable that encourages children to be the best they can be for God. This parallel to the bestselling book for adults, Cure for the Common Life, reminds parents to focus on their children's God-given abilities, while Children will see that all they need to do is to "Just be the tree God made you to be."

Little Acorn sees himself as very small and he's unsure of what he's supposed to do in life. Eventually, he grows into Big Oak, but he still wonders about his purpose. Though he tries as hard as he can, he can't grow oranges like his friends the orange trees, or produce beautiful flowers like his friends Pink Petunia or Rosie. But finally, he discovers that his mighty branches were created for a very special purpose! Recommended for ages 5 to 10.
Because I Love YOU
Because I Love You!
By Max Lucado / Crossway Books & Bibles

A long time ago a wise man named Shaddai built a wonderful village for the children to live in. He talked to them and sang for them, and even told them stories. Shaddai gave them everything they needed. And with his own hands, rock by rock, he built a protective wall around the village.

One day Paladin, the most curious child in the village, discovers something troubling about the wall. Something that made him doubt about Shaddai's love. Could there be a mistake? Would Paladin be able to discover the answer and understand how deeply he is loved? Recommended for ages 4 and up.
Other Christian Children Books by Max Lucado: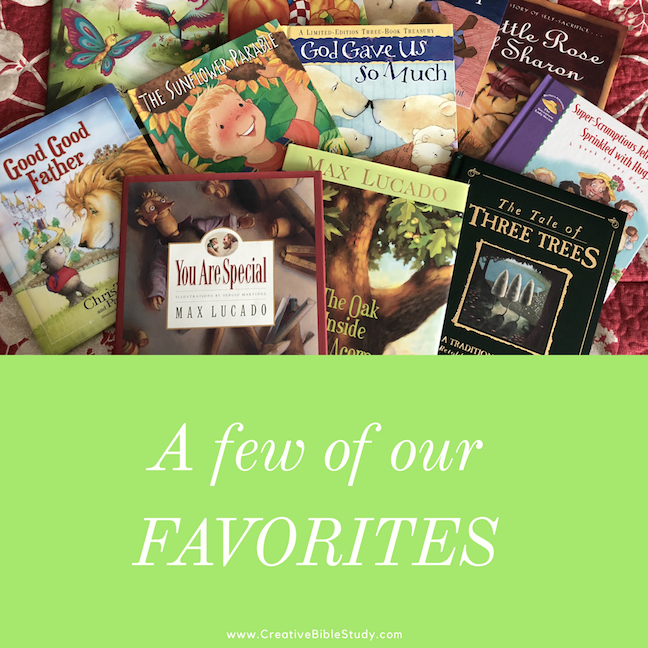 Christian Children Book Series (Coming Soon)
There are so many great Christian childrens books out there for kids of all ages! As a family, we have enjoyed many over the years as our children have grown from babies to teens to college kids.
There are wonderful titles for any time of the year too:  Christian Easter Books   Christmas   Valentine's   

Having also been a children's librarian and teacher, I always knew Christian childrens books would have age appropriate material for my kids and students.


* Special note to those that "proofread" like me: I know there should be an apostrophe showing possession - "Christian children's books," but my keyword prompt won't accept it! ...Just wanted you to know, and thanks for overlooking it! :)
Special note: We do preview the websites to which we link, but are unable to peruse them completely. We try to check others' faith statements and make sure they do profess Jesus Christ as God's Son and salvation is found only in Him. It must, however, be your responsibility to personally dig into God's Word and allow the Holy Spirit to be your first and final teacher on all subjects.

"Our website may contain affiliate marketing links, which means we may get paid commission on sales of those products or services we write about. Our editorial content is not influenced by advertisers or affiliate partnerships. This disclosure is provided in accordance with the Federal Trade Commission's 16 CFR § 255.5: Guides Concerning the Use of Endorsements and Testimonials in Advertising."
---
Creative Bible-Bits Newsletter:

Let us help you keep up with what's new at Creative Bible Study with free Bible study lessons and ideas straight to your email!  Your information will be kept confidential and not be used for solicitation.

Free Ebooks: