Search our site:

Best Christian Books for Teens

Christian books for teens have played an important role in reinforcing the Biblical principles and Christian morals we hoped to instill in our own four kids.  There are many things vying for the attention of our youth today.  Wholesome and inspirational books can assist them in navigating these formative years while also planting seeds for good mental health.
Photo by cottonbro from Pexels

A creative and "out-of-the-box" method to inspire teens and young adults to engage in Bible study is to use Christian books for teens. Find a Christian fiction book or non-fiction book that addresses their interests and spark them to discover more in God's Word.
For instance, one of my daughters loves to read romance Christian books for teens. Many times they stir up questions in her about love, dating, friendship, etc. These then cause her to wonder what the Bible has to say about such topics, and she begins to dig for herself into God's Word.
Like any family, ours has very diverse interests and personalities. Therefore, we have experienced the blessing of a wide range of topics in the Christian books for teens that we've read.
(Note: The following does contain affiliate links to Christianbook.com for more information or purchasing.)
Fiction Christian Books for Teens:

Our oldest daughter is an avid sports fan and athlete. As a child she read just about every book there was about horses. As she became older, she enjoyed Christian books that took place on the prairie. She also enjoyed books that dealt with real people's concerns in life.
Our oldest son has never loved reading like his mother; yet when introduced to Christian books for teens that addressed his interests, he enjoyed them. Not only did they increase his reading time, but they also impacted his Christian walk.
Following are some of their past favorites:
Historical Christian Fiction

You may recognize the following title by Janette Oke from Hallmark's popular series - "When Calls the Heart." 
Others our daughter loved by Janette Oke included her Love Comes Softly series -
Love Comes Softly, Love Comes Softly Series #1
By Janette Oke / Bethany

She ventured West with the man she loved, but in one day her world crumbled around her...First around in 1979, Love Come Softly has become a beloved classic with over one million copies sold. A generation of readers has laughed and wept and rejoiced with Marty and Clark Davis whose tragic circumstances threw them together on the frontier prairies of the 1800s.
A new author I have come to appreciate who writes historical Christian fiction is Melanie Dickerson.  She takes familiar fairy tales and brings them into a new story that plays out with Christian values in the lives of its characters.  
These will take you back in time with knights and princesses, lords & ladies.
Here's a link to a few of her other books:
Melanie Dickerson
One that I read recently comes from "The Ugly Duckling" and is not only appropriate and enjoyable for young adults, these Christian books for teens are a great read full of romance, history and Christian values for any age.


Westerns


The Justice Riders Series was written by Chuck Norris, Ken Abraham & Aaron Norris and is an older Western series with faith-filled characters bent on bringing justice to places that have none.
More recently we've found the Matt Bannister Series written by Ken Pratt whose main character is a U.S. Deputy Marshall.
Realistic Contemporary


Diary of a Teenage Girl Series, Caitlin #1: Becoming Me
By Melody Carlson / Multnomah

Follow Caitlin O'Conner, a girl much like yourself, as she makes her way from New Year's to the first day of summer--surviving a challenging home life, changing friends, school pressures, an identity crisis and the uncertainties of "true love."

You'll cry with Caitlin as she experiences heartache, and cheer for her as she encounters a new reality in her life: God. See how rejection by one group can--incredibly--sometimes lead you to discover who you really are. 248 pages. Recommended for ages 14 and up.

Everyday Heroes
Another interest of our older son was firefighters.  Here are couple of Christian books for teens or adults that encompass rescue, bravery and everyday heroes.

Dee Henderson is a Christian author who include everyday heroes such as police officers, military and firemen depicting their bravery and their faith in the face of tragedy and danger.  These Christian books for teens and adults are enjoyed by both males and females.
The Protector, O'Malley Series #4
By Dee Henderson / Tyndale House

Jack O'Malley is a fireman who is fearless when it comes to facing an inferno. But when an arsonist begins targeting his district, his shift, his friends, Jack faces the ultimate challenge: protecting the lady who saw the arsonist before she pays an even higher price.
Twilight
By Kristen Heitzmann / Bethany

Laurie thought she'd never return to her hometown, but she was wrong. Now a single mother, she must begin again in the village where she grew up---and face Cal, the man she rejected. Cal tries to be her friend. But how long can he deny his love---and Laurie suppress secrets from her past? 384 pages, softcover from Bethany.
Terri Blackstock also writes many contemporary thrillers such as - 
Smoke Screen, Softcover
By Terri Blackstock / Zondervan

When smoke jumper Nate Beckett is injured during a wildfire, it sets events into motion that could redeem a painful past---or destroy his future. Pastor's kid Brenna Strickland was his first love. Then his father went to prison for killing hers---and was pardoned 14 years later. But if Roy Beckett didn't kill Reverend Strickland, who did? 344 pages, softcover from Nelson.

Christian Fantasy


Photo by Pixabay

Our next son is an avid fantasy lover. I have been extremely thankful that there are quality, God-honoring Christian books for teens in the genre of fantasy and science fiction!
Of course the most familiar are the Books of Narnia by C.S. Lewis and The Lord of the Ring series with The Hobbit by J.R.R. Tolkien.
He also enjoyed Frank Perretti's Christian books for teens which are full of suspense. Surprisingly, our youngest daughter also enjoyed these. :)

The Veritas Project: Hangman's Curse - eBook
By Thomas Nelson

Elijah and Elisha are teenage twins who, along with their parents, have been secretly commissioned by the President to investigate strange mysteries, crimes and unusual occurrences. They're the Veritas Project, and their job is to find out not only what happened, but why - the veritas (Latin word for truth) behind today's hottest issues.

Their new assignment is The Hangman's Curse. In Baker, Washington, three popular student athletes lie incoherent, with loss of muscle coordination, severe paranoia and hallucinations. It's whispered that they are victims of Abel Frye, a ghost that's haunted the school since a student hanged himself there in the 1930's. Now the hangman's curse is spreading and the students are running scared.


Gold Medallion Award Finalist
Several of Frank Perretti's Christian books for teens as well as adults have a scary element to them.  For this reason, I would highly recommend them as a Christian alternative to any of the "Fear Street" or even Stephen King books.

Another Christian suspense author who writes Christian books for teens as well as adults is Ted Dekker.
Here's a link to his books - 
Ted Dekker Books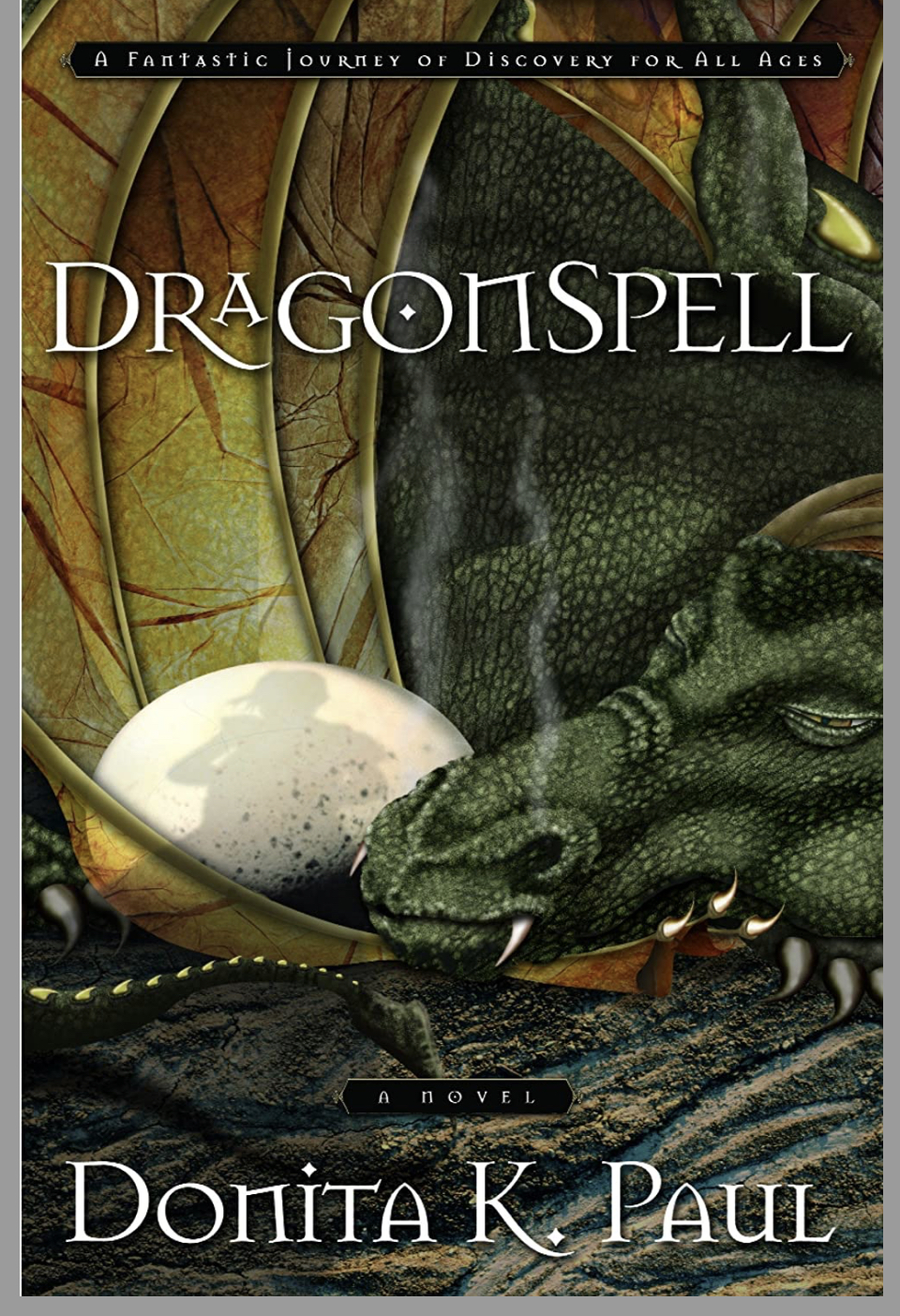 But if your teen loves dragons and other worlds, the two following authors provide wonderful Christian series of this type genre:
Donita K. Paul

Dragon Keepers Chronicles, Vols 1-5
By Donita K. Paul / Random House, Inc

Prepare to experience breathtaking adventure and mind-blowing fantasy as never before in this dazzling, beautifully-crafted series by Donita K. Paul. Featuring volumes 1-5 in the series.
Wayne Thomas Batson
The Door Within Trilogy, Volumes 1-3
By Wayne Batson / Thomas Nelson

The Door Within Trilogy, Volumes 1-3 by Wayne Batson, join Aidan Thomas who discovers three ancient scrolls in his grandfather's basement, that takes him to a world of knights, warriors, kings and mysterious Glimpses who can travel between worlds. Before you know it Aidan joins them in the fight between good and evil. This three-volume, paperback set includes:

The Door Within, Volume 1
The Rise of the Wyrm Lord, Volume 2
The Final Storm, Volume 3

Christian Romance


Our youngest child is an all around "girly-girl." She loves anything with a bit of romance. It has been amazing how many of the following Christian books for teens that have impacted her view of boys, dating, friendship, self-image, and other teen concerns. Through the stories she is able to experience these as God intended them to be experienced.

Christy Miller Series: 3-in-1 Collection, Volume 1
By Robin Jones Gunn / Multnomah

In Christy Miller Series: 3-in-1 Collection, Volume 1by Robin Jones Gunn, readers will follow teenager Christy, who meets two life-changing friends on her vacation to California. After moving across the country with her family, Christy is uncertain if she can fit it as she starts her sophomore year of high school. Follow Christy Miller as she stays true to her identity in Christ, drawing closer to God as she deals with disappointments and trusts in him when seeking his help in realizing her dreams. Paperback, 496 pages. Ages 12-15.

This collection contains volumes 1, 2 and 3, from the 12 volume series. Volume 1: Summer Promise | Volume 2: A Whisper and a Wish | Volume 3: Yours Forever
Holly's Heart Collection One: Books 1-5 - eBook
By Beverly Lewis / Bethany House

Holly Meredith loves her family, her friends, and her cuddly cat, Goofey. She has a fabulous birthday-Valentine's Day-and her mom affectionately calls her "Holly Heart." But Holly has a lot to learn about dealing with life-her crazy family, school pressures, and unpredictable relationships. Thankfully, with the help of her closest friends and her strong faith in God, Holly can survive anything!

Best Friend, Worst Enemy:
Holly and her best friend, Andie, face the biggest challenge yet to their longtime loyalty. Who'd think first crushes could be so complicated?

Secret Summer Dreams
A few weeks of California sun sound dreamy, but Holly's hopes of becoming reacquainted with her dad are deflated when a family emergency threatens to keep her in Dressel Hills.

Sealed With a Kiss
Holly thinks her motives are innocent when she allows her latest pen pal to believe she's an older, published writer. After all, it's not like she's really telling a lie...or is she?

The Trouble With Weddings
Holly wants to help her mom plan the perfect wedding, but she doesn't like her mom's "boring" ideas, so Holly finds her own ways to make the day unforgettable.

California Crazy
A California Christmas makes an ideal escape when Holly suspects her guy friend is hiding something. Then the tables are turned, and Holly realizes she needs to give others the benefit of the doubt.
Sierra Jensen Series: 3-in-1 Collection, Volume 1
By Robin Jones Gunn / Multnomah Fiction

She's the bold, free-spirited type. She's cute, she's fun, and she's following God. She's Sierra Jensen, Christy Miller's good friend, ready for her junior year of high school! All 12 books in the popular Sierra Jensen series come together in four volumes to reveal the ups and downs of Sierra's incredible God-led journey! Recommended for ages 12 and up.

Book 1: Only You, Sierra
The Europe mission trip brought Sierra Jensen the best gift possible: two new friends, Katie and Christy. But now Sierra is headed home, and she can't help but wonder, will her friendships last? And what about her new home? Her family moved while she was gone, and that means facing a new high school. And the biggest question of all: Will she ever find love? Then a chance meeting in a London airport answers that question. Paul makes her heart leap. But she'll never see him again! Or will she?

Book 2: In Your Dreams
Sierra has had it! She's done everything she can to find the right job, good friends, and most important, true love. But nothing is working out. Now she has to stay home to care for her grandmother. By herself. for the whole weekend! It will be terrible. But a series of starling surprises shows Sierra just how wrong she is--and before she knows it, she's on her way to the perfect job, her first real date, and an encounter with a mysterious stranger.

Book 3: Don't You Wish
Sierra has three wishes: visit her California friends; have her older sister, Tawni, disappear; and learn more about the mysterious stranger. When Easter break arrives, Sierra's first wish comes true! She's headed to Newport Beach for fun, sun, and surf. Unfortunately, not only does Tawni not disappear, she accompanies Sierra on her escape. What's worse, everyone has a boyfriend except Sierra. But will her wishes begin to change as she realizes God wants to mold her according to His wishes?
Undercover Angels: Kayla's Big Move (Volume 1)
A new author of Christian books for teens that I've recently read is Angela Dusenberry She addresses important life issues such as friendship, loss, self image, etc. on a level designed primarily for the younger teen girls. If you're looking for a great read that is both appropriate and life-impacting for a young girl, check this author out!
One of my favorite Christian authors is Lori Wick . I've introduced our daughters and other teenage girls to her books, and they've loved them too.
Join your daughter or son in reading Christian books for teens and share the moments!
Nonfiction Christian Books for Teens:

There are also many wonderful non-fiction Christian books for teens that are written on their level and that are able to help ground them as a young Christian.  Many of these gave our kids answers as well as confidence to live out their faith even after moving on to college and careers.
Christian books help equip our children.  No, they are in no way a substitute for the Bible.  These are meant to compliment and confirm practically living out the life principles God teaches us in His Word.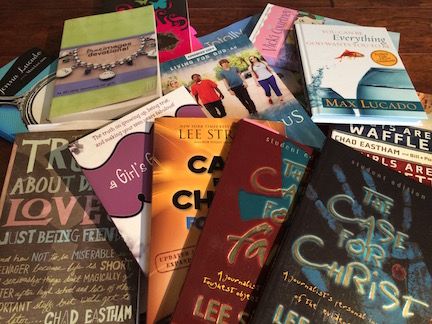 Doctrines of Faith
Lee Strobel's Christian books for teens will help them defend their beliefs:

Relationships
One of my favorite authors for teens, Chad Eastham, writes books on relationships, understanding the opposite sex, and dating. Two of his books I highly recommend for teen girls as well as teen guys as an investment in their present and their future are:
Life Lessons from Famous Christians
An admired Christian athlete can sometimes speak more loudly into our teens lives than our own words.  Tim Tebow, among others, have written outstanding books of encouragement!
This Is the Day: Reclaim Your Dream. Ignite Your Passion. Live Your Purpose
By Tim Tebow with A.J. Gregory / WaterBrook Press

Now pursuing his baseball dreams, Heisman Trophy-winning NFL star Tebow knows a thing or two about taking risks! In this gripping message, he encourages fellow Christians to live boldly for the Lord. Are you ready to quiet the inner voices of defeat and make a difference for God's kingdom? Learn why you should act today! Hardcover.
Classic Christian Books for Teens
Christian young adults and adults have gleaned wisdom and perspective over the years from classic books.  Christian biographies solidify one's faith with the reality that God's faithfulness in the midst of life's circumstances and struggles.
One of my all time favorites is the autobiography of Corrie Ten Boom - The Hiding Place:
The Hiding Place, 35th Anniversary Edition
By Corrie ten Boom with Elizabeth & John Sherrill / Baker Books

Escape to The Hiding Place to discover Corrie ten Boom's heart-pounding account of World War II's concentration camps. Within these pages you'll find tragedy, perseverance and the reality of God's overcoming love. Corrie's unique writing style subtly reveals her gift of faith and powerfully unveils God's amazing grace.
Another amazing Christian classic which teens enjoy and gain insight from is C.S. Lewis' Screwtape Letters:
The Screwtape Letters
By C.S. Lewis / HarperOne

Wormwood, a demon apprentice, must secure the damnation of a young man who's just become a Christian. He seeks the advice of an experienced devil, his uncle Screwtape. Their correspondence offers invaluable---and often humorous---insights on temptation, pride, and the ultimate victory of faith over evil forces. Paperback with French flaps and deckled page edges.
There are so many wonderful Christian books for teens out there. As a mom, I'm so thankful to all of these Christian authors for hearing God's call to this important area of ministry.
Christianbook.com offers a great Teen Store with other Christain books for teens as well as gifts, devotionals, etc.
Special note: We do preview the websites to which we link, but are unable to peruse them completely. We try to check others' faith statements and make sure they do profess Jesus Christ as God's Son and salvation is found only in Him. It must, however, be your responsibility to personally dig into God's Word and allow the Holy Spirit to be your first and final teacher on all subjects.

"Our website may contain affiliate marketing links, which means we may get paid commission on sales of those products or services we write about. Our editorial content is not influenced by advertisers or affiliate partnerships. This disclosure is provided in accordance with the Federal Trade Commission's 16 CFR § 255.5: Guides Concerning the Use of Endorsements and Testimonials in Advertising."
---
Creative Bible-Bits Newsletter:

Let us help you keep up with what's new at Creative Bible Study with free Bible study lessons and ideas straight to your email!  Your information will be kept confidential and not be used for solicitation.

Free Ebooks: