Search our site:

Christmas Devotion  #16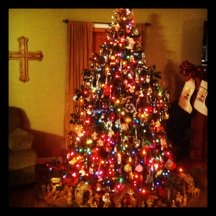 We are down to the 16th Christmas devotion of these twenty-five Christmas countdown on-the-go, active, object lesson devotions with Bible verses to help us keep our focus on the true reason for the season!  Each day snap a photo of each item for a visual and use as a photo challenge on Social Media, or with your family, small group, friends or just for yourself.  It's a fun way to enjoy the presence of Christ each and every day as we look towards celebrating His birthday! 

Dec. 16th - a tree- Galatians 3:13

"Christ redeemed us from the curse of the Law, having become a curse for us-- for it is written, "CURSED IS EVERYONE WHO HANGS ON A TREE "--"

---
One thing I do love about Louisiana is our trees!  Not only do we have green year round with our evergreens, but we have live oak trees like the one above dripping with Spanish moss! Absolutely beautiful!

But whether you live in Louisiana or a desert region, during this season of the year, Christmas trees are plentiful everywhere!
I believe trees are one of God's most amazing creations; they give us so much!  They give us oxygen to breathe, fruit to eat, shade to cool, wood to build, and so much more!  But no tree bore such love as the one used for the cross of Christ!
When we see Christmas trees we usually notice the lights and ornaments, but this Christmas may they remind us of so much more!  May they remind us of the sacrifice Jesus made giving His life as He was nailed to a tree - the cross.  No, His life was not taken from Him; it was freely given because of His love for us! (John 10:18)

If you are feeling unloved this Christmas, may every Christmas tree remind you of the Cross of Christ and the price He paid because of His love for you.  May the lights remind you that the Light of the World came to show us the way back home to the Father.  May the round ornaments remind us of His never ending love for us.  May the red decorations remind us of His blood shed as the price to pay for our sin;  may the green of the tree be a reminder  of the new life offered by Him.! (John 10:10; John 3:16-18)

Let this Christmas devotion focused on a tree remind us that the Christ Child did not remain a baby, but grew into the perfect sinless Son of God dwelling in flesh and taking the wrath and punishment of God on our behalf, surrendering His life, but then by the power of the One True God arose to life again that we may find new life in Him!

  The Cross was the first real Christmas tree...bearing God's greatest Gift - Jesus!

---
Sometimes a story can touch deeper than mere words.  Having been a school librarian, I have many favorite stories!  One of the top ones though is about three trees and God's gift of grace - The Tale of Three Trees.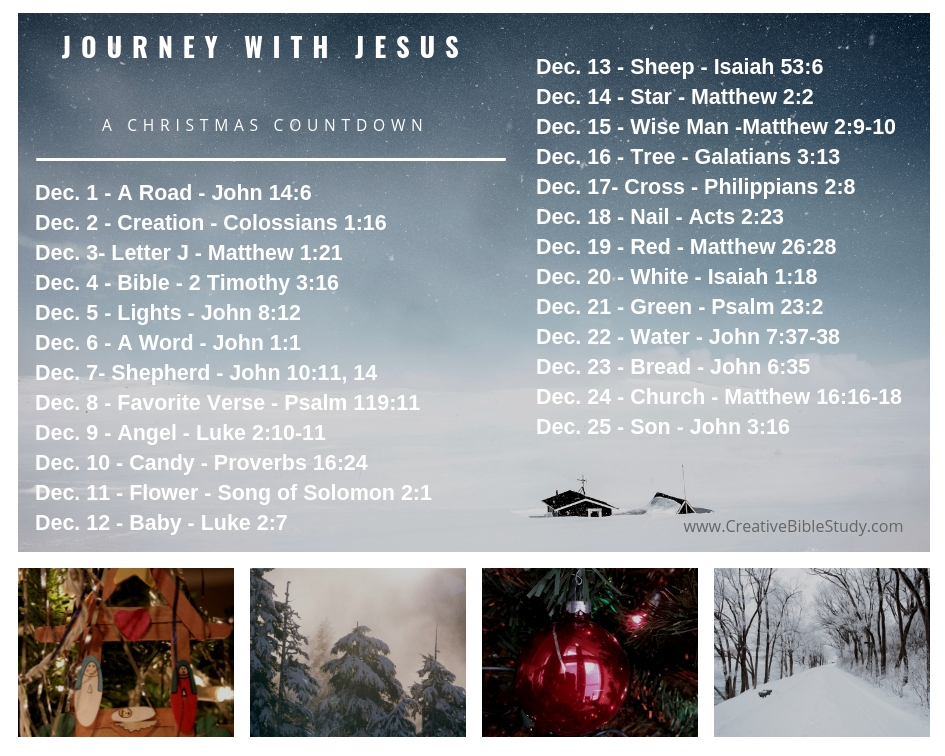 Special note: We do preview the websites to which we link, but are unable to peruse them completely. We try to check others' faith statements and make sure they do profess Jesus Christ as God's Son and salvation is found only in Him. It must, however, be your responsibility to personally dig into God's Word and allow the Holy Spirit to be your first and final teacher on all subjects.

"Our website may contain affiliate marketing links, which means we may get paid commission on sales of those products or services we write about. Our editorial content is not influenced by advertisers or affiliate partnerships. This disclosure is provided in accordance with the Federal Trade Commission's 16 CFR § 255.5: Guides Concerning the Use of Endorsements and Testimonials in Advertising."
---
Creative Bible-Bits Newsletter:

Let us help you keep up with what's new at Creative Bible Study with free Bible study lessons and ideas straight to your email!  Your information will be kept confidential and not be used for solicitation.

Free Ebooks: