Search our site:

Christmas Devotion  #17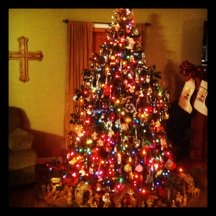 Christmas devotion #17 of these twenty-five Christmas object lesson devotions takes a look at the cross! 
Each day snap a photo of each item for a visual and use as a photo challenge on Social Media, or with your family, small group, friends or just for yourself.  It's a fun way to enjoy the presence of Christ each and every day as we look towards celebrating His birthday! 

Dec. 17 - The Cross - Philippians 2:8

"Being found in appearance as a man, He humbled Himself by becoming obedient to the point of death, even death on a cross."

---
One morning as I was having my quiet time I looked up and this is what I saw...so I snapped a photo!  I had never noticed the two crosses the windows made until then.  How often do we walk through another day and never see the cross, never think of the cross, and never point other to the cross and the hope found in Jesus Christ?
Probably all of us have played the game - "I Spy."  Usually you look for a color, but today I want us to look for the Cross!  Watch out...it's everywhere!  Anytime you see two lines cross each other, see the cross; it may be the letter "t", it may be a pane in a window or the connecting of floor tiles.  Look around you...I spy!

Yesterday we talked about the Cross being the first Christmas tree and letting trees remind us of the Cross of Christ.  Today let's be looking for the cross and how we can point others to Jesus!  Let's become "Cross-pointers!"
In our verse above there is one word that is vital...it is the word - "obedient." Did you ever think about Jesus having a choice?  He did.
In fact when we look at Him in the Garden of Gethsemane, He asks God three times,  "My Father, if it is possible, let this cup pass from me. " (Matthew 26) Yet, there was no other way for our salvation, our rescue, our redemption...so Jesus yielded to the Father's will and obeyed.
Think about it, what if Jesus had chosen not to obey.  There would be no reason to celebrate Christmas; there would be no hope.
But Jesus did obey, and because of that we do have hope - "Christ in you, the hope of glory." (Colossians 1:27)  And we are to share that hope!
Jesus told the disciples a few chapters over in Matthew 28:19-20 :
"Go therefore and make disciples of all the nations, baptizing them in the name of the Father and the Son and the Holy Spirit, teaching them to observe all that I commanded you; and lo, I am with you always, even to the end of the age."
My question to all of us who are believers, born again and filled with hope - "Are we obeying?"  Are we pointing others to Jesus?  It matters.

"Everyone who calls on the name of the Lord will be saved."How, then, can they call on the one they have not believed in? And how can they believe in the one of whom they have not heard? And how can they hear without someone preaching to them? And how can anyone preach unless they are sent? As it is written: "How beautiful are the feet of those who bring good news!"  Romans 10:13-15
So today, during this Christmas season, throughout this next year and beyond...let us be looking for the Cross and pointing others to Jesus.  Let this little Christmas devotion challenge us to become "Cross-pointers" every day!

---
Special note: We do preview the websites to which we link, but are unable to peruse them completely. We try to check others' faith statements and make sure they do profess Jesus Christ as God's Son and salvation is found only in Him. It must, however, be your responsibility to personally dig into God's Word and allow the Holy Spirit to be your first and final teacher on all subjects.

"Our website may contain affiliate marketing links, which means we may get paid commission on sales of those products or services we write about. Our editorial content is not influenced by advertisers or affiliate partnerships. This disclosure is provided in accordance with the Federal Trade Commission's 16 CFR § 255.5: Guides Concerning the Use of Endorsements and Testimonials in Advertising."
---
Creative Bible-Bits Newsletter:

Let us help you keep up with what's new at Creative Bible Study with free Bible study lessons and ideas straight to your email!  Your information will be kept confidential and not be used for solicitation.

Free Ebooks: