Search our site:

Christian Childrens Books

Christian childrens books and other popular children's books can be used in creative ways to impart important Bible truths. Children's books teach more than just reading. There are so many wonderful picture books that teach powerful life lessons as well as Christian values.
Everyone loves a story!  Stories just stick with us, they draw us in to become a part of them so that we may experience something new and amazing. Because of this, Children's books offer creative Bible teaching opportunities for both children, as well as, youth, and adults.
A wonderful devotional talk on being a living sacrifice can be developed around Nan Gurley's Little Rose of Sharon. And what child doesn't love to cuddle up and listen to a good book read aloud to them? Spending time with a child is one of the greatest gifts we can give them. Combine that with a love for reading and a love for God, and you have the recipe for some wonderful life-changing moments!
These Christian childrens books lessons include Bible activities for children, but may be adapted to any age. No one is too old to have a children's book read aloud to them. They can provide rich life lessons for all of us, and admit it, we enjoy being read to also!
Some of our favorite Christian childrens books impart wonderful Bible truths for all ages through memorable stories that are not only entertaining, but also thought provoking. Christian authors like Max Lucado, Beverly Lewis, Janette Oke, Karen Kingsbury, and others weave wonderful tales for both adults and children.

Let's face it: reading is essential for all other academic areas, but also it is an incredible ability God has given to us. Let's use it not only to prepare children for academics, but also to impart life lessons from His Word as we read and discuss the themes and content in both Christian childrens books, as well as other popular children's books.
Below are children's books that are fun to read aloud along with lesson plans.
---

Christian Childrens Books


- with Lessons




---
You are special - lesson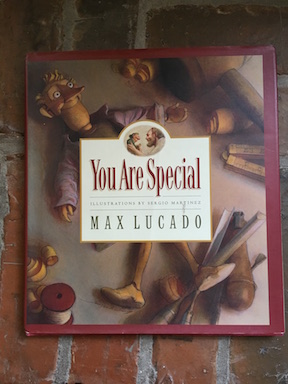 Max Lucado's Wemmicks: You Are Special, Picture Book
By Max Lucado
---
tale of three trees - lesson

The Tale of Three Trees: a lesson of God's plans for us
The Tale of Three Trees
By Angela Elwell Hunt / David C. Cook

Featuring the wonderful illustrations of Tim Jonke, this best-selling children's book tells the Easter story from a new and unusual point of view. Three trees on a mountain dream of what they wanted to become when they grew up. One wants to be a treasure chest, another an ocean-going boat, and the third a signpost to God. Their wishes come true in a way they never expected. Children will be deeply touched as they understand, perhaps for the first time, the significance of Christ's life and his atoning sacrifice on the cross. Recommended for ages 4 and up.
---
sidney & Norman - lesson

Parable of the Pharisee & the Tax-gatherer (Luke 18:9-14)
Sidney & Norman: A Tale of Two Pigs
By Phil Vischer & Justin Gerard(ILLUS)
---
Pumpkin patch parable - lesson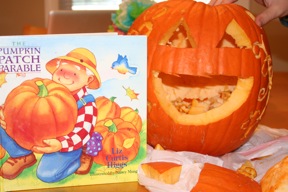 A Lesson on the Light of Christ...
The Pumpkin Patch Parable, 10th Anniversary Edition: The Parable Series #1
By Liz Curtis Higgs / Tommy Nelson

This charming story for children illustrates how a loving farmer can turn a simple pumpkin into a simply glorious sight. Liz Curtis Higgs weaves a beautiful parable as the farmer picks out a special pumpkin from his garden, and scoops out all the messy "goo" to make room for his light to shine from inside. In the same way, God's transforming love can fill each of our hearts with joy and light. Liz Cutis Higgs originally created this parable as a way to share the Good News with her own precious children each harvest season. After 10 years, she has touched children everywhere! Recommended for ages 3 to 7.
script async src="//pagead2.googlesyndi
---
Christian Lessons from other Children's Books
---
The Giving Tree: a lesson on giving
---
I'm NOT Just a Scribble - A Lesson on Forgiveness/Acceptance
---
Tacky the Penguin: a Bible lesson on being different
---
Christian lessons from Dr. Seuss books
In any learning process, it is essential for both modeling of a skill and practicing of that same skill to take place.
Reading aloud children's books provide a living model for children to both see and hear. As they hear the pronunciation of both letters and words they see on each page and also listen to your voice inflections, it provides a model for them to practice on their own.
Christian books for teens & young adults...

Christian Easter books for kids...

Christian children's book reviews - by moms & for moms
Special note: We do preview the websites to which we link, but are unable to peruse them completely. We try to check others' faith statements and make sure they do profess Jesus Christ as God's Son and salvation is found only in Him. It must, however, be your responsibility to personally dig into God's Word and allow the Holy Spirit to be your first and final teacher on all subjects.

"Our website may contain affiliate marketing links, which means we may get paid commission on sales of those products or services we write about. Our editorial content is not influenced by advertisers or affiliate partnerships. This disclosure is provided in accordance with the Federal Trade Commission's 16 CFR § 255.5: Guides Concerning the Use of Endorsements and Testimonials in Advertising."
---
Creative Bible-Bits Newsletter:

Let us help you keep up with what's new at Creative Bible Study with free Bible study lessons and ideas straight to your email!  Your information will be kept confidential and not be used for solicitation.

Free Ebooks: