Search our site:

New Bible Games -
Product Review
Here are two quality Bible games you may not know about!  Combine learning about God's Word with fun and you double your purpose.  These will add to any small group activity, family time, or homeschool resources. 
 
Bible Match It Link It -
product Review
Some Bible games may seem familiar like "Bible Match It, Link It" which is a combination of Snap and Dominos, but has four different ways to play!
One of the things I love about this game is that one of the four ways to play is a cooperative game and another is solitaire.  All four Bible games are explained in the video below.
Looking at all that comes in the box, you get:
57 eight-sided domino tiles which even a young child could enjoy matching the pictures
57 Bible story cards with a Bible story for each picture; there are 29 stories from the Old Testament and 28 from the New Testament
36 person-shaped tokens in a variety of colors (again these could be used in multiple educational ways with preschool children learning colors and categorizing)
a colorful instruction sheet and molded box for pieces


NOTICE:  The tokens are quite small and will need to be kept away from very small children because they could be a choking hazard.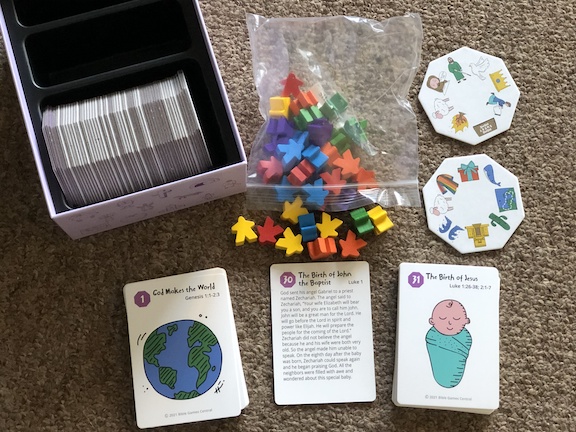 There are multiple ways these Bible games could be used to introduce or review Bible stories in the midst of a fun game.  Players could even get extra points for naming the story for a matched picture or for adding details to the Bible stories as play continues.
This game can be purchased through Bible Game Central for $19.95.
Here are the four Bible games you can play with it:
The Good Shepherd
Card GAMe
The second in our Bible games review is a card game called "The Good Shepherd - Watch Your Sheep!"
Unlike Bible Match It Link It, this Bible card game focuses on the central topic of the Good Shepherd.  A bonus feature is one "sheep" card worth 99+1 points representing the Parable of the Lost Sheep.
Bible games incorporate more than just fun for a moment; they plant seeds for eternity.  This fairly simple card game is ideal to introduce Jesus as our Good Shepherd Who left Heaven to search for His lost sheep.
Even if there was just one lost, He comes in search to bring us home.
"I am the good shepherd; the good shepherd lays down His life for the sheep."
John 10:11
For $11.95 you receive a deck of 80 cards with various point amounts.  There are Pasture cards, Sheep cards, Shepherd cards, Wolf cards and Stampede cards.
Here's how to play:

Bible Games Summary - 
These new Bible games would be great additions to any classroom, family game closet, Christmas list or Easter basket.  
Each of these are very well made and professionally packaged, and they are just in time for Christmas!
Other new Bible games include:
All come from Bible Games Central and when purchased will help support their ministry of the many free creative Bible games they offer online. 
If you haven't been over to see all the free online Bible games available at Bible Games Central, I hope you'll go take a look now!  They have some great free games for the Christmas season too!

---
This product review contains my personal thoughts and is not influenced by publishers or advertisers. I did receive free copies for review, but was not required to write a positive one and do not receive any monetary compensation.
Special note: We do preview the websites to which we link, but are unable to peruse them completely. We try to check others' faith statements and make sure they do profess Jesus Christ as God's Son and salvation is found only in Him. It must, however, be your responsibility to personally dig into God's Word and allow the Holy Spirit to be your first and final teacher on all subjects.

"Our website may contain affiliate marketing links, which means we may get paid commission on sales of those products or services we write about. Our editorial content is not influenced by advertisers or affiliate partnerships. This disclosure is provided in accordance with the Federal Trade Commission's 16 CFR § 255.5: Guides Concerning the Use of Endorsements and Testimonials in Advertising."
---
Creative Bible-Bits Newsletter:

Let us help you keep up with what's new at Creative Bible Study with free Bible study lessons and ideas straight to your email!  Your information will be kept confidential and not be used for solicitation.

Free Ebooks: