Search our site:

A Christian Game of Cards -
Product Review
This Christian game comes with 120 fun emoji cards and four (or more) ways to play!  Twenty four popular Bible stories are included with twelve from the Old Testament and twelve from the New Testament.
This would be a great addition to have for kids or youth at church but also for families at home as a game or addition to your homeschool Bible curriculum!  So many meaningful Bible conversations can come from playing this game!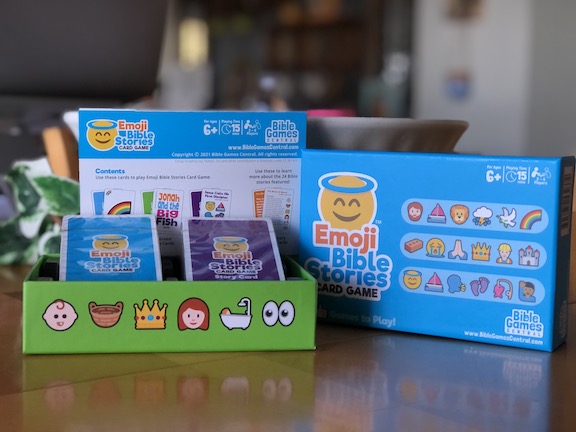 Emoji Bible stories Card Game 
How I wish we had this Christian game available when our own kids were younger!  We have always enjoyed playing games as a family and still do, but this would have been a great way to generate a fun family Bible time and learning without any preparation!
More than a Game - Younger Children
The actual game has an age level of 6+, but these cards have so many uses for younger children too besides just being a game!
Younger children would have a fun time locating and matching these Christian game cards in different ways while learning additional skills such as colors, vocabulary, patterns and stories about God!  
There are two or more matching cards of each emoji.  A child could find and match the pattern on the story card or even younger children could put together the matching picture cards.  
The Bible story title cards and summary cards could even be used with young readers or have younger children find pictures to tell a Bible story in their own words for a language activity.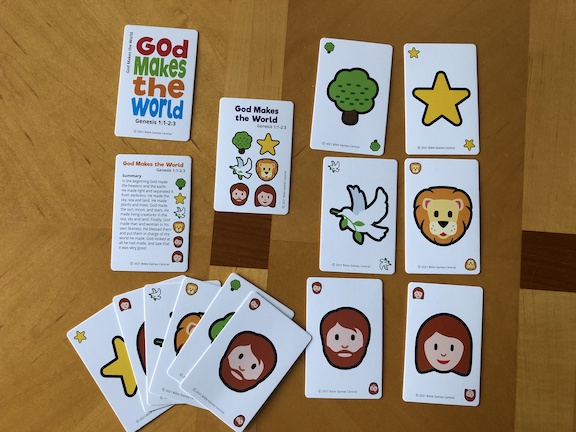 How to Play
The instructions give four different games which can be played with these Christian game cards.
Tell an Emoji Bible Story 
Guess a Bible Story
Match and Guess
Snap and Redeem
All four versions are explained in the video below:
Overview & Bible Board Game Demonstration
Emoji Christian Game - What's in the Box
Included in the Christian game box are 
120 Emoji Cards (Blue)
24 Bible Story Title Cards (Green)
24 Bible Story Emoji Match Cards (Purple)
24 Bible Story Summary Cards (Orange)
The Bible story summary cards are great for introducing a particular Bible story or summing it up along with references for where it is found in the Bible and a summary of what the story teaches us.
For instance, the Christian game card for The Last Supper includes:
Bible references - John 13:1-17 & Luke 22:19-20
Lesson summary - "This story teaches us that Jesus wants us to be humble and serve each other.  He also wants us to partake of the Lord's supper to remember that He died for the forgiveness of our sins."

On the other side is the Bible story and emoji images that go with it.
This emoji Christian game lends itself to many Bible story discussions and lessons for kids and youth of any age!  This would be a great addition to the family or church game closet as well as to a homeschool Bible curriculum!
Cost & Where to purchase
EMOJI BIBLE STORIES is a new Christian game created and sold by Biblegamescentral.com.  With a purchase price of $15.95, you get a lot of bang for your buck!
Bible Games Central
Bible Games Central sent me a free game to review, but I do not receive any monetary compensation; for this reason, I am able to share my honest opinion. 
I do love to get to review their Christian games because they are super creative in developing quality, fun games which will draw kids in to know more about Jesus and the Bible.  These aren't games you are likely to find on the shelf of your local store or on Amazon; so it is my pleasure to get to introduce you to them!
Check out this other Christian game they offer that teaches about missions!
As Christmas roles our way, I'll be reviewing a few more of their games in the near future!
They also provide many free Bible game ideas on their site including several for the upcoming Thanksgiving and Christmas seasons!  Check them out - 
---
Special note: We do preview the websites to which we link, but are unable to peruse them completely. We try to check others' faith statements and make sure they do profess Jesus Christ as God's Son and salvation is found only in Him. It must, however, be your responsibility to personally dig into God's Word and allow the Holy Spirit to be your first and final teacher on all subjects.

"Our website may contain affiliate marketing links, which means we may get paid commission on sales of those products or services we write about. Our editorial content is not influenced by advertisers or affiliate partnerships. This disclosure is provided in accordance with the Federal Trade Commission's 16 CFR § 255.5: Guides Concerning the Use of Endorsements and Testimonials in Advertising."
---
Creative Bible-Bits Newsletter:

Let us help you keep up with what's new at Creative Bible Study with free Bible study lessons and ideas straight to your email!  Your information will be kept confidential and not be used for solicitation.

Free Ebooks: