Search our site:

Bible Board Game -
Product Review
This Bible board game focuses on Acts 1:8, and is a great new way to teach kids, teens & adults about missions!  One eight year old said it made them really think about what it would be like to be a missionary.
Jesus said, "But you will receive power when the Holy Spirit comes on you; and you will be my witnesses in Jerusalem, and in all Judea and Samaria, and to the ends of the earth."
Acts 1:8
It reminds me of the Game of Life coupled with a domino type strategy.  Players are actually building the board as they play and also collecting needed items as they go.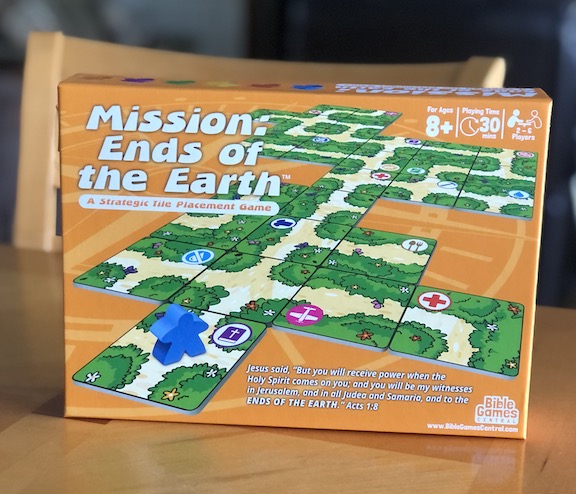 Mission: Ends of the Earth -
product Review
At first this Bible board game seemed a little complicated, but the video below gives a quick overview. 
The goal is for each player to reach their mission field with the needed resources listed on their game card.  
Four destinations, the Greek words for East, West, North and South, are used to incorporate another Bible verse which talks about believers coming from nations around the world to share in the banquet in the Kingdom of God.

"And they will come from east and west and from north and south, and will recline at the table in the kingdom of God."
Luke 13:29
This will remind players of the goal of missions - to reach people with the Gospel of Christ so they can come to know Him and receive eternal life!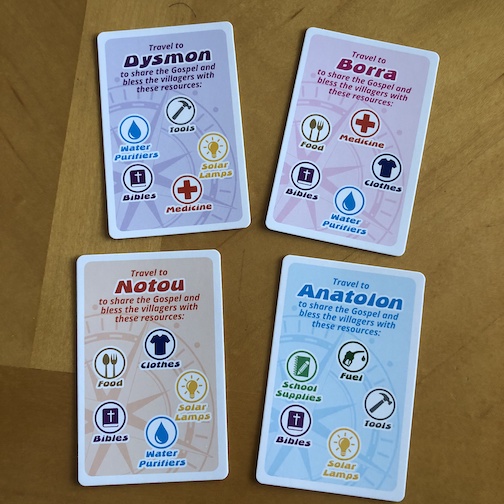 How to Play
Each turn involves rolling the die and choosing what "moves" to make.  These may include: 
Draw and place a tile.
Use a spade token.
Move your missionary one or more spaces.
For instance, if the number 4 is rolled, the player may draw & place 2 tiles and move their missionary 2 spaces or variations as long as they do 4 actions.
Because of the strategy involved and choices that must be made, the age suggestion for this Bible board game is eight years old and up.  If however, you want to play as a family or group with young children, I would suggest making teams.  The older players can strategize while allowing young players to roll the die and place the tiles creating the paths.
I love that a "cooperative game variation" is also given in which players don't compete, but work as a team helping each other get missionaries to their destinations with the needed resources!
Overview & Bible Board Game Demonstration
Bible Board Game - What's in the Box
This is a quality Bible board game including the storage box which makes a welcome addition for organization and clean up.
The playing pieces are rather small; notice the penny in the photo below. The center starting board measures 6 inches by 4 ½  inches and each of the 105 tiles is a 1 ½  inch square which is nice in that the game doesn't spread too far apart when being played.  
Also included are - 54 resource tokens, 6 spade tokens, 24 mission cards, 6 missionary playing pieces, 1 die and instructions.
The starting board has six start positions and four destination points.  The game states it's for 2-6 players, but again if played in teams, there could easily be more.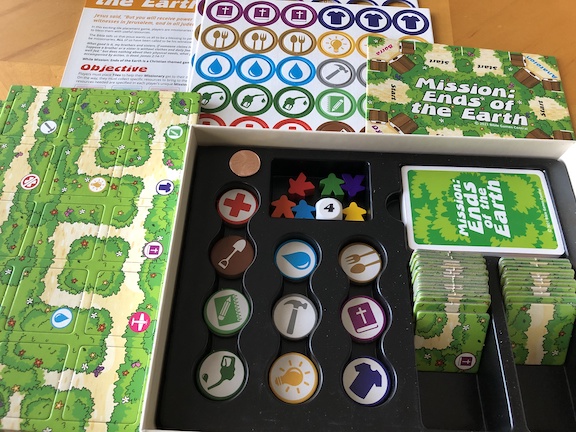 Cost & Where to purchase
MISSIONS: ENDS OF THE EARTH is a new Bible board game created and sold by Biblegamescentral.com.  It has a purchase price of $29.95 which may sound like a lot, but when we consider the quality of what it teaches in addition to the fun, it gives a lot of bang for your buck.
Bible Games Central
Bible Games Central sent me a free game to review, but I do not receive any monetary compensation; for this reason, I am able to share my honest opinion. 
I do love to get to review their games because they are super creative in developing quality, fun games which will draw kids in to know more about Jesus and the Bible.  These aren't games you are likely to find on the shelf of your local store or on Amazon; so it is my pleasure to get to introduce you to them!
As Christmas roles our way, I'll be reviewing a few more of their games in the near future!
They also provide many free Bible game ideas on their site including several for the upcoming Thanksgiving and Christmas seasons!  Check them out - 
---
Special note: We do preview the websites to which we link, but are unable to peruse them completely. We try to check others' faith statements and make sure they do profess Jesus Christ as God's Son and salvation is found only in Him. It must, however, be your responsibility to personally dig into God's Word and allow the Holy Spirit to be your first and final teacher on all subjects.

"Our website may contain affiliate marketing links, which means we may get paid commission on sales of those products or services we write about. Our editorial content is not influenced by advertisers or affiliate partnerships. This disclosure is provided in accordance with the Federal Trade Commission's 16 CFR § 255.5: Guides Concerning the Use of Endorsements and Testimonials in Advertising."
---
Creative Bible-Bits Newsletter:

Let us help you keep up with what's new at Creative Bible Study with free Bible study lessons and ideas straight to your email!  Your information will be kept confidential and not be used for solicitation.

Free Ebooks: