Search our site:

Six simple steps -
How to study the bible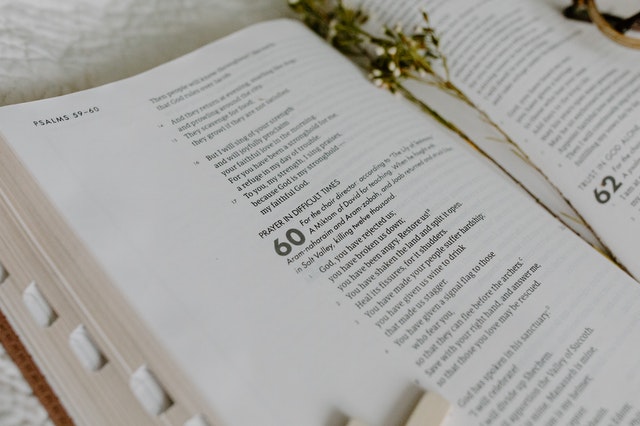 There is really no formula for how to study the Bible, but we hope these six easy steps will help get you started!
Are you new to Bible study or have been away a long time? Wondering how to study the Bible? Take it slow and keep it simple. Don't let it be like a New Year's resolution in which we have good intentions but no follow-through. A good friend of mine once told me: 
The smallest deed is better than the greatest of intentions.
In other words - just do it!
1. Locate a Bible version that you can understand.
For Bible study purposes, choose a Bible translation rather than one that is paraphrased.

Some of the more popular, easier-to-read translations include: New American Standard, Christian Standard Bible, New Living Translation, New King James Version or English Standard Version.

These and more are easily accessed online or on the YouVersion app. Also included are translations in several languages from around the world. This makes it possible for you to choose the best Bible version for you.





2. Find a quiet place where you can be alone with God.
A "quiet time" is important too. The fewer distractions, the better.
3. Gather a few tools.
The Bible, of course, is our most essential tool to have, but it does help to also have a pencil or pen, paper or notebook, and a Bible concordance if available.  Many free Bible study tools are now available online.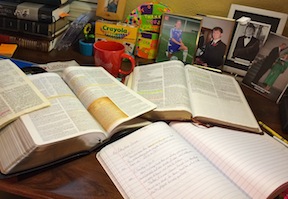 4. Have a simple plan of action for how to study the Bible & where to begin.

You may not realize it, but you are probably already familiar with several popular or "famous" Bible verses used at weddings, graduations, and other occasions where they are quoted.  These are a great place to start!
Use a Bible concordance to help you locate verses on a certain topic in which you're interested or Bible character.
Start with a specific book of the Bible.
A couple of great books to begin reading are Genesis and the Gospel of John.  You may not have grown up reading the Bible, but I bet you've heard several Bible stories along the way!  Many of thees are found in the first book of the Bible - Genesis.  You will find of course, Adam & Eve, but also the stories of Noah & the Ark, Father Abraham, Joseph & the coat of many colors just to name a few! 
If you move on into Exodus (second book), you'll find out all about Moses!
Another great book to begin reading the Bible is the Gospel of John (4th book in the New Testament).  John has a wonderful way of telling about the life of Jesus, and well he should, he was one of Jesus' closest friends!
If both of those books still seem a bit overwhelming, then take a look at the book of  1 John (This is the same John that wrote the Gospel, but he also wrote three letters that are found almost at the very end of the Bible.)  In 1 John, many of the same topics are covered as in the Gospel of John, but it's only 5 chapters long; take a look!
Most Bibles include references which give other Bible verses which correspond with the topic being mentioned in a verse.  Take the journey in looking these up and learning more about how the Bible connects into one big story.
A simple Bible study method using the acronym S.O.A.P. is very easy to remember and follow to give you a start!
More ideas for Bible Reading Plans...
5. Begin your time with prayer.
Ask God to help you understand what you read and how it relates to your own life.
James 1:5 says, "If any of you lacks wisdom, he should ask God, who gives generously to all without finding fault, and it will be given to him."
Remember, you're not alone; God give us His Holy Spirit when we invite Christ into our lives.  His Spirit teaches us. Also God gives us a family of believers to turn to and learn from.
John 14:26 - "But the Helper, the Holy Spirit, whom the Father will send in my name, he will teach you all things and bring to your remembrance all that I have said to you."
Photo by picjumbo @ Pexels
6. Read, write, and review.
Read Scripture, think about it, pray about it, and take notes on what you learn. Then review and read more. You'll be amazed how God will speak to you through His Word.
God gives us His Word to help us know Him.  Look for what it's telling you about Him; it's His story, and He wants you to be a part of it!
Note that when you see a reference for a Bible, it contains the name of the book, the chapter number, and verse number.  So John 3:16 refers to the Gospel of John, chapter 3, verse 16.  The reference is like the verse's address and will help you find it again!
---
Here Anne Graham Lotz (Billy Graham's daughter) gives a wonderful lesson in using a 3-question method of how to study the Bible which may help get you started.

---
Taking time for reading, meditating, and memorizing God's Word, the Bible, is so important!  The Bible says of itself in Hebrews 4:12 that it is "living and active"; it can change a life!  It is not like any other book that has ever been written!
So jump in now that you know how to study the Bible!

Special note: We do preview the websites to which we link, but are unable to peruse them completely. We try to check others' faith statements and make sure they do profess Jesus Christ as God's Son and salvation is found only in Him. It must, however, be your responsibility to personally dig into God's Word and allow the Holy Spirit to be your first and final teacher on all subjects.

"Our website may contain affiliate marketing links, which means we may get paid commission on sales of those products or services we write about. Our editorial content is not influenced by advertisers or affiliate partnerships. This disclosure is provided in accordance with the Federal Trade Commission's 16 CFR § 255.5: Guides Concerning the Use of Endorsements and Testimonials in Advertising."
---
Creative Bible-Bits Newsletter:

Let us help you keep up with what's new at Creative Bible Study with free Bible study lessons and ideas straight to your email!  Your information will be kept confidential and not be used for solicitation.

Free Ebooks: