Search our site:

Choosing a Bible - Which is Best?
Choosing a Bible that is best for you or your child can be a daunting task!  It doesn't have to be though.  
If you have ever walked into a Christian Bookstore, it may have been overwhelming and confusing to see the many choices of Bibles!   There are a few things to consider when looking at the various Bible versions and types of Bibles.
Consider your purpose - to read casually or study in depth.  Consider the size you want; is it to carry or primarily use at home?  Consider the readability; if you can't understand what it's saying, is it really the best choice for you?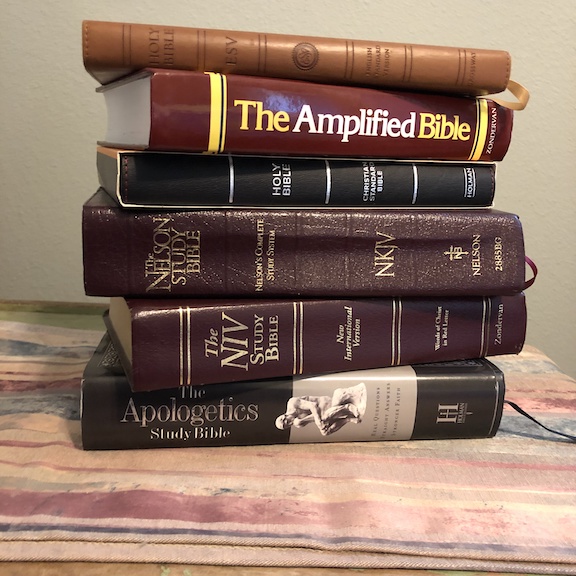 Level of Accuracy
The first thing to notice is if it is a Bible translation (translated from Bible manuscripts) or if it is a paraphrase (written in a person's own words of how they understand the translation).
Needless to say a translation will be worded more accurately, but a paraphrase may help you understand what is being said.  I tend to use both!  I normally study from my New American Standard Bible or Holman Christian Standard Bible, but I also enjoy the New Living Translation or reading it from a paraphrase like The Voice or The Message. 
For example:  John 3:16
NASB - "For God so loved the world, that He gave His only begotten Son, that whoever believes in Him shall not perish, but have eternal life."
New Living Translation - "For this is how God loved the world: He gave His one and only Son, so that everyone who believes in Him will not perish but have eternal life."
The Voice (Paraphrase) - "For God expressed His love for the world in this way: He gave His only Son so that whoever believes in Him will not face everlasting destruction, but will have everlasting life."
In this day of technology, we can sample the many Bible translations here online or even through Apps on our Smart phones.
Bible Gateway is a great online Bible tool where you can sample the wording of most Bible translations available and compare.
I also enjoy using YouVersion on my phone for comparing multiple Bible translations.
Level of Readability
Another step in choosing a Bible is testing its readability.  Even among different Bible translations there is a great difference in readability.  Of course many love the poetic language of the King James Version while others prefer the simpler language of the New Living Translation.  Again, you can compare these using Bible Gateway or Youversion on your phone.

Compare familiar passages such as Psalm 23 or the Sermon on the Mount in Matthew 5-7 and determine which you prefer.
Some I would suggest trying are the New King James, New American Standard or English Standard Version.  These are a little more difficult in readability, but excel in accuracy in relating to the original Hebrew and Greek Texts.
For an easier level of readability, I enjoy using the New International and New Living Translations.
Still there are times I use a paraphrase such as The Voice or The Message to gain understanding of a passage and then reread in a more accurate translation.
Reference Bible or Study Bible?
Some people would call me a "Bibleholic"; I love to have a variety of Bibles on hand!  When shopping for a Bible, size may make a difference.  If you are wanting something small and easy to carry around, you may want to get a reference Bible.  This will have the Bible text along with references that will help you connect various verses throughout the Bible.
There are also many outstanding study Bibles from which to choose.  These of course will be larger because they contain more information like footnotes and study guides.  It may take a little looking to decide which is best for you.
Choosing a Bible that is right for you is important as you embark on this journey; the Bible is your primary text!  All the other Bible study lessons for adults are just to assist you in navigating and understanding God's Word.  The Holy Spirit will be your primary teacher and your Bible your actual textbook.

Choosing a Bible for a Child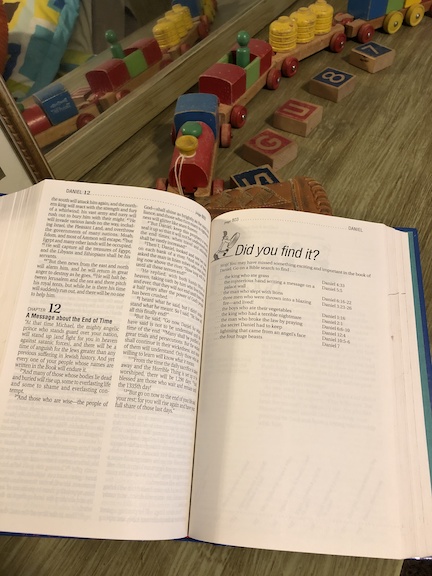 Again, the three areas above are important in choosing a Bible for a child or youth as well.  It is essential they are able to read the translation or paraphrase as well as understand what they are reading.
Depending on the age of your child you may decide choosing a Bible story book best.  Many of these contain the basic Bible stories in both words and language a child can understand.
Once your child is reading well on their own and using their Bible for church or school, you may decide its time for choosing a Bible with full text and references to meet their needs.
There are also several study Bibles for children.  What I love about these is they contain special resources which draw your child into reading their Bible.  These may include fun questions or trivia facts, Bible character sketches, or other such eye captivating inserts.
We are affiliate of ChristianBook.com where you may view a variety of Bibles for all ages of children & youth - 
Children's Bibles
Special note: We do preview the websites to which we link, but are unable to peruse them completely. We try to check others' faith statements and make sure they do profess Jesus Christ as God's Son and salvation is found only in Him. It must, however, be your responsibility to personally dig into God's Word and allow the Holy Spirit to be your first and final teacher on all subjects.

"Our website may contain affiliate marketing links, which means we may get paid commission on sales of those products or services we write about. Our editorial content is not influenced by advertisers or affiliate partnerships. This disclosure is provided in accordance with the Federal Trade Commission's 16 CFR § 255.5: Guides Concerning the Use of Endorsements and Testimonials in Advertising."
---
Creative Bible-Bits Newsletter:

Let us help you keep up with what's new at Creative Bible Study with free Bible study lessons and ideas straight to your email!  Your information will be kept confidential and not be used for solicitation.

Free Ebooks: