Search our site:

Bible Lessons for Adults


God the Potter & The Clay
God the Potter and the clay object lesson used in the Bible is a beautiful illustration of His sovereignty in creating us for purpose.  If you've ever wondered about your value or purpose in life, these Bible lessons can give you a glimpse into God's heart as our Creator.
Handmade by God the Potter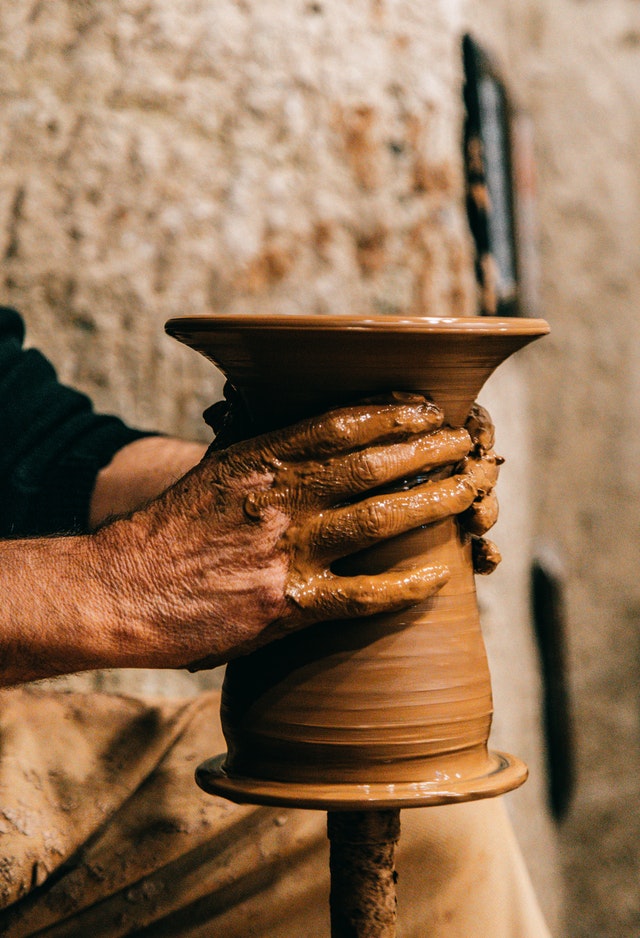 Photo by Meruyert Gonullu from Pexels

Meditate:

God the Potter
"BUT NOW, O LORD, YOU ARE OUR FATHER, WE ARE THE CLAY, AND YOU OUR POTTER; AND ALL OF US ARE THE WORK OF YOUR HAND."
ISAIAH 64:8
As seen in the photo above, making pottery can be a messy endeavor.  Your hands must become covered in the wet clay as the work takes place.  What a beautiful picture this is of our God the Potter!  He doesn't mind getting His hands dirty; He wants to be involved in our lives. 
God the Son, Jesus, stepped down from Heaven and got dirty taking our sin upon Himself. He is still at work in and around us through His Holy Spirit!
Handmade with Love 
God the Potter is sovereign over the clay, but also the Potter can be trusted for He is good and does good. (Psalm 119:68)  His hands are where the ordinary becomes extraordinary!
Life can feel like a lump of clay.  How often we find ourselves unable to see beyond our everyday failures to our God-given potential.  We feel helpless, directionless and hopeless, spinning around on this wheel called life.
There is hope though, because there is a Potter.  He is the one that shapes, molds and brings meaning and purpose to life.  He can be trusted.  He waits for us to place ourselves in His hands.
The thought that someone took time to use their skills to craft an object with their hands makes it that much more special.  It's exciting to see the art of craftsmanship coming back!  In the same way, God the Potter places on each of us a tag that says, "Handmade with Love."  Value is not found in just uniqueness or even the material from which an item is made; value is based on its creator. 
Any violin can be used to make music, but the extravagant price of a Stradivarius is based upon its maker. Any painting is basically paint on a canvas, but when it bears the name of Da Vinci, Van Gough, or Rembrandt, few can afford it!
The same has been said of you.  You are truly a masterpiece, not because you are better and more valued than others, but because of the One Who made you.
GENESIS 1:26-27
"Then God said, "Let Us make man in Our image, according to Our likeness; and let them rule over the fish of the sea and over the birds of the sky and over the cattle and over all the earth, and over every creeping thing that creeps on the earth." 27 God created man in His own image, in the image of God He created him; male and female He created them."
EPHESIANS 2:10 NLT
"For we are God's masterpiece. He has created us anew in Christ Jesus, so we can do the good things He planned for us long ago."
A Look at God the Potter 
Our Creator
ELOHIM is the name used for God our Creator in Genesis chapter one, but my favorite name God has revealed for Himself is first found in Genesis chapter two. 
GENESIS 2:4
"This is the account of the heavens and the earth when they were created, in the day that the LORD God made earth and heaven."
Have you ever wondered why sometimes LORD is spelled with all capital letters?  It refers to God's personal name He gave to Moses out of the burning bush when Moses asked who he should say had sent him to set God's people, the Israelites, free from Egypt.  
EXODUS 3:14
"God said to Moses, "I AM WHO I AM"; and He said, "Thus you shall say to the sons of Israel, 'I AM has sent me to you.'"
It is God's name of relationship; it is literally translated, "I AM."  You may also know it as Jehovah or Yahweh.  It is such a holy name that the Israelites took great care in writing it or saying it.  Scribes would purify themselves and pick up an unused pen before writing it. In fact, they would remove the vowels so that one could not even speak it – YHWH.  Try it.  You will find yourself blowing a breath for each H reminding us of God breathing life into us at creation.
Chapter one of Genesis may give the seven days of the creation account, but chapter two is all about God setting the stage for relationship.  God is not only our Creator, He desires to be in restored relationship with us as our Father. 
Close your eyes and imagine God; how do you visualize Him?  Much of our perception of God is based on our experience with people; therefore, our ideas may be warped.  You may have heard God is our Father, but your own experience with your earthly father causes you to see God as a tyrant, abusive, aloof or even nonexistent.  Humans will fail us even in reference to our perception of God. We must go to the Bible to hear what God says to truly understand His nature and character.
ISAIAH 64:8
"But now, O Lord, You are our Father, we are the clay, and You our potter;
And all of us are the work of Your hand."
JEREMIAH 18:3-6
"Then I went down to the potter's house, and there he was, making something on the wheel. But the vessel that he was making of clay was spoiled in the hand of the potter; so he remade it into another vessel, as it pleased the potter to make. Then the word of the Lord came to me saying, "Can I not, O house of Israel, deal with you as this potter does?" declares the Lord. "Behold, like the clay in the potter's hand, so are you in My hand, O house of Israel."
ROMANS 9:21
"Or does not the potter have a right over the clay, to make from the same lump one vessel or honorable use and another for common use?"
God the Potter is Both Sovereign & Trustworthy
Granted, it is both easier and comforting to see God as a loving Father and a good Shepherd rather than God the Potter who has complete control over the clay.  However, it is important that we understand this two-fold character of God for we cannot have one side of the coin without the other.  It is essential we understand both the complete sovereign, righteous, just and holy side of God as well as that of His tenderness, patience and enduring love and faithfulness.

Throughout my years of teaching Sunday School, no matter what age I taught, I emphasized these two things we should always remember: 
1. God is in control; He is King and rightfully so.
2. God loves us; therefore, we can trust Him.
Because He is righteous and holy, He always does what is right and good; His faithfulness can be trusted. There is no meanness, hatefulness, or wrong within Him.  1 John 1:5 tells us He is Light and there is NO darkness in Him.  Psalm 119:68 tells us He is good and does good. Because He is sovereign, He is always in control; no matter what life may throw at us, we can know "God's got this!" It did not take Him by surprise and there is NO one, NO thing more powerful than Him.
But God also cares; He adores; He has an everlasting love for us! It's one thing for someone to be in charge and trustworthy, but it is something altogether different when this One loves you so much He gave His very life for you and for me and for every person - even the babies that never got the chance to draw a breath. 
His love is why He could not let us perish although that is the price for our sin.  His love is why we have hope in the midst of our failure.  His love is why it is safe for us, the clay, to surrender to God the Potter's hands of grace and mercy even when we may not understand His process.


A Look at the Clay
Photo by Gabby K from Pexels

"BUT WE HAVE THIS TREASURE IN EARTHEN VESSELS…" 
2 CORINTHIANS 4:7A
This illustration we are earthen vessels continues to fascinate me the more I study.  Of course, clay comes from the ground and so did man in the physical sense according to Genesis 2:7 – "Then the LORD God formed man of dust from the ground, and breathed into his nostrils the breath of life; and man became a living being."
Interestingly, there are different types of clay; comparing these can offer us further spiritual insight.  The two of the most common clays are earthenware and kaolin or china clay.  The three basic differences are how far away from their original source they have traveled, the number of foreign components they contain, and the temperature of heat they can endure.
Earthenware or common clay develops after being transported the farthest from its source and having picked up the most impurities, it melts at a lower temperature than other clays.  In comparison, kaolin is found the closest to its source with less impurities and therefore capable of a higher melting point.
Even the clay of the earth teaches that the closer we remain to God, our source, the less impurities or sin will be retained in our everyday life giving us strength to endure the hotter trials this world may bring.
No matter the type of clay, earthenware is fragile pointing to the fact our strength does not come from within, but from God the Potter.  The story is not in the clay itself, but in what the Potter creates it to be.  God does not want us to remain a lump of clay.  He desires for us to place our lives in His hands through faith and make us into a vessel of purpose.  There is more!
"SO I WENT DOWN TO THE POTTER'S HOUSE AND SAW HIM WORKING WITH CLAY AT THE WHEEL. 4 HE WAS MAKING A POT FROM CLAY. BUT THERE WAS SOMETHING WRONG WITH THE POT. SO THE POTTER USED THAT CLAY TO MAKE ANOTHER POT. WITH HIS HANDS HE SHAPED THE POT THE WAY HE WANTED IT TO BE."    JEREMIAH 18:3-4
For clay to become a vessel for use, there is a process.  It doesn't happen instantaneously or automatically.  It begins with the clay being placed in God the Potter's hands and continues at the clay remains there.

In the same way, our journey with Jesus begins with a moment of salvation, it continues in a process called sanctification.  God the Potter brings us out of the mound of clay and places us on His wheel where He begins the process to deliver us from nothingness to the vessel He has designed for us to be!
When we come to the end of ourselves, we come to the beginning of God. 
 – Billy Graham


The Process

God the Potter
1. PREPARING THE CLAY
The process of making pottery begins with preparing the clay.  This includes both the adding of water and a practice called wedging which consists of kneading the clay to remove any bubbles while also causing the clay to become less sticky. 
Our spiritual life begins with the Living Water, Christ, coming into our lives; then a spiritual wedging begins filling the empty places in our life while causing us to no longer stick or cling to the world as before.
2. SHAPING
Many believe God is far away, a cosmic power that is vague and untouchable.  We see in the example of God the Potter, this isn't so; He never takes His hands away from His clay.  Whether a potter uses a hand building technique or wheel throwing, his hands remain on the clay constantly molding and shaping. 
When we yield ourselves to being placed on the center of the wheel – God's will, He is able to pull and stretch us, mold and form us, protect and purge us of anything that shouldn't be there.  All that stretching and pressure placed on the clay leads to something beautiful being created.
3.   FIRING
Firing brings about the maturity of the clay causing it to endure and last even thousands of years.  It changes the clay on a molecular level transforming it from a soft, pliable substance to that which is strong and durable.
There are actually two phases to firing: bisque firing and glaze firing. Once a piece is fired there is no going back!  This makes me think of how the fire of the Holy Spirit came upon the disciples at Pentecost.  In the same way we receive the Holy Spirit at the moment we receive Christ into our lives.  We are transformed into a new creation [2 Corinthians 5:17] and sealed by the fire of the Holy Spirit. 
Glaze firing adds a second layer of strength and durability. Those tough, hard times which seem like walking through fire, have purpose; they actually make us stronger not weaker.
"WHEN YOU PASS THROUGH THE WATERS, I WILL BE WITH YOU; AND THROUGH THE RIVERS, THEY WILL NOT OVERFLOW YOU.  WHEN YOU WALK THROUGH THE FIRE, YOU WILL NOT BE SCORCHED, NOR WILL THE FLAME BURN YOU."  ISAIAH 43:2
4. FINISHING
This last step consists of adding the glazes and paints; it's where the color begins!  Any artist will tell you there are limitless combinations of colors and glazes making each piece not only hand-formed unique, but also individually decorated.  
Just as the clay is surrendered to the potter's hands, so we as believers in Jesus Christ surrender and rest in God the Potter's capable hands.  We have abandoned our own useless ways and accepted that which is better - the will and design of God the Potter. 
We are safe in His hands from the beginning of the process to the day we are finished.  In the mean time, we are loved and valued by our Creator and are given purpose through His design.
Meditate upon these truths today. 
Are you presently in the Potter's hands?  It's the safest place to be; He is waiting for us to yield ourselves to His love and purpose.
Are you walking through a time of fire?  The Potter is with you; He can bring purpose from the fires.
Are you enjoying His work in and through you?  There is joy in creativity even when we are the product!
Know you are valued and loved; God has purpose for you!
Activate:

God the Potter
Bible Lesson Take-alongs

If you're like me, my Bible devotion time is limited by the busyness of the day.  Therefore I like to find ways for God to continue to bring back the thoughts and lessons from that time. That's where Bible lesson take-alongs come in!
Purchase a small pack of modeling clay or Playdough.  Take a small piece and roll it in your hands.  Mold it into an object as you think about how God the Potter's hands can mold and shape us into something valued and useful when we yield and trust Him daily.
We may not all be artists, but we can all be creative!  Draw a simple vessel, it may be a cup, a vase, a bowl, etc. Uniquely decorate & color it as you thank God for creating you to be unique and special.  Place this somewhere you will see it this week and be reminded of your handmade value!
Every time you use a cup let it remind you that God has great purpose for you too!

© Copyright 2018 Susan Smart
More Bible Lessons for Adults -
Another Bible lesson in this series of "Overflow: Lessons from a Cup" -
You are valued.  You have worth no matter how small and insignificant you may think yourself.  In God's hands, small is made big! 
We also have Godprints devotions similar to this Bible object lesson and our Bible Seeker Object Lessons with extension activities for teaching or families. 
Special note: We do preview the websites to which we link, but are unable to peruse them completely. We try to check others' faith statements and make sure they do profess Jesus Christ as God's Son and salvation is found only in Him. It must, however, be your responsibility to personally dig into God's Word and allow the Holy Spirit to be your first and final teacher on all subjects.

"Our website may contain affiliate marketing links, which means we may get paid commission on sales of those products or services we write about. Our editorial content is not influenced by advertisers or affiliate partnerships. This disclosure is provided in accordance with the Federal Trade Commission's 16 CFR § 255.5: Guides Concerning the Use of Endorsements and Testimonials in Advertising."
---
Creative Bible-Bits Newsletter:

Let us help you keep up with what's new at Creative Bible Study with free Bible study lessons and ideas straight to your email!  Your information will be kept confidential and not be used for solicitation.

Free Ebooks: