Search our site:

Bible Pictures & Videos with Lessons

When you think of "Bible pictures," do you visualize in your mind the pictures that your Sunday school teacher used when you were a child? Times have changed and now there is such a variety of visual tools that can enhance Sunday School lessons, Bible study lessons, Children's Church and sermons.
Try the following Photo Bible lessons, Christian videos, and links to sites that offer free Bible photos, and printable coloring sheets that are appropriate for teaching Bible lessons to preschoolers, children, youth and adults. These can be used as tools for Sunday School, Homeschooling, Sermon PowerPoints, or really any Bible teaching opportunities.
Photo Bible Lessons

God has given me a love for photography and a love for His Word; therefore, "Photo Bible Lessons" is my way of putting the two of these together.  They say "a picture is worth a thousand words," then a picture that can depict the truth of God's Word speaks even more!

These are photos & images that can be used to teach a Bible lesson that will be able to impact through a visual element. They are similar in layout to our Christian object lessons, but will use the Bible pictures in place of an actual object. Again - we can be creative in teaching God's Word through everyday opportunities in the things we see.
Bible Lesson on Temptation

Photos of a bluejay eating out of the cat's food dish shouts "Beware of temptation!"
"Be self-controlled and alert. Your enemy the devil prowls around like a roaring lion looking for someone to devour." 1 Peter 5:8
---

Bible Lesson on Giving
Watching hummingbirds fight over drinking from the feeder caused me to think of how selfish we can be at times.  In Acts 20:35 Luke quotes Jesus as teaching - "It is more blessed to give than to receive."

---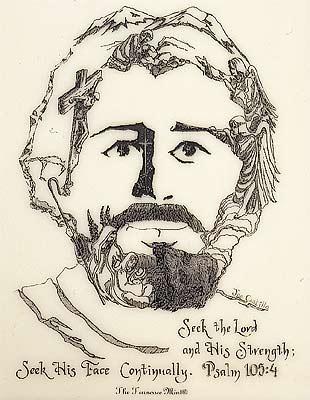 Face of Christ Lesson

So many times in the Bible we are instructed to seek His face.   Psalm 105:4 "Look to the LORD and his strength; seek his face always."   This beautiful pen and ink drawing of the face of Christ by Joe Castillo contains the story of Jesus' life, death, and resurrection!

Bible Pictures to Use in Lessons:

Heartlight offers beautiful Bible images in the form of PowerPoint backgrounds for sermons or Bible lessons, Scripture wallpaper and Ecards. All are free! They also offer free inspiring Scripture pictures - photos with a Scripture overlay.
If you're needing Bible pictures of locations in Israel, Egypt, or Rome, FreeStockPhotos.com is the place to look. They also offer inspiring photos of scenery, animals and Christian symbols.
A large selection of free Bible coloring sheets is available at TeacherHelper.org. Bible coloring pages with the Ten Commandments or John 3:16, as well as, Bible characters and Bible stories to color are available for immediate download.
Christian Videos for Bible Lessons

Checkout this inspiring drama presentation done with white gloves & black lights. It's done to Casting Crowns' "Who Am I," and is truly amazing!!!

Instead of an ordinary Bible image, this Christian video could be used in a Bible study lesson on God's light shining in the darkness or us as Christians letting God's light shine through us. Matthew 5:16 says: "In the same way, let your light shine before men, that they may see your good deeds and praise your Father in heaven."
God truly desires to use each of us in unique ways for His kingdom. Just as the song says: it's not about who I am, but about who God is. Who am I? I am God's child because of who He is and what He's done.
How about you? Has His love changed you?
Turn your laptop computer screen into a puppet stage for your Bible students!  There is just something about puppets that capture children's attention, but we may not all have access to puppets, a stage or even the people to work with them; so these are the next best thing! Take a look at the following Christian puppet skits that teach wonderful lessons about God's Word!
Douglas Talks - A Lesson on Forgiveness

More Christian video clips for Bible lessons, Gospel message, and holiday messages ....



Bible pictures not only add an extra creative aspect to any lesson, but they also help a lesson to be remembered longer by stimulating our sense of vision!
Special note: We do preview the websites to which we link, but are unable to peruse them completely. We try to check others' faith statements and make sure they do profess Jesus Christ as God's Son and salvation is found only in Him. It must, however, be your responsibility to personally dig into God's Word and allow the Holy Spirit to be your first and final teacher on all subjects.

"Our website may contain affiliate marketing links, which means we may get paid commission on sales of those products or services we write about. Our editorial content is not influenced by advertisers or affiliate partnerships. This disclosure is provided in accordance with the Federal Trade Commission's 16 CFR § 255.5: Guides Concerning the Use of Endorsements and Testimonials in Advertising."
---
Creative Bible-Bits Newsletter:

Let us help you keep up with what's new at Creative Bible Study with free Bible study lessons and ideas straight to your email!  Your information will be kept confidential and not be used for solicitation.

Free Ebooks: