Search our site:

Bible Lessons for Children
These Bible lessons for children are creative tools we hope will help you with the important task of sharing Jesus with our children! One of the greatest opportunities we are given as parents, grandparents, friends or teachers is investing in kids by helping the grow in their knowledge of love for God.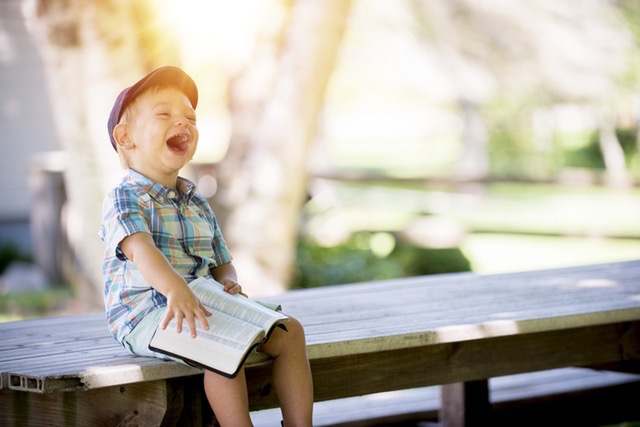 Recently I read the  quote - "If we don't teach our children to follow Jesus, the world will teach them not to." How true this is in our day and age!  We have daily opportunities to pour God's love and His truth into the lives of our children. One powerful tool we have is the ability to read to them and with them. Creative daily devotions can lead to instructive discussions. Children's sermons are easy to use as short daily children's devotions too!
Children's Bible lessons not only include all the wonderful Bible stories we learned through Sunday School lessons, but also those daily character building and life truths contained in God's Word that teach us how to be more like Jesus.
Object Bible Lessons for Children
Jesus used parables at all times of the day and in a variety of circumstances and locations. His teaching was ongoing.  Let's be like Him as we share God's truth with those around us!
There are Bible object lessons all around us from the kitchen, to the garden, to sports and nature!  We've tried connecting everyday objects with Scripture to create Bible lessons for children that will engage their interest while also locking them into their memory so objects all around them will remind them about Jesus!
If you're in a hurry though, try using our quick Object Lesson Index A-Z with over sixty free Bible object lessons!
Stories & Books
There are so many wonderful children's books as well as Christian children's books which are able to be used to teach great Bible lessons for children such as: "It's okay to be different.", "You are special!", "A lesson on giving", or even "A lesson on forgiveness."

Dr. Seuss books are also a great source for creative Bible lessons for children!
Heroes, Minions & More
Using heroes and other well-known characters can be used to capture kids' attention and interest in studying the Bible.  We have several free Children's Bible Lessons available along with printable resources created for individual or small group use for families, Sunday School classes, Awana or Youth group.
Hands-on Activities

Fun family activities such as Bible games and crafts can be used as tools to teach Bible lessons for children too!  A really fun activity is to have a Treasure Hunt! Use Bible verses as clues that will eventually lead to a special treat. This is also an exciting way to practice Bible drills!
Make your traveling time with kids a learning time. Use every opportunity to invest God's Word into children's lives. Try these travel games that sharpen kid's Bible knowledge as well as your own!
Holiday Bible Lessons for Children

Holidays are another wonderful opportunity for Bible lessons for children to teach them how to reach out and serve God by serving others. 

A great hands-on Christmas lesson can come with packing an Operation Christmas Child shoebox!  Bible lesson plans along with step-by-step how to pack a shoebox will help you & your family spread God's love all over the world!  This can be done any time during the year or the annual collection date is usually the second week of November which will give your family another opportunity to truly be thankful for all of God's blessings during the Thanksgiving season and beyond!
Online Tools & Apps

Has the "computer age" taken over your home? Yes, if not handled carefully it can become dangerous. There are, however, some exciting and fun sites that can teach your child about God in really creative ways. James Dopson's Focus on the Family now offers Clubhouse Magazine (ages 8-12) and Clubhouse, Jr. Magazine (ages 4-8) online! These include Bible stories, puzzles, crafts, and more that will engage your child in active Childrens Bible lessons.
And don't let them miss Whit's End where they can listen to the Adventures in Odyssey radio broadcast, play games and find out more about their favorite Odyssey characters. Our four kids loved to listen to these as we traveled, and they learned so much about how to live out the Christian life in practical ways as well as powerful Bible truths. Be creative! Children's Bible lessons don't just come from books. There are a multitude of resources available to us and life is our classroom.
They can also listen to great Bible-based stories on Christian kids' radio programs! "Down Gilead Lane", "The Pond", "Paws & Tales", and more are available and teach wonderful Bible lessons for children.
Just downloaded Zondervan's new iPad App for the Beginner's Bible, and love it! The mom in me loves the entertainment factor while also educating about God's Word! The educator in me loves the read-along Bible stories! The app is very simple to navigate even for very small children.
Focus on the Family of Canada has an excellent site that assists parents in training their children in Godly character. Kids of Integrity offers object lessons, memory verses, Bible stories and much more to go along with 20 different character traits such as obedience, courage, and honesty. This site is definitely worth your time to take a look!

Many free Bible study lessons are available and make learning the Bible fun even on a shoe-string budget! 

These 17 SUPER creative children Bible lessons from River's Edge Curriculum are free, printable and look like a ton of fun while imparting the powerful truth of God's Word! These Bible lessons for children are written for K-5 grades and  include detailed instructions along with a supply checklist.
Special note: We do preview the websites to which we link, but are unable to peruse them completely. We try to check others' faith statements and make sure they do profess Jesus Christ as God's Son and salvation is found only in Him. It must, however, be your responsibility to personally dig into God's Word and allow the Holy Spirit to be your first and final teacher on all subjects.

"Our website may contain affiliate marketing links, which means we may get paid commission on sales of those products or services we write about. Our editorial content is not influenced by advertisers or affiliate partnerships. This disclosure is provided in accordance with the Federal Trade Commission's 16 CFR § 255.5: Guides Concerning the Use of Endorsements and Testimonials in Advertising."
---
Creative Bible-Bits Newsletter:

Let us help you keep up with what's new at Creative Bible Study with free Bible study lessons and ideas straight to your email!  Your information will be kept confidential and not be used for solicitation.

Free Ebooks: