Search our site:

A Story On Peace
I have heard this story on peace many times as an illustration in my husband's sermons.  The original author is unknown. Here is my version written from memory along with Bible verses.
This not only is a wonderful sermon illustration, but can also be used in Bible lessons or devotion time with kids, youth and adults to create a new perspective on what true peace is and how it is found in God not our circumstances.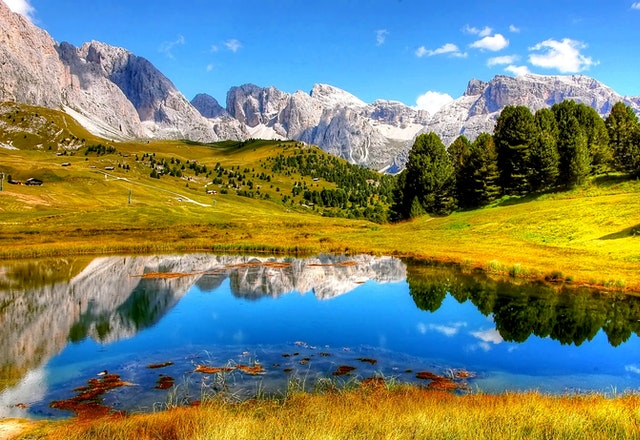 Photo credit: Pixbay
---
Story on Peace -
A Bible Illustration 
There once lived a very wealthy man who was willing to pay a small fortune to the artist who could best illustrate the presence of peace. Several artists brought paintings of sunsets and quiet meadows, but the man did not accept any of these. One day as he was walking through looking at the most recent attempts, two paintings captured his attention.
One was a painting of a beautiful calm lake surrounded by lush green mountains. The water seemed as still as glass and wispy white clouds danced in the bright blue of the sky. Next to this painting was another with vast differences. It was also a picture of a lake surrounded by mountains, but the strong winds had whipped the lake into a tempest and the dark clouds hovered about the rugged mountain landscape ready to release a downpour of torrential rains.
The audience standing about watched with anticipation to see which one the man might choose to depict the story of peace. All were shocked when he did not choose the first, but instead chose the second. How could such a stormy scene tell a story of peace?
The rich man explained. The first painting was beautiful and peaceful, but it didn't tell the truth of where peace can be found. Anyone could feel peaceful upon a crystal-clear lake with white clouds drifting across the sky and barely a breeze blowing across the water.
Then he pointed out something in the second painting which everyone else had overlooked. If you peered closely into the mountains of the second, there was a waterfall, and tucked into a crevice of that mountain near the waterfall was a small nest on which a mother bird sat upon tiny blue eggs.
The man spoke. "This second painting is a picture of true, perfect peace because it is within the storms of life we find real peace tucked into the side of God knowing His presence will guard and protect us even in the midst of this world's storms."
Photo by Michael Dam on Unsplash
"Peace I leave with you; my peace I give you. I do not give to you as the world gives. Do not let your hearts be troubled and do not be afraid."

John 14:27

More Bible Verses for Story on Peace:

Romans 15:13 NIV
"May the God of hope fill you with all joy and peace as you trust in Him, so that you may overflow with hope by the power of the Holy Spirit."
2 Thessalonians 3:16 NIV
"Now may the Lord of peace Himself give you peace at all times and in every way. The Lord be with all of you."
Philippians 4:6-7 NIV
"Do not be anxious about anything, but in every situation, by prayer and petition, with thanksgiving, present your requests to God. 7 And the peace of God, which transcends all understanding, will guard your hearts and your minds in Christ Jesus."
Bible Stories on Peace in the Storm
The Gospels tell two stories of Jesus and His disciples in the midst of a storm.  Both can be found in the Gospel of Matthew.
Matthew 8: 23-27 tells the story on peace when Jesus calms the storm as He and the disciples are in the boat on the Sea of Galilee.
Matthew 14: 22-35 tells another story of the when the disciples are in a boat being buffeted by waves when Jesus comes to them walking on the water.
Each story on peace in the midst of storms remind us we can trust God even when life becomes turbulent.  We can remember - God's got this and we can rest in Him with peace.
© Copyright 2022, Susan Smart Permission granted for personal use or small group only
| | |
| --- | --- |
| An Object Lesson on Peace | |
Special note: We do preview the websites to which we link, but are unable to peruse them completely. We try to check others' faith statements and make sure they do profess Jesus Christ as God's Son and salvation is found only in Him. It must, however, be your responsibility to personally dig into God's Word and allow the Holy Spirit to be your first and final teacher on all subjects.

"Our website may contain affiliate marketing links, which means we may get paid commission on sales of those products or services we write about. Our editorial content is not influenced by advertisers or affiliate partnerships. This disclosure is provided in accordance with the Federal Trade Commission's 16 CFR § 255.5: Guides Concerning the Use of Endorsements and Testimonials in Advertising."
---
Creative Bible-Bits Newsletter:

Let us help you keep up with what's new at Creative Bible Study with free Bible study lessons and ideas straight to your email!  Your information will be kept confidential and not be used for solicitation.

Free Ebooks: