Search our site:

Object Lesson On Prayer
This Christian object lesson using a cell phone demonstrates how God has given us His personal number to call out to Him in prayer!

Photo credit:  Pixbay
Object Lesson Topic:  Prayer
Title:  "You've Got My Number"
Object:  Cell phone
Bible verses:  Romans 10:9-13; John 14:6, 13-14; Jeremiah 29:12
Key Takeaway:  God desires for us to call Him anytime and anywhere. He has given us His number - J-E-S-U-S!
Object Lesson Script
Prayer is Possible
Hold up a cell phone and ask what all we can do with it. Emphasize that its main purpose was so that we can call someone.
Ask them about where and when they've used one. 
Answers for where may include: in a car, outside, in the house, even on a boat.  Answers for when may include: when I need information, when I need help, when I may be lost and not know directions, or when I just want to talk to someone. 
Briefly relate a few instances of when you use your own cell phone.
Ask:  Who are some people you wish you could call?  Anyone far away? Anyone famous?
Ask: Can you just call any number to reach my cell phone?  No, you must know what my phone number is.
Ask: Did you know God wants us to call Him? He even gives us His number!
Read: Romans 10:12-13
"For there is no difference between Jew and Gentile--the same Lord is Lord of all and richly blesses all who call on him, for, "Everyone who calls on the name of the Lord will be saved."
God's number is J-E-S-U-S.
Say:  Just like you can't call any random number to call me, we can't just call any number and reach God. Jesus said in John 14:6, "I am the way and the truth and the life. No one comes to the Father except through me." There is no other way to call on God except through Jesus Christ, His Son.
Jesus goes on to say in John 14:13-14 - 
"Whatever you ask in My name, that will I do, so that the Father may be glorified in the Son. If you ask Me anything in My name, I will do it." 

Once we know Jesus, we can call on God anytime and anywhere. He says in Jeremiah 29:12 -  
"Then you will call upon me and come and pray to me, and I will listen to you."
God invites us to call Him anywhere, any time.  He is always available.
Prayer involves Conversation
Ask:  How do you feel when you call someone and get their voice mail?  I'm usually disappointed because I called to "talk" to them.  Talking to someone really involves more than talking; it involves listening too.  
Prayer is the same way.  We don't have to just leave God a message.  He is always available to not only hear us, but also to talk to us!  God does this through His Word.  You may be reading your Bible and a verse or passage really "speaks" to you...that's God!  Or you may be praying and a Bible verse you heard or memorized comes to your mind; that's God speaking.
Talking to someone on the phone involves more than us just talking into the phone.  It involves us listening, and prayer does too!  We need to be quiet and realize God wants to speak to us, but we must listen.
Object Lesson TakeAway: 
This cell phone object lesson can help us remember:
We can have a phone, we can know someone's number, but until we choose to actually dial the number, we'll never reach them. It's our choice to call on God; we must act upon our choice. He's there anytime, anywhere and for anyone.
Prayer Time Practice
We use our hands & fingers to call someone on a cell phone.  Today we are going to use our hands & fingers as an object lesson to help us remember what we can talk to God about in prayer. 
Have each student trace their hand on a blank sheet of paper.  Help them write the following words on each finger with the Scripture reference and then color as they actively pray.
Write - THANKS- on the thumb.  Look around and always remember to thank God and give Him a big "thumbs up!"  Even give thanks for the hard things knowing God can work them out for your good. (Romans 8:28)  (1 Thessalonians 5:18 - "in everything give thanks; for this is God's will for you in Christ Jesus.")
Write - PRAISE - on the pointing finger to remember to praise God for Who He is and what He's done and point others to Him. ( Matthew 6:9-10 "Our Father which art in heaven, Hallowed be thy name. Thy kingdom come. Thy will be done, as in heaven, so in earth")
Write - LEADERS - on the middle finger (the tallest) to remember to pray for those who lead, teach, help, etc.  This may include parents & grandparents as well as teachers, church & political leaders, missionaries, doctors, etc. (2 Timothy 2:1-2 NLT "I urge you, first of all, to pray for all people. Ask God to help them; intercede on their behalf, and give thanks for them.  Pray this way for kings and all who are in authority so that we can live peaceful and quiet lives marked by godliness and dignity." 
Write - WEAK - on the ring finger.  Because it is the weakest finger, it will remind you to pray for the sick, hurting or poor as well as younger siblings or friends. (Ephesians 6:18 "With all prayer and petition pray at all times in the Spirit, and with this in view, be on the alert with all perseverance and petition for all the saints,")
Write - ME - on the pinkie finger.  Yes, God wants to hear about you!  First ask Him to forgive you for ways you've disobeyed Him, then talk to Him about what's going on in your life.  Yes, He already knows, but He wants to hear it from you.  Share your needs, your fears, your excitement, your wants and ask Him to lead & guide you. (Matthew 6:11-13 "Give us this day our daily bread. And forgive us our debts, as we also have forgiven our debtors. And do not lead us into temptation, but deliver us from evil."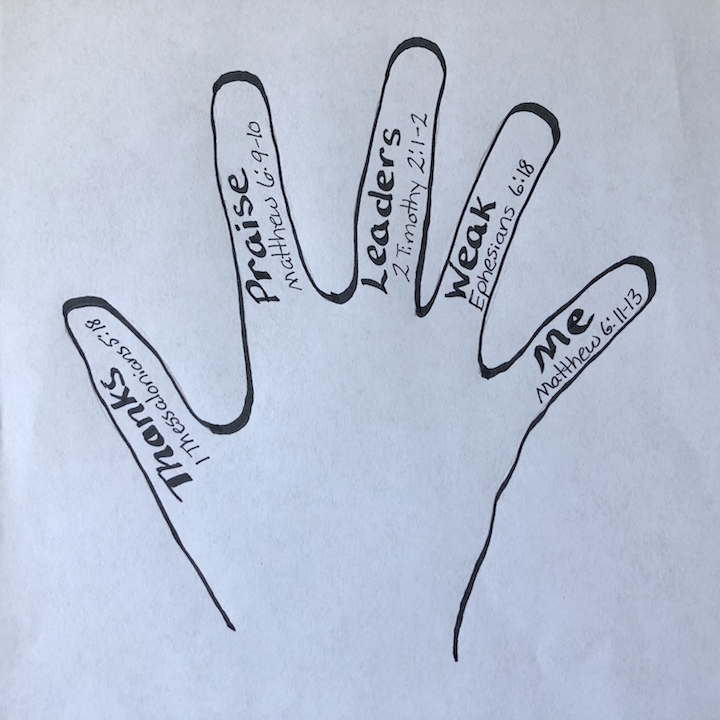 For older kids or students, you may want to print a copy of our "Doodle & Jot" prayer guide.
---
You can also use this object lesson to teach a salvation Bible lesson!
You can also use a cell phone to teach a christian object lesson on being spiritually recharged and plugging into spending time with God through prayer & Bible study! 
Another object to use to teach about prayer is the act of breathing.
More creative prayer acronyms & activities are available too!
Special note: We do preview the websites to which we link, but are unable to peruse them completely. We try to check others' faith statements and make sure they do profess Jesus Christ as God's Son and salvation is found only in Him. It must, however, be your responsibility to personally dig into God's Word and allow the Holy Spirit to be your first and final teacher on all subjects.

"Our website may contain affiliate marketing links, which means we may get paid commission on sales of those products or services we write about. Our editorial content is not influenced by advertisers or affiliate partnerships. This disclosure is provided in accordance with the Federal Trade Commission's 16 CFR § 255.5: Guides Concerning the Use of Endorsements and Testimonials in Advertising."
---
Creative Bible-Bits Newsletter:

Let us help you keep up with what's new at Creative Bible Study with free Bible study lessons and ideas straight to your email!  Your information will be kept confidential and not be used for solicitation.

Free Ebooks: