Search our site:

How to Share the Gospel -
6 New Creative Ideas
Knowing how to share the Gospel is as important as knowing we need to be sharing it.  Let's face it, jumping into sharing our faith cold turkey can be hard and awkward!
We teach kids and youth we should be sharing the Good News of Jesus Christ, but often we neglect equipping them with how to share the Gospel.  Here are six new creative ideas that can be used as starting points to sharing our faith.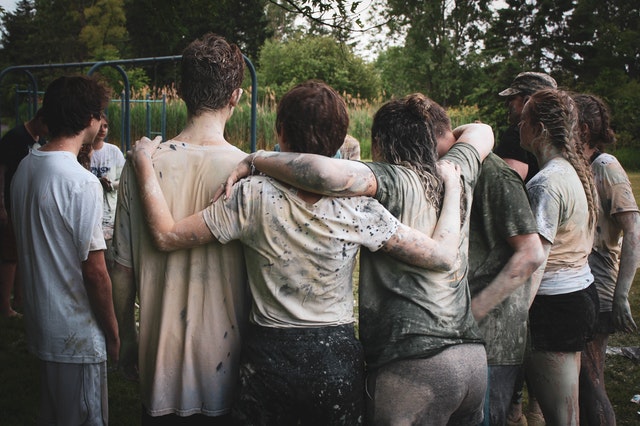 Photo by Cori Rodriguez from Pexels

1.  Cut & Fold Cross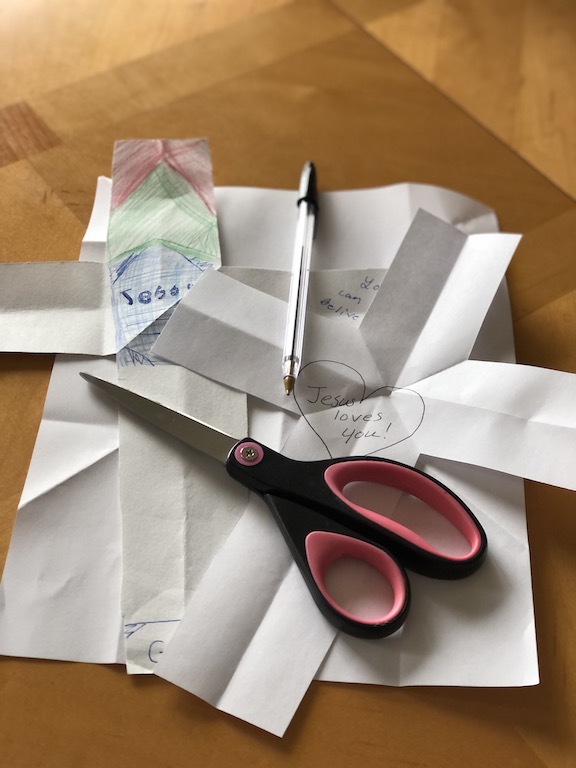 This simple cut & fold cross is almost like a magic trick and can demonstrate how to share the Gospel in a fun creative way.  All that's needed is a sheet of paper, pair of scissors and something with which to write.
Write "Jesus loves you!"  in the center of a sheet of paper.
As you follow the instructions, you can mention how life can seem like it's folding us up and causing a lot of wrinkles.  You may add how this is like sin - when we go our own way and not God's way.  It causes problems in life and separates us from God.
At one point it looks like a house.  This can bring up the topic of family and how God wants us to be a part of His family.  
As you cut, notice the pieces falling away.  There are many things in our own lives we wish we could cut away.  Only God can forgive and make us new.
Reveal the cross, God sent Jesus to die on a cross to make a way for us to have a relationship with Him again.  Jesus loves you so much!
At this point, your own personal story of how you came to see your need for Jesus and accept His free gift of eternal life would make a big impact.  A witness just shares what they've seen and heard.
Even if a child or youth just shows a friend how to make this cross while revealing the message "Jesus loves you!", it may open doors for further communication.   
Printable instructions
2. Gospel Conversation Starter

How to Share the Gospel
When we made the Cut & Fold cross in our Small Group, they immediately started talking about "fortune-tellers" or "cootie-catchers."  These are the fun fold and open guessing games kids make out of paper.
It made me think of how much fun they would have using one of these as a conversation starter to show them how to share the Gospel.  
Share Jesus Catcher - printable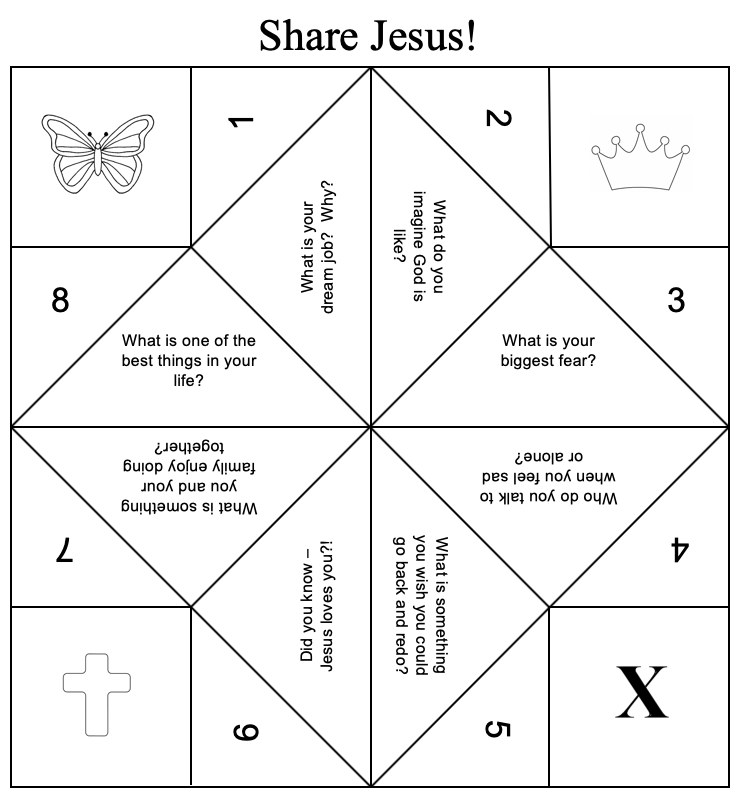 1.  Use the outside pictures as the choose one.
Crown - God rules over all.  He is Creator and King over all creation. Genesis 1:1 - "In the beginning, God created the heavens and the earth."
X - We usually get an X when we get something wrong. We all have done wrong; we've chosen our own way instead of loving God.  This is called sin and separates us from God.  Romans 3:23 "For we have all sinned and fall short of the glory of God."
Cross - Jesus left heaven, came to earth, lived a perfect life and then died on the cross to pay for the price of our sin.  God raised Jesus from the dead though and we can accept His gift of eternal life! John 3:16 "For God so loved the world that He gave His One and Only Son, that whoever will believe in Him will not perish, but have eternal life."
Butterfly - When we turn away from going the wrong way away from God and turn back to Him asking Jesus to forgive us and be the Savior and Lord of our life, the Bible says we are a new creation like a caterpillar turning into a butterfly!  2 Corinthians 5:17 - "Therefore if anyone is in Christ, he is a new creation; the old things passed away; behold, new things have come."
2.  Use the inside conversation questions to help learn how to share the Gospel:
What do you imagine God is like? (Brings up God & gets them thinking about Him)
What is your biggest fear? (Share how you turn to God when afraid.)
Who do you talk to when you are sad and alone? (Comment on God's promises to be with us or that God cares.)
What is something you wish you could go back and redo? (We do wrong and wish we could change.)
Did you know Jesus loves you?l (Introduces why Jesus came & what He did.)
What is something your family like to do together? (God wants us to be a part of His family.)
What do you want to be or do when you grow up? (God has a plan for us.)
What is one of the best things in your life? (Giving God thanks for His blessings.)
This are to be used as doors to conversation and not all at once.  They are a way to introduce the topic of the Good News and allow the Holy Spirit to work.
3.  Gospel Object Lesson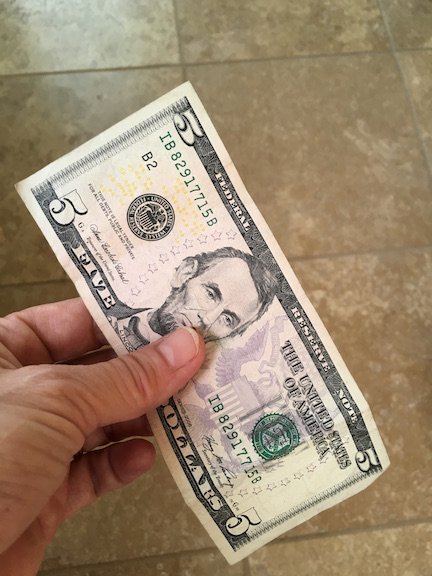 This object lesson using money walks through how to share the gospel with Ephesians 2:8-10 and a dollar bill of any denomination ($1, $5, $10, etc.).  Even most kids or youth have a "buck" on them.  Teach them how to use this as an illustration of the Gospel of Jesus Christ!
4.  Gospel Scavenger Hunt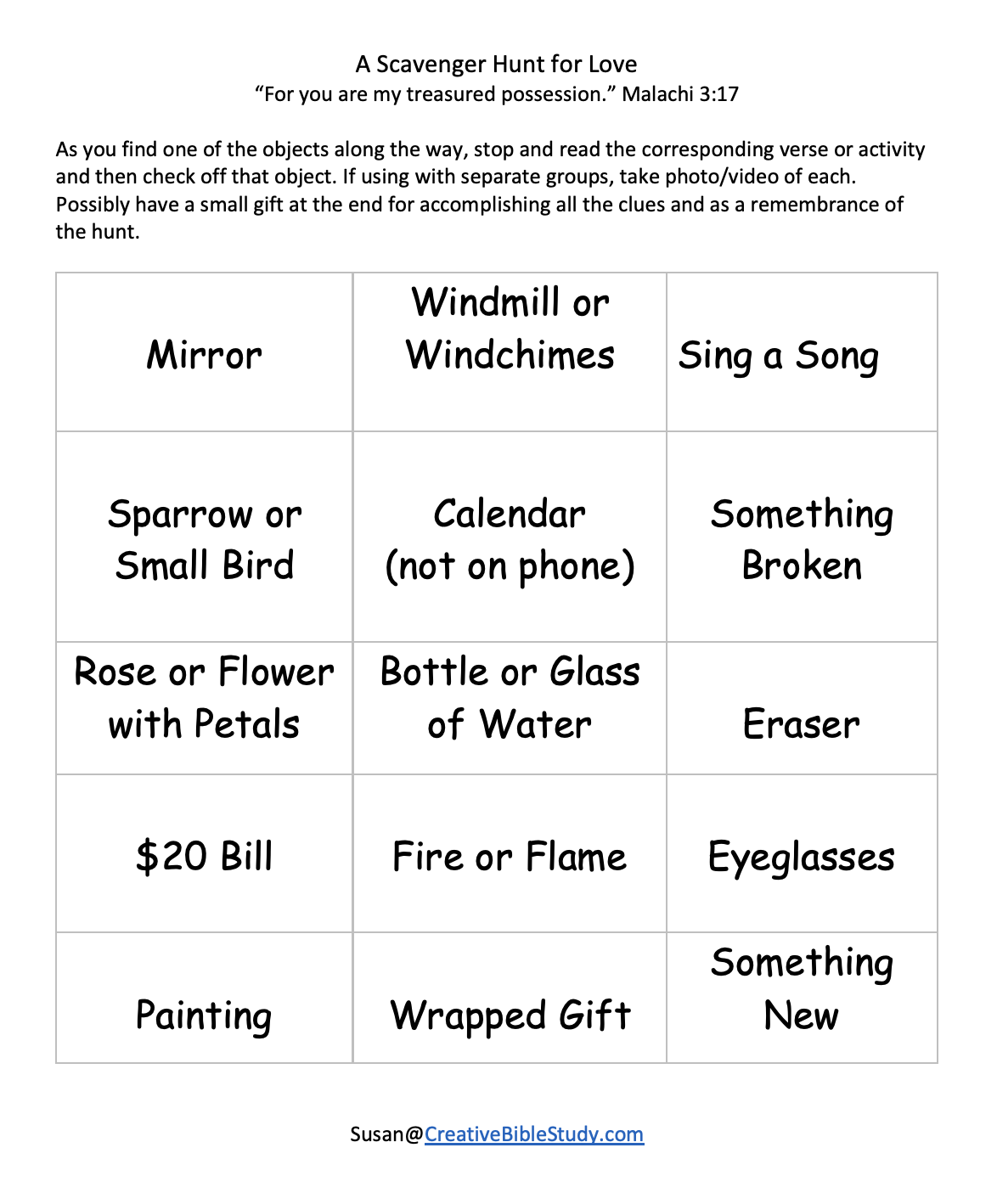 Students will learn conversation starters through this how to share the Gospel scavenger hunt. Each item includes a Bible verse and explanation of God's love for an overview of God's character and the Gospel message along with a few lessons on how we should treat others.  
5. Crayons/Colors
Teach children or youth to use the eight basic colors to share the Gospel.  Colors are all around us and are great conversation starters into talking about Jesus!
Purple

 – Jesus is the King of Kings; He is fully God & rules over all.

Orange

 – Jesus was fully man; He understands.

Red

 – Jesus is Savior; His blood brings forgiveness for our sin when we believe & trust in Him
Black - Jesus is more powerful than sin, death & darkness.

Brown

 - Without Jesus, my life is fragile and empty.

Green

 – Jesus gives new life, eternal life.

Blue

 – Jesus is always with me through His Holy Spirit.

Yellow

 – Jesus is preparing a home for believers in Heaven.
For further details, check out the full object lesson using colors.
6.  Use a Drawing
Arrows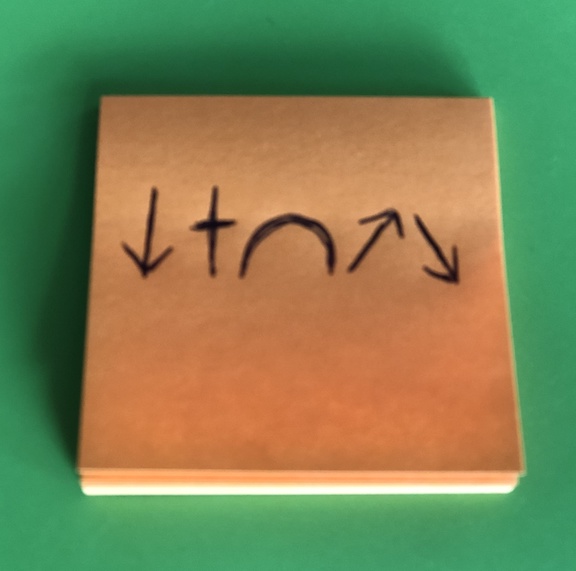 This drawing is so small and simple, it can be drawn on a post-it note or any small piece of paper or on a playground with chalk or written in the dirt.
 Jesus is God's Son who loves us so much that He left heaven, came to earth as a baby and lived a perfect life; He never sinned.
 Jesus died on a cross to pay the punishment for our sin, our wrongs.  We have all chosen our own way instead of loving God.
Jesus was buried in a tomb for three days, but on the third day God raised Him back to life!
If we trust Jesus and ask Him to be our Lord and Savior, we can go to heaven and live with Him in Heaven when we die.
 Jesus promised He will return one day; until then He gives us His Holy Spirit to live in and with us.  
Circles
There are several easy ways to draw how to share the Gospel.  A fairly new one created by Jimmy Scroggins uses three circles - the circle of God's Design, the circle of brokenness, the circle of the Gospel leading to restoration and new life!
Other ways to use drawing to share the Gospel can be found on our Witnessing Tools Page.
The 3 Circles Presentation from North American Mission Board on Vimeo.
7. (An Extra)  The Cups
Using four different color cups (styrofoam painted), this video shares a really creative way how to share the Gospel in more detail with children and youth.
Romans 1:20 tells us - "For since the creation of the world His invisible attributes, His eternal power and divine nature, have been clearly seen, being understood through what has been made,"
All around us God has provided opportunities for us to share His Good News!  Let's look around and be ready to share the truth of His love and gift of salvation through Jesus Christ.
Special note: We do preview the websites to which we link, but are unable to peruse them completely. We try to check others' faith statements and make sure they do profess Jesus Christ as God's Son and salvation is found only in Him. It must, however, be your responsibility to personally dig into God's Word and allow the Holy Spirit to be your first and final teacher on all subjects.

"Our website may contain affiliate marketing links, which means we may get paid commission on sales of those products or services we write about. Our editorial content is not influenced by advertisers or affiliate partnerships. This disclosure is provided in accordance with the Federal Trade Commission's 16 CFR § 255.5: Guides Concerning the Use of Endorsements and Testimonials in Advertising."
---
Creative Bible-Bits Newsletter:

Let us help you keep up with what's new at Creative Bible Study with free Bible study lessons and ideas straight to your email!  Your information will be kept confidential and not be used for solicitation.

Free Ebooks: