Search our site:

Ministering to Children
in Foster Care
Foster Care...it's about touching lives, and that goes both ways!

You may have heard the saying about people who come into our lives leaving footprints, causing us to be forever changed.  Our family was blessed by just such a person - a child in foster care.
With numbers continuing to rise with children in Foster Care, I wanted to share a little of our story.  I've never been a foster parent, but a few years ago I had the blessing of being a foster grandparent and have discovered there are small ways we can all become a part of loving these children with the love of Jesus!
It seems like yesterday a two year old little red-headed bundle of joy and challenges came into our lives as our daughter felt God's call to become a foster parent.  For almost two years she became "Mom"; we became grandparents, and our other kids became an aunt and uncles! "A" became ours, and we became hers. Her caseworker had thought she would be moved toward adoption with our daughter.
But God had different plans. We had to say goodbye; we had to watch her walk away.  She has gone back to live with a biological family member, and we are so happy for them and her.  Our little "A" will always be a part of us though; there are no regrets.  While we had her, we loved her well, and she fell in love with Jesus!  We are forever grateful for the time we had her and the "footprints" she left on each of our lives.
We saw the challenges of fostering our daughter dealt with, and we saw the disappointments, but we also saw the difference it made in a child's life.  She was safe; she was loved in a time that she needed someone to be there for her. Many invested into her life, and she impacted many around her as well.
The statistics of how many children are in "the system" is overwhelming, heart-rending – in the United States there are over 400,000 children in the foster care system.
I don't tell our story so much out of grief  & sorrow, although that has been a part of the process. I share it out of sincere gratefulness.  This child was truly a gift of God to us, and we believe the work He began in her will continue no matter where He may lead her. (Phil. 1:6)
Not all of us may be called to foster care like our daughter has been for a time.  But just because we may not be called to take these children into our homes, does not mean we cannot reach out and help in other ways. 
"Children are a gift from God" the Psalmist says in Psalm 127:3
James in verse 1:27 goes on to say,  "Pure and undefiled religion in the sight of our God and Father is this: to visit orphans and widows in their distress, and to keep oneself unstained by the world." NAS
The Greek word translated "visit" here is episkeptomai.  In this context it means more than "to look or examine", it means "to look after", "to care for."  Like I said before, we may not be in a position to foster or adopt ourselves, but there are other ways we can actively "look after" or "care for" these children who for a time are…the fatherless - "family-less".

I may not be able to care for our "A" anymore, but what can I do for others in similar situations, even if it is just for a season?  I believe there is a call to the Church, a call to us as God's family to love these in some way.
No ministry of love is too small…even the small ways can go a long way in sharing God's love.
Ten   Ways to Help Children in Foster Care:

1.    PRAY!  God can do what we can't; prayer for these children, families & caseworkers is important.
2.    Help make others aware of the great need for Foster & Forever homes for children – through conversations, Social Media, blog, an Orphan/Foster Ministry at your church, etc.  
3.    Become a CASA (Court Appointed Special Advocate) volunteer.  CASA will train you to be the "eyes & ears for the court" as you get to know the child and others involved in the case.  You can make a difference by speaking up for a child and being a consistent presence during this time in their lives; case workers and others change during the time a child is in foster care, but as a CASA volunteer you can be a constant reminder that they matter and are loved.  CASA work is flexible and can be done even with a full time job or other responsibilities.  CASA is also a great resource for other ways to help such as sponsoring a foster child for holidays to provide Christmas gifts, Easter baskets, etc.
4.    Become Foster certified and offer respite care.  Sometimes foster parents just need a break or may have a family emergency and need overnight care for their foster children; this is such a wonderful service to provide for them.
5.    Become certified to babysit.  In most states a foster child cannot be left with just anyone; a sitter must at least have had a background check and be CPR certified. 
6.    Cook a meal for a Foster family.  Find out the children's favorites; make them feel special!  Most foster parents are overloaded with responsibilities that are involved with caring for the children; this would be a welcomed relief.
7.    Check with your local Child Protective Services Agency to see if you can help with "First-night" bags for children coming into Foster Care or other needs.
8.    Send encouraging notes to caseworkers or drop by some treats at their office.  These folks are majorly overworked and a bit of encouragement could go a long way!  See if there are ways you can assist in helping them minister to the families they serve.
9.    Be "on call" for a foster family or caseworker.  Let them call you to run errands to pick up beginner items for a family or assist by being a shopping partner to offer extra hands.  Volunteer to help with homework or housework.  In this way you can also become a mentor sharing your life with the foster family as well as the foster child.  Invest yourself.  
10.  "Adopt" a foster family and become like a foster grandparent, aunt/uncle, friend, etc. to the child.  Not all foster parents have an extended family support group of their own; we can partner with them by spending regular time visiting and helping out.  Read to or with the child, play games, listen, etc. Small deeds of love shout they matter!  Find out the child's birthday and help celebrate with them. Have fun with them like you would other children in your own extended family. 

---
These are just a few of the many ways anyone can invest in the life of a foster child, or for that matter, any child!  Satan wants us to think the small things don't matter and we have nothing to offer if we can't do what we think of as the "BIG" things. 
And again...let's be diligent to PRAY! 
"And pray in the Spirit on all occasions with all kinds of prayers and requests. With this in mind, be alert and always keep on praying for all the Lord's people."  Ephesians 6:18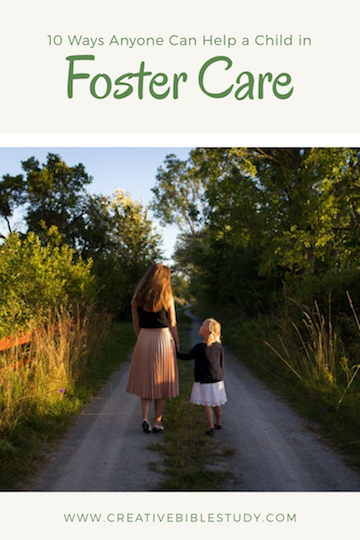 Special note: We do preview the websites to which we link, but are unable to peruse them completely. We try to check others' faith statements and make sure they do profess Jesus Christ as God's Son and salvation is found only in Him. It must, however, be your responsibility to personally dig into God's Word and allow the Holy Spirit to be your first and final teacher on all subjects.

"Our website may contain affiliate marketing links, which means we may get paid commission on sales of those products or services we write about. Our editorial content is not influenced by advertisers or affiliate partnerships. This disclosure is provided in accordance with the Federal Trade Commission's 16 CFR § 255.5: Guides Concerning the Use of Endorsements and Testimonials in Advertising."
---
Creative Bible-Bits Newsletter:

Let us help you keep up with what's new at Creative Bible Study with free Bible study lessons and ideas straight to your email!  Your information will be kept confidential and not be used for solicitation.

Free Ebooks: