Search our site:

A Daily Devotion -
Penny for your Thoughts
A daily devotion through everyday object lessons can help the truth of God's Word stick with you throughout your day and week while helping to connect God's Word with God's world in our everyday lives.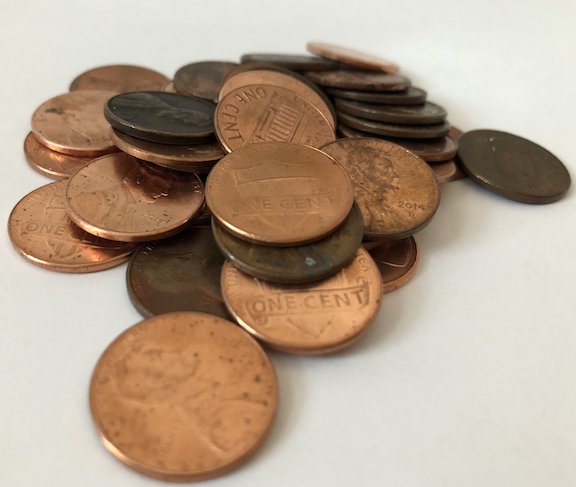 Meditate:

Daily Devotion
My husband loves to find old coins; he has even taught our kids over the years to sort through his loose change looking for coins with old dates! They have learned it's not necessarily the bright shiny ones that have extra value; it's usually the dingy, dark ones.
Experience. We tend to neglect its value. Sometimes it's the scratches and age that prove we have lived, prove we have learned from experience.
"A gray head is a crown of glory; It is found in the way of righteousness."
Proverbs 16:31

I am continuing to learn as I move further and further into my fifties  – there is a lot to be said for being "over-the-hill"!  Granted I still like to cover up those gray hairs, but the experience, the wisdom, the growth in Christ, they are worth every little scratch, tarnish, and gray hair.  There is value in age.

Last week I was invited to hear a dear elderly man from our church sing at the assisted living center where he lives. ( I almost used the word resides, but he does more than reside there, he still LIVES! )  Surrounded by those with a few more gray hairs than myself, I sensed such wisdom as well as fulfillment.  Their lives have been full.  Yes, they have aches and pains and take various medications; they have experienced loss and need a little more assistance, but they are also so full of wisdom and life experience.
"Is not wisdom found among the aged? Does not long life bring understanding?"
Job 12:12

Having reached the point of "over the hill" and experiencing these gray hairs, I need to be reminded of this truth.  In reality gray hair is proof that we have lived; we have experienced life.  We have stories to tell and memories to ponder.

Think of all the things you know – things teachers and books have taught you, stories from reading or watching movies, experiences of life and living!
Look around.  Do you see any "gray-haired" folks?  Now that the Baby-boomer generation has reached this age, there are quite a few!  Each one has so much to offer, to invest in the next generations!
Over 50 has actually become the beginning point, not a stopping point, for many:
Grandma Moses didn't begin painting until she was in her late 70s.
Laura Ingalls Wilder was 65 before "Little House in the Big Woods was published.
Colonel Sanders didn't begin his Kentucky Fried Chicken adventure until he was in his 60s.
Peter Roget's Thesaurus wasn't published until he was age 73.
John Glenn went back into outer space at age 77.
Ronald Reagan didn't enter politics until age 55.
Julia Child was 51 when she made her first television debut.
These are just a few you may know.  Their thoughts, skills and talents continued to make a difference and yours can too!  God is not finished with you yet.
Abraham was 100 before becoming a father, and God made him the father of many nations.
Moses was 80 before leading the Israelites out of Egypt.
Noah was about 600 years old when he built the ark!
The point is – God wants to use all this experience and wisdom He has given you.  In reality, as we begin to slow down some physically, it gives us more time to think and ponder.  One of my older sisters has given me great hope by telling me some forgotten memories begin to surface again with age!
So…a penny for your thoughts.  Your experience and wisdom right now, right here, could make a difference in someone else's life.  Let's take time to share, and also time to let those older share their stories and thoughts with us too!  Each time you see a penny…remember your value and the value of age and experience.
"My goal is that they may be encouraged in heart and united in love, so that they may have the full riches of complete understanding, in order that they may know the mystery of God, namely, Christ,  in whom are hidden all the treasures of wisdom and knowledge."
Colossians 2:2-3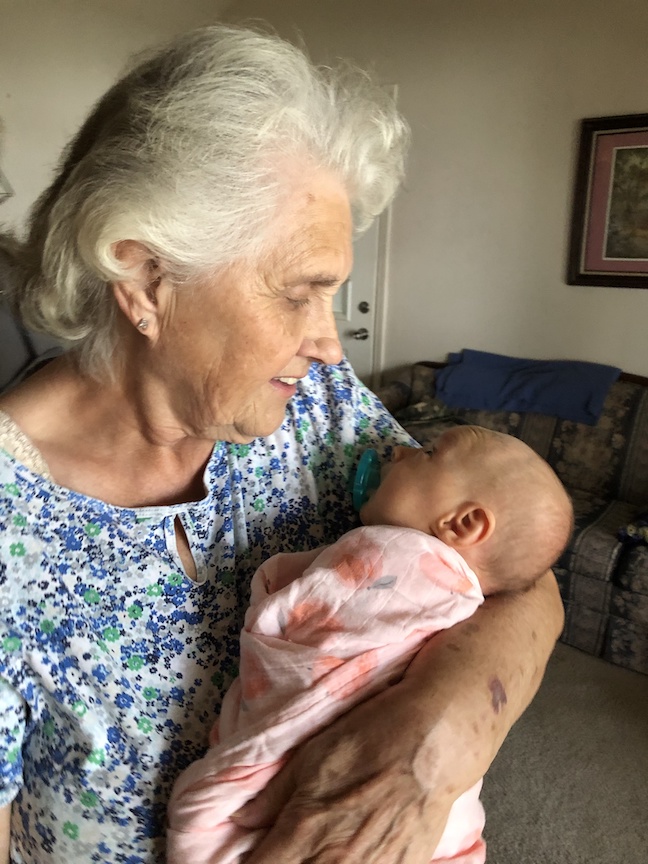 Activate:

Daily Devotion
Here are a few hands on daily devotion activities for your week:
Carry a penny in your pocket this week to remind you of these truths.
If you are older, take time to share some wisdom God has given you over the years.  Sit and visit with a young person, write a note, and while you do, thank God for every gray hair on your head.  :)
If you are younger, contact an older person in your life.  Find a time to sit and listen to them or write them a note of appreciation.  Pray for them and thank God for their influence in your life.
Whether older or younger, it is good that we mix together as different generations.  God has given us gifts to share with each other and impact those around us.  Write down a few ways God can use you this week to invest in one older person in your life and also someone younger.
© Copyright 2018 Susan Smart

---
A daily devotion can help us keep our focus on God throughout our day as we connect His Word to the world around us in our everyday lives.
More Daily Devotions with Object Lessons for Adults
Special note: We do preview the websites to which we link, but are unable to peruse them completely. We try to check others' faith statements and make sure they do profess Jesus Christ as God's Son and salvation is found only in Him. It must, however, be your responsibility to personally dig into God's Word and allow the Holy Spirit to be your first and final teacher on all subjects.

"Our website may contain affiliate marketing links, which means we may get paid commission on sales of those products or services we write about. Our editorial content is not influenced by advertisers or affiliate partnerships. This disclosure is provided in accordance with the Federal Trade Commission's 16 CFR § 255.5: Guides Concerning the Use of Endorsements and Testimonials in Advertising."
---
Creative Bible-Bits Newsletter:

Let us help you keep up with what's new at Creative Bible Study with free Bible study lessons and ideas straight to your email!  Your information will be kept confidential and not be used for solicitation.

Free Ebooks: