Search our site:

A Christian Object Lesson
for Adults
This Christian object lesson uses the basic ingredients of a cake to illustrate how both good and bad can come together to make something great!  This is what God can do in our lives as we trust Him.
You can also found this lesson written for kids and youth - HERE.
A Cake & Romans 8:28

Christian Object Lesson for Adults 
"God causes all things to work together for good to those who love Him and are called according to His good purpose."
Romans 8:28
Demonstrate
Have a pre-baked cake or cup cakes finished and decorated.  Also have on hand several ingredients used in making a cake from scratch such as flour, sugar, eggs, baking powder, oil, etc.  
Not all cake ingredients taste good by themselves; some taste good and some do not.  They all have purpose though.
When mixed together and baked, the result can be delicious!


Meditate
Let's face it, we all want our cake and to eat it too!  Cake is a yummy treat!  But would we ever consider eating the ingredients of a cake separately?
A spoon of flour?
A raw egg?
A little oil?
Each of these are essential in baking a cake though. 
Life can be a lot like a cake; separately there are some bitter times, some raw, hurtful times, and some dry, bland times.

Think of some "untasty", tough times you or others may have experienced.  Life is full of disappointments, pain, suffering, and hurts.  We may ask God why, and that's okay.  The good news is God is able to use these for good as we trust Him; He can give them purpose.
Yes, bad things happen to everyone; no one is immune.  We live in a sin-filled world.  Some ingredients of a cake don't taste very good alone either, but they can serve a good and important purpose.
"Not only so, but we also glory in our sufferings, because we know that suffering produces perseverance;  perseverance, character; and character, hope.  And hope does not put us to shame, because God's love has been poured out into our hearts through the Holy Spirit, who has been given to us."
Romans 5:35
Now think of some good times!  Would we really appreciate these as much if we never had any tough experiences?  We appreciate the sunshine more after several days of rain.  A warm blanket is even more cozy when it's bitter cold.

God is able to blend the good and the bad experiences in our lives together for our good and for His good purpose.  All together they create a life that is meaningful, useful, and tasty...like a yummy cake!
Romans 8:28 is a beautiful promise: "God causes all things to work together for good to those who love Him and are called according to His good purpose."
Remembering God is at work even during the hard times when we may not sense His presence helps us persevere.  We can trust Him; He is faithful.  He is working out His good purpose for those who love Him.
The Bible is full of great examples!   
Joseph - If he had not been sold into slavery, he may not have later been in the position where he could save his family from a famine.
Esther - "For such a time as this" God used Esther to save the Hebrew people from being killed.

Paul - Paul experienced beating and spent a great deal of time in prison; even in these times God used him to write thirteen books of the Bible.

John - He was exiled to the Isle of Patmos, but here God used him to write the Book of Revelation.



No - all things are not good, but in God's hands they can be mixed and blended along with the good into a beautiful creation. It's during the bad times that we see how BIG our God is. He loves each of us and He is in control; we can trust Him!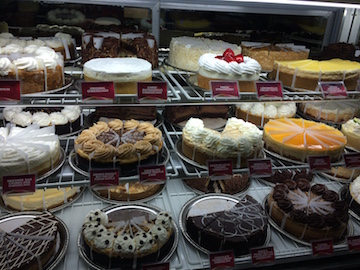 Activate

Christian Object Lesson Take-Alongs
If you're like me, my Bible devotion time is limited by the busyness of the day.  Therefore I like to find ways for God to continue to bring back the thoughts and lessons from that time. That's where Christian object lesson take-alongs come in!
Some time this week bake a cake!  As you do, take a little taste of the ingredients.  Take time to thank God for being able to use both the tasty and "yucky" experiences in life.  Then share the cake and this message of hope with someone else.
Make a list of the top ten worst experiences in your life and the top ten best.  Take time to look back and see some ways God used both for your good and His good purpose.
Memorize Romans 8:28.  Write it on a notecard or sticky note or create a phone background so you have it with you throughout the week.
More Christian object lessons for adults 
© Copyright 2008 Susan Smart
Special note: We do preview the websites to which we link, but are unable to peruse them completely. We try to check others' faith statements and make sure they do profess Jesus Christ as God's Son and salvation is found only in Him. It must, however, be your responsibility to personally dig into God's Word and allow the Holy Spirit to be your first and final teacher on all subjects.

"Our website may contain affiliate marketing links, which means we may get paid commission on sales of those products or services we write about. Our editorial content is not influenced by advertisers or affiliate partnerships. This disclosure is provided in accordance with the Federal Trade Commission's 16 CFR § 255.5: Guides Concerning the Use of Endorsements and Testimonials in Advertising."
---
Creative Bible-Bits Newsletter:

Let us help you keep up with what's new at Creative Bible Study with free Bible study lessons and ideas straight to your email!  Your information will be kept confidential and not be used for solicitation.

Free Ebooks: