Search our site:

Esther Bible Story

The Esther Bible story teaches us that we can trust and follow God's plans for us even when we don't know where they may lead.
Esther (Hadassah) was an orphan raised by her cousin Mordecai.
After going through a year of beauty treatments, she was chosen to be the new queen of Persia.
Esther was a hero because she saved her people, God's people, from being killed even knowing it may cost her life.
Photo by Kristal Terziu from Pexels

An Orphan to A Queen - Esther Bible story
Young Hadassah was an orphan; both her mother and father had died.  Her cousin, Mordecai raised her as his own daughter.  They were both Jewish and living in a foreign land because their country had been taken captive many years before.
One day the King of this land banished (which means he sent her away) his wife, Queen Vashti, because she disobeyed him and wouldn't join him at his party where he had wanted to show off her beauty.
The King now needed a new queen.  Those who worked for him suggested having a beauty contest to help him to choose a new queen.  Many young girls from across the land were brought to the palace to go through a year of beauty treatments.  Hadassah, also called Esther, was one of these for she was very beautiful.
Esther wasn't just beautiful on the outside though, she was beautiful on the inside too. She trusted, obeyed and cared about her guardian, Mordecai, .   She also listened and took advice from the one who was in authority over of all the young women. Everyone seemed to truly like Esther.
When she was brought before the King, he liked her more than any of the other women and crowned her queen of his country called Persia.
One day while Mordecai was sitting outside the palace, he overheard someone wanting to kill the king.  He told Esther and Esther told the king.  They saved the king's life!
Later the king made a man named Haman one of his most powerful officers. The king didn't know this man was evil. Haman was full of pride and did not like Mordecai for he would not bow down to him and show respect.  Haman made a plan to have Mordecai sentenced to death along with all the Jewish people in the land. 
Remember, Esther too was Jewish, but neither the king nor Haman knew this.  The king listened to Haman and signed a law setting a day that all the Jewish people would be killed!
Mordecai was so upset he tore his clothes and cried.  Someone told Esther, so she sent her servant to find out why Mordecai was upset.  He told the servant what Haman had tricked the king into planning and how Esther needed to talk to the king.
Esther was afraid because anyone who went to see the king without him inviting them, could be killed.  Mordecai told her, "Who knows if perhaps you were made queen for just such a time as this?"  
Esther knew she may be killed, but decided she must risk her life to save others - to save her people.  Putting others first is what makes someone a hero!  She went to the king and he was not angry, but invited her in to talk to him.  She asked to give a banquet and invited the king and Haman.
You see, Esther was not only obedient, beautiful and kind, she was also wise.  She knew she could not just accuse Haman of evil, but would have to be careful how she revealed this.  She also knew she would need God's help.  She was wise in that she asked all the people to fast and pray to God.  Esther also fasted and prayed.
When it was time for the banquet, Haman came proudly.  Yet Esther revealed nothing to the king.  Instead she invited them both to another banquet the next day.
At the second banquet, Esther told the king how her people's lives were being threatened along with her own and asked for their lives to be spared.  Of course, the king was angry for he loved Esther; he asked who would do such a thing!  Esther pointed to Haman.  His plan was falling apart; he had not known the queen was also Jewish.  His anger and pride had blinded him; therefore, he rather than Mordecai would be sentenced to death.   
The king also made a law allowing the Jewish people to come together and defend themselves for he could not change the law he had made before.  After this everyone in the land honored the Jewish people, Mordecai, and of course, Queen Esther.  She was a real hero in a real story.  For though this may sound like fairy tale with a "happily ever after", this Esther Bible story is true!
- This Esther Bible story is based on the Book of Esther

© Copyright 2020, Susan Smart Permission granted for personal use or small group only.

Esther Bible Story Lesson Activities:

Q & A...Things to think about

Think about how sad and lost Hadassah must have felt when she lost her parents.  God had a special plan for her life though.  We need to remember even when life is hard, there is always hope found in Jesus!
What do you want to be when you grow up?  Little girls and boys dream of being royalty - princesses and princes.  That is God's ultimate plan for each of us - to become His children by trusting Jesus as our Savior and Lord.  Then we are children of the King!
What is something for which you had to be brave?  Was it hard?  Did you ask for God's help like Esther?  
We can be heroes each and every day as we put others first and serve them.  Esther did this.  Jesus did this!
We can also learn from Haman how pride and anger can lead us into sin and consequences.
Esther Bible story Lesson
Make a Crown - Esther bible STory Activity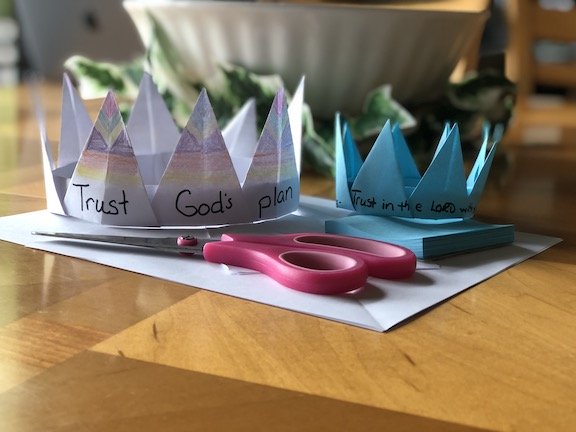 For this activity, do not tell the kids what you are making.  They must trust and follow your directions even not knowing what the final outcome will be.  In the same way, this Esther Bible story teaches us the we can trust God and follow His directions for life which we find in His Word.  He knows the future and holds it in His power.
We may not know God's plans, But we can trust He knows and loves us.  We just need to follow Him.
© Copyright 2020, Susan Smart Permission granted for personal use or small group only.

Special note: We do preview the websites to which we link, but are unable to peruse them completely. We try to check others' faith statements and make sure they do profess Jesus Christ as God's Son and salvation is found only in Him. It must, however, be your responsibility to personally dig into God's Word and allow the Holy Spirit to be your first and final teacher on all subjects.

"Our website may contain affiliate marketing links, which means we may get paid commission on sales of those products or services we write about. Our editorial content is not influenced by advertisers or affiliate partnerships. This disclosure is provided in accordance with the Federal Trade Commission's 16 CFR § 255.5: Guides Concerning the Use of Endorsements and Testimonials in Advertising."
---
Creative Bible-Bits Newsletter:

Let us help you keep up with what's new at Creative Bible Study with free Bible study lessons and ideas straight to your email!  Your information will be kept confidential and not be used for solicitation.

Free Ebooks: