Search our site:

A Christmas Object Lesson
...or Two...or More
Ideas for a Christmas object lesson can be found in so many of the items that arrive during the Christmas season - the gifts, the lights, the decorations and even the candy!
These Christmas object lessons can be used with groups of kids at church or with your own children as you walk with them daily pointing them to Jesus during this CHRISTmas season!

A Gift:

A Christmas present can tell a wonderful Bible object lesson about God's most precious gift and the true meaning of Christmas!
Scripture: John 3:16; Ephesians 2:8
Hold up a wrapped Christmas gift. Lead the kids to discuss the giving of gifts at Christmas and how much fun it is to give.
Ask questions like:
Do you have to work or pay to receive a gift? Why do we give gifts? How do you know who the gift is for?
Tell them God sent us a special gift that is for everyone. Quote John 3:16. Tell them that really means EVERYONE - all people, you, them, - anyone that would like to receive it.
Explain that we don't have to earn the gift or do anything other than receive it. Read Ephesians 2:8: "For it is by grace you have been saved, through faith--and this not from yourselves, it is the gift of God--"
However, the gift is not really ours until we choose to receive it. It is of no use to us unless we take it for ourselves, unwrap it, and make it our own.
God's gift of salvation through Jesus Christ is the same. It is not ours automatically. We must first choose to receive it.
Matthew 7:8: " For everyone who asks receives; he who seeks finds; and to him who knocks, the door will be opened."
John 3:36: "Whoever believes in the Son has eternal life, but whoever rejects the Son will not see life, for God's wrath remains on him."
---
Christmas Lights:

Use Christmas lights for a Christmas object lesson that teaches about the light of Christ!
Bring a string of Christmas lights to plug in and light up. Ask kids why we have Christmas lights. Ask them to think about what light is good for.
One of the greatest things about light is that it helps us to see. The Bible calls Jesus the "light of the world."  Each color of the lights can help us remember this about Him!
---
Jingle Bells of Joy:
Use jingle bells to teach a Christmas object lesson of how our joy comes from within. Life may shake us up, but if we have Jesus in our hearts, we can hear His song of joy!
Christmas isn't a "happy" time for everyone.  Adults, youth and children alike may experience sadness, loneliness, disappointment, grief, etc. that hinders their enjoyment of the season.  And when everyone around them is "feeling" the Merry Christmas vibes, it makes them feel that much more out of sync.
Unlike happiness though, joy comes from within.  Help others realize that even when life shakes us up, we can ring a joyful tune because of hope in Jesus! 
---
Legend of the Poinsettia

with Christmas Object Lesson
A Christmas story from Mexico, the Legend of the Poinsettia shares the heart matters more than the gift. The Poinsettia offers a wonderful Christmas object lessons pointing to Jesus & His love for us.
M&Ms with a Christmas Poem:
 LOVE M&Ms and I also love that someone (unknown to me) has used them to tell the Good News of the CHRISTmas story! This makes another great Christmas object lesson!
This is a great evangelism tool for this time of year with a simple bag of M&Ms! Talk about a supernatural treat!
M & M Christmas Poem
As you hold these candies in your hand,
And turn them you will see
The M becomes a W, and E and then a 3
They tell the Christmas story,
It's one I'm sure you know
It took place in a stable a long, long time ago
The E is for the East, where the star shone so bright
The M is for the manger where Baby Jesus slept that night
The 3 is for the wisemen, bearing gifts they say they came
W is for Worship, Hallelujah, Praise His Name
So as you eat these candies or share them with a friend
Remember the meaning of Christmas it's a Love Story that never ends!
Here is a cute printable of the M&M Christmas poem from Prepared-Not-Scared Blog!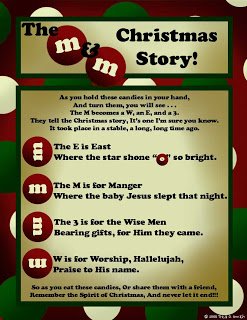 ---

A Candy Cane Christmas Object Lesson:

You've probably heard the "Story of the Candy Cane." The candy cane is a beautiful Christmas object lesson with which to share the true meaning of Christmas.  From the colors of red and white to its unique shape, it was designed to share the Good News of our Savior Jesus Christ.  A candy cane can become a simple door to introduce a conversation about Jesus wherever you go this season!
---
Nativity SeT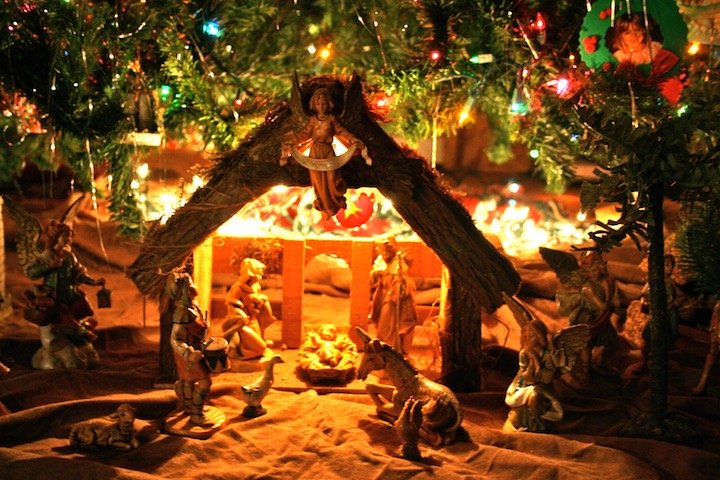 Use the pieces of a Nativity set as a Christmas object lesson Bible study!  If we were to count up how many times in our life we have heard the Christmas Story, it would probably amaze us! It's a wonderful story, but so many times, as it is with other familiar stories, we tend to lose our awe of it and the amazement of God's love.
Use this interactive Christmas Bible lesson for your family, Children's church, youth or any age group to bring back the sense of amazement as if hearing it for the very first time!
Still More Ideas for Christmas Object Lessons:
There's a Christmas object lesson waiting to be taught all around us.  We can also use Christmas crafts and stories too!
| | |
| --- | --- |
| | A fun Christmas craft is also a great way to teach an object lesson as you create!  This Salvation Christmas Ornament is simple to make and has a wonderful story to go along with it! |
| | |
| --- | --- |
| | You can also use the  "Legend of the Christmas Tree" combined with the  different color Christmas bulbs to give a Christmas object lesson on the plan of salvation. |
| | |
| --- | --- |
| | The Tale of Three Trees is a wonderful story that touches on the birth of Jesus, His ministry, death & resurrection along with dreams of unexpected proportions coming true in the hands of God! |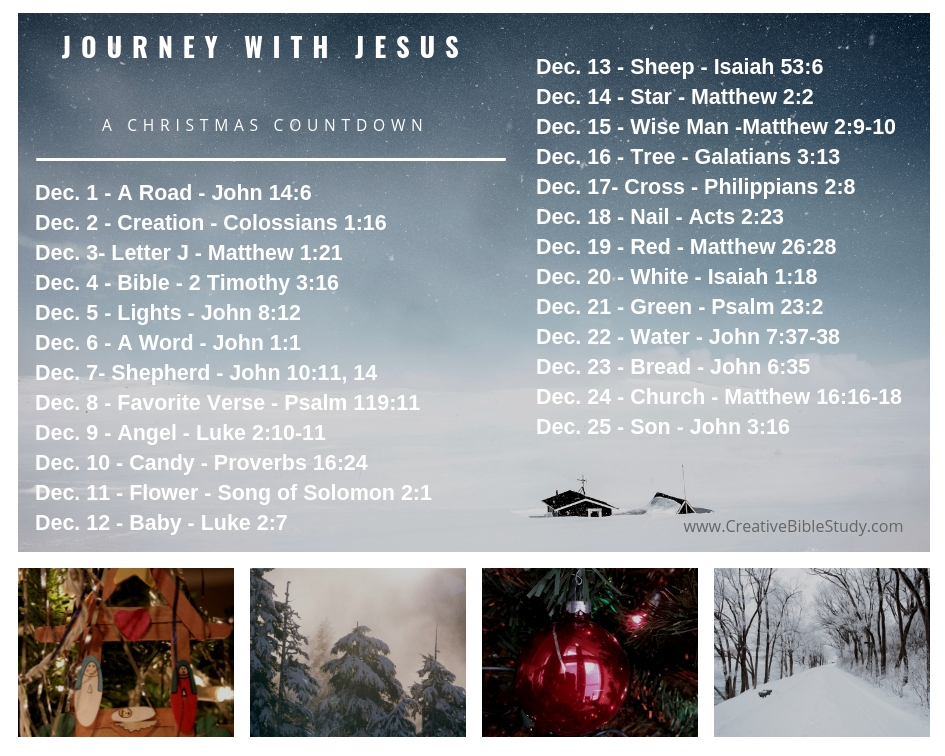 Our "Journey with Jesus" 25 Christmas Countdown Photos can also be easily adapted to become an easy Christmas object lesson!
| | |
| --- | --- |
| Of course a Nativity Set is an ideal object to use for a Christmas Bible lesson!  We've put together a Nativity Story Script and lesson plan for this purpose! | |
"The Best Gift" is another Christmas object lesson that presents salvation to children.
A Christmas object lesson can become a reminder of God's great love during the whole Christmas season. Parents as well as Sunday school teachers can focus the hearts and minds of children on the true meaning of Christmas -"Jesus." A Christmas object lesson also can become a visible children's sermon for pastors.
From Children's Books:

A Christmas object lesson can also be found using children's books. Following is one of my favorite Christian children's books that also captures  the true meaning of Christmas and keeps CHRIST in CHRISTmas: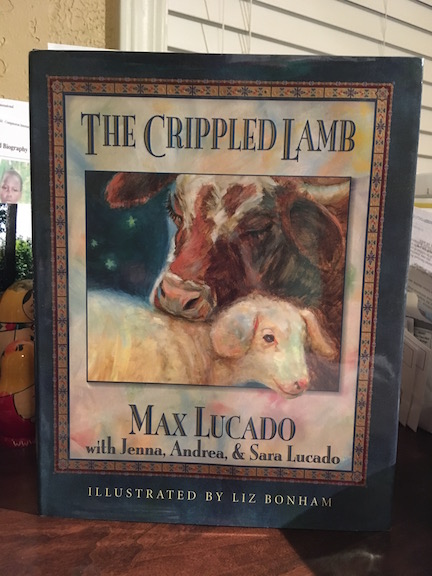 The Crippled Lamb
By Max Lucado / Thomas Nelson

Introduce your little ones to this classic tale by Max Lucado and teach your children that God has a plan for everyone. Joshua is a lamb with a crippled leg that always feels left out when all the other lambs run and play and he cannot. But God has a very special plan for Joshua's life, as He does for all who feel alone. Recommended for ages 4-8. 32 pages, hardcover from Thomas Nelson.
Special note: We do preview the websites to which we link, but are unable to peruse them completely. We try to check others' faith statements and make sure they do profess Jesus Christ as God's Son and salvation is found only in Him. It must, however, be your responsibility to personally dig into God's Word and allow the Holy Spirit to be your first and final teacher on all subjects.

"Our website may contain affiliate marketing links, which means we may get paid commission on sales of those products or services we write about. Our editorial content is not influenced by advertisers or affiliate partnerships. This disclosure is provided in accordance with the Federal Trade Commission's 16 CFR § 255.5: Guides Concerning the Use of Endorsements and Testimonials in Advertising."
---
Creative Bible-Bits Newsletter:

Let us help you keep up with what's new at Creative Bible Study with free Bible study lessons and ideas straight to your email!  Your information will be kept confidential and not be used for solicitation.

Free Ebooks: