Search our site:

The Christmas Story in the Bible
The Christmas story in the Bible is found in the Gospels of Luke and Matthew.
We may consider the Christmas tradition of reading the Nativity story a given, but after hearing others talk, it often gets overlooked in the hustle and bustle of opening gifts and preparing a big meal. Take time this Christmas to sit down with your family either on Christmas Eve or Christmas Day to read the story of the first Christmas in the Bible. When our children were little we would have them add the individual pieces to our set as we read the story.
This can become such a special and meaningful family tradition that can be passed down through generations!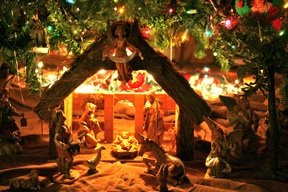 The Christmas Story in the Bible
Following are the Scriptures that can be used for the Christmas story in the Bible while setting up a Nativity.
Joseph, Mary & Baby Jesus (Animals may also be added.)
Luke 2:1-8: "In those days Caesar Augustus issued a decree that a census should be taken of the entire Roman world. 2 (This was the first census that took place while Quirinius was governor of Syria.) 3 And everyone went to his own town to register. 4 So Joseph also went up from the town of Nazareth in Galilee to Judea, to Bethlehem the town of David, because he belonged to the house and line of David. 5 He went there to register with Mary, who was pledged to be married to him and was expecting a child. 6 While they were there, the time came for the baby to be born, 7 and she gave birth to her firstborn, a son. She wrapped him in cloths and placed him in a manger, because there was no room for them in the inn."
The shepherds, sheep & angels
Luke 2:9-20: "8 And there were shepherds living out in the fields nearby, keeping watch over their flocks at night. 9 An angel of the Lord appeared to them, and the glory of the Lord shone around them, and they were terrified. 10 But the angel said to them, "Do not be afraid. I bring you good news of great joy that will be for all the people. 11 Today in the town of David a Savior has been born to you; he is Christ the Lord. 12 This will be a sign to you: You will find a baby wrapped in cloths and lying in a manger." 13 Suddenly a great company of the heavenly host appeared with the angel, praising God and saying, 14 "Glory to God in the highest, and on earth peace to men on whom his favor rests." 15 When the angels had left them and gone into heaven, the shepherds said to one another, "Let's go to Bethlehem and see this thing that has happened, which the Lord has told us about." 16 So they hurried off and found Mary and Joseph, and the baby, who was lying in the manger. 17 When they had seen him, they spread the word concerning what had been told them about this child, 18 and all who heard it were amazed at what the shepherds said to them. 19 But Mary treasured up all these things and pondered them in her heart. 20 The shepherds returned, glorifying and praising God for all the things they had heard and seen, which were just as they had been told."
The wisemen
Matthew 2:1-12: "After Jesus was born in Bethlehem in Judea, during the time of King Herod, Magi from the east came to Jerusalem 2 and asked, "Where is the one who has been born king of the Jews? We saw his star in the east and have come to worship him." 3 When King Herod heard this he was disturbed, and all Jerusalem with him. 4 When he had called together all the people's chief priests and teachers of the law, he asked them where the Christ was to be born. 5 "In Bethlehem in Judea," they replied, "for this is what the prophet has written: 6 "'But you, Bethlehem, in the land of Judah, are by no means least among the rulers of Judah; for out of you will come a ruler who will be the shepherd of my people Israel.'" 7 Then Herod called the Magi secretly and found out from them the exact time the star had appeared. 8 He sent them to Bethlehem and said, "Go and make a careful search for the child. As soon as you find him, report to me, so that I too may go and worship him." 9 After they had heard the king, they went on their way, and the star they had seen in the east went ahead of them until it stopped over the place where the child was. 10 When they saw the star, they were overjoyed. 11 On coming to the house, they saw the child with his mother Mary, and they bowed down and worshiped him. Then they opened their treasures and presented him with gifts of gold and of incense and of myrrh. 12 And having been warned in a dream not to go back to Herod, they returned to their country by another route."
Lessons & Activities for thE Christmas Story in the Bible
Still More Christian Christmas ideas
Special note: We do preview the websites to which we link, but are unable to peruse them completely. We try to check others' faith statements and make sure they do profess Jesus Christ as God's Son and salvation is found only in Him. It must, however, be your responsibility to personally dig into God's Word and allow the Holy Spirit to be your first and final teacher on all subjects.

"Our website may contain affiliate marketing links, which means we may get paid commission on sales of those products or services we write about. Our editorial content is not influenced by advertisers or affiliate partnerships. This disclosure is provided in accordance with the Federal Trade Commission's 16 CFR § 255.5: Guides Concerning the Use of Endorsements and Testimonials in Advertising."
---
Creative Bible-Bits Newsletter:

Let us help you keep up with what's new at Creative Bible Study with free Bible study lessons and ideas straight to your email!  Your information will be kept confidential and not be used for solicitation.

Free Ebooks: