Search our site:

Christmas Family Activities -

5 Creative Ways to Create Meaningful Moments
Christmas family time together is one of the best parts of the holidays!  Create both an excitement of anticipation and  a bonding of memories as you make the most of the moments you have together.
Each of these easy prep family Christmas meaningful moments can be as simple or extravagant as you want.  They don't have to cost anything except a few minutes of time.  Multiple psychological studies have shown that one of the greatest needs of a child is that of a parent's affection and time.
Don't fret if you are short on money this Christmas season; what your kids need most is absolutely free!

Photo by freestocks.org from Pexels

1.  Decorate the Tree Together
This has become difficult now that we are in the empty nest stage, but we do have years of special memories decorating our Christmas tree together as family.  
Each year buy a special ornament for each family member or make ornaments together.  In this way your Christmas tree will become the center of your family Christmas memories.  My grown kids think I'm silly to keep hanging their homemade ornaments and others we've purchased year after year, but each holds memories for me and bring great joy in their absence leading up to Christmas.
Try to find a time to decorate the tree together making new memories while also sharing stories of the old.  We always would hang the Christmas nail first remembering the birth, life, death & resurrection of Jesus.  Another tradition we included into Christmas family time decorating the tree was having fresh baked cookies to eat after we finished.  It's okay if you use slice and bake too!
If everyone's schedule doesn't permit this, keep a box of Christmas ornaments by the tree so as time allows, everyone can participate when they can.  Sometimes you may have to just Facetime the ones who couldn't actually be there; we had to do that this year, and it ended up being so much fun!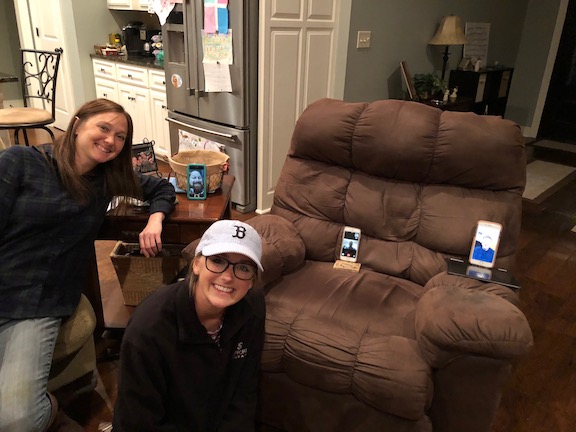 2.  Bake & Create
There is something special about being in the kitchen together creating something yummy!  Our kids are in their twenties and thirties now, but still love to have this time together and remember all the years before.  In fact, our oldest daughter has invited some of her college students to do this at her house because they had never had this experience with their families.  This can be as simple as buying a cookie mix, rolling the dough into balls and flattening it before decorating with sprinkles to homemade cookies with icing from scratch.  My all-time favorite recipe can be found at Annie's Eats.  You could also bake or build a pre-baked gingerbread house for a fun family experience. 
If baking is not your cup of tea, try creating something together.  You could create Christmas family ornaments or decorations, gifts for friends and neighbors, something to take and share with the elderly in a nursing home or shut-ins.  The options are only limited by your imagination!
Take a look at these super easy Christmas crafts for kids and easy to make gifts!
"In everything I showed you that by working hard in this manner you must help the weak and remember the words of the Lord Jesus, that He Himself said, 'It is more blessed to give than to receive.'" 
Acts 20:35

3.  Christmas Family Games
Our family loves to play games.  Games are wonderful discussion starters too!  We try to change it up each year.  You don't have to go out and buy a game; some are super easy to create.  Minute to Win It Christmas family games are simple to put together and usually involve a lot of laughter as you see who in your family are the most competitive! 
Try some old traditional games with very little preparation such as charades or Pictionary.  We have several fun Christmas family ideas for games pinned to our Pinterest board including fun Minute to Win It games!

4.  Read Together
Our Christmas family tradition always involves reading the Christmas story from the Bible in Luke chapter 2.  We do this on Christmas morning before opening gifts.  Yours may enjoy reading a special book or a different book every year.  Reading becomes a shared experience in which we connect as family.
You may even want to take time each evening to read a Christian devotion together while counting down the days to Christmas.  ChristianBook.com  has a wonderful selection found through our affiliate marketing link - 
Christmas Books from CBD.com
5.  Family Christmas Letters
This is a new tradition for our family.  I have hundreds of letters my parents wrote to each other during World War II.  These were not only a gift of words to each other, but have become a special gift to me, my siblings and our children.  There is something truly special about someone recording their thoughts and sharing them in their own handwriting.  Emails and texts just don't offer the same sentimental value.
This year I have asked each member of our family to write a handwritten note or letter to every other person in the family and bring as their Christmas gift.  They can write words of encouragement, what's happened in their lives over the past year, a special memory, etc.  These can be long or short; they just have to be handwritten to make this mama's heart happy.  With small children, this could take the form of drawing or coloring a picture.   
As the years pass, these will become treasured mementoes capturing memories that otherwise may fade away. 
We hope you and your family have a very blessed Christmas this year!  
Special note: We do preview the websites to which we link, but are unable to peruse them completely. We try to check others' faith statements and make sure they do profess Jesus Christ as God's Son and salvation is found only in Him. It must, however, be your responsibility to personally dig into God's Word and allow the Holy Spirit to be your first and final teacher on all subjects.

"Our website may contain affiliate marketing links, which means we may get paid commission on sales of those products or services we write about. Our editorial content is not influenced by advertisers or affiliate partnerships. This disclosure is provided in accordance with the Federal Trade Commission's 16 CFR § 255.5: Guides Concerning the Use of Endorsements and Testimonials in Advertising."
---
Creative Bible-Bits Newsletter:

Let us help you keep up with what's new at Creative Bible Study with free Bible study lessons and ideas straight to your email!  Your information will be kept confidential and not be used for solicitation.

Free Ebooks: