Search our site:

Christmas Devotion  #21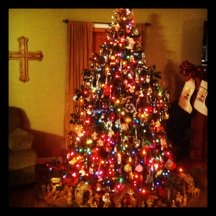 Our number 21 Christmas devotion uses the color green for a Christmas object lesson with Bible verses to help us keep our focus on the true reason for the season!  Each day snap a photo of each item for a visual and use as a photo challenge on Social Media, or with your family, small group, friends or just for yourself.  It's a fun way to enjoy the presence of Christ each and every day as we look towards celebrating His birthday! 

Dec. 21st - Green - Psalm 23:2

"He makes me lie down in green pastures; He leads me beside quiet waters."
Green...it's all around us!  God has woven it into the very fabric of the earth.  It points us to life, to refreshing, to new beginnings.
Here in Louisiana we have green all year around, but even with all our evergreens and warmer weather, winter still brings a weariness to the earth and to us as people.  The barrenness, the lack of color, the cold and the bitter.
Winter…a time when the earth seems to take a break and rest. Although these times may appear dreary and confine us, even these times are needed for the new growth coming in Spring again.
The winters of our life can seem dreary and even hopeless, but there is new growth taking place even when we can't see it.  God is at work!
"For I am confident of this very thing, that He who began a good work in you will perfect it until the day of Christ Jesus." Philippians 1:6

God knew not only the earth needs intervals of rest, but we as His children also need times of rest.  He even set the example in the beginning.

"Thus the heavens and the earth were completed in all their vast array.  By the seventh day God had finished the work he had been doing; so on the seventh day He rested from all his work. Then God blessed the seventh day and made it holy, because on it He rested from all the work of creating that He had done." 
Genesis 2:1-3 NIV
Our verse today reminds us of this important truth - "He makes me lie down in green pastures..."
How are you handling this Christmas season...the rush, the busyness, the weariness?  Take time to allow Him to help you stop and enjoy His presence, be renewed.
If you're anything like me, when I am tired...I get grumpy!  I am not at my best.  I do not reflect Christ's joy, light, peace, life or anything good.  And usually those closest to me get the brunt of my "winter chill". 
As you look around and see "green".  Let it remind you, nudge you...to take time to lie down in His green pasture of life and renewal.  You may be thinking you can't afford to, but in reality we can't afford not to! When our four kids were young and I would hit "a wall" of exhaustion, my husband would encourage me to lie down and rest a few minutes...if not for myself, then for everyone else! Haha!
It doesn't have to be long...just a few minutes remembering His many gifts of blessing,  remembering He's in control, remembering abundant life is when we abide in Jesus not in our own strength. 

And if you are struggling in life feeling that deep loneliness or depression of an emotional winter, know that God is near; He is at work.  I love the verse below because it doesn't mean "to know about God", but "to know Him intimately."


"Cease striving and know that I am God; I will be exalted among the nations, I will be exalted in the earth."  Psalm 46:10
My prayer for this Christmas devotion is that we each experience the new life of Jesus Christ budding out in our lives...even during winter because we have found rest in Him.
"Come to Me, all who are weary and heavy-laden, and I will give you rest."
Matthew 11:28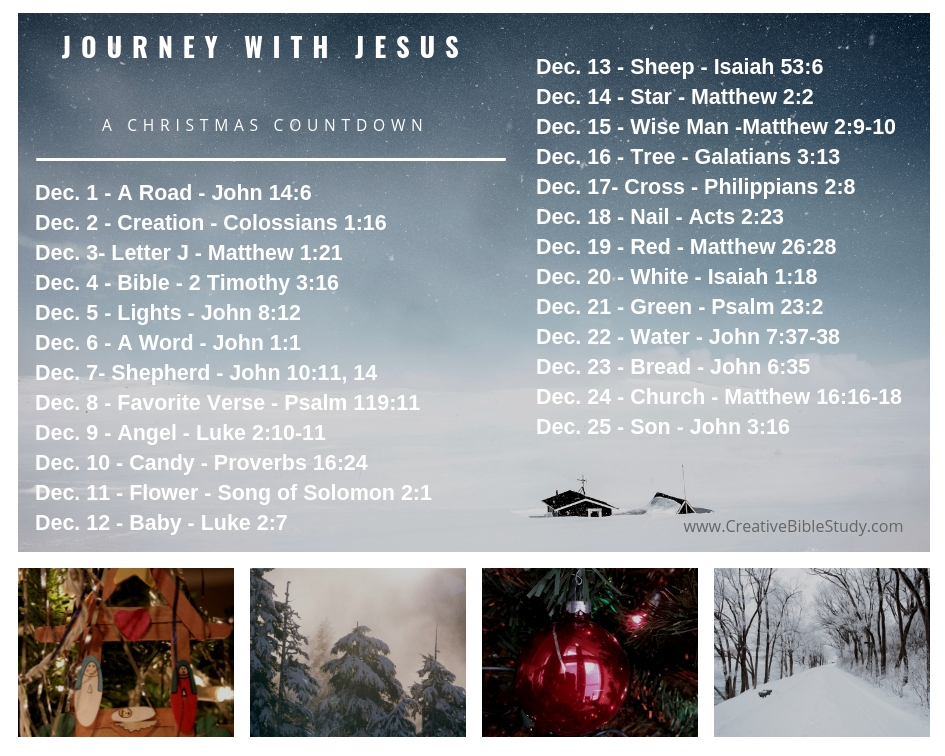 Special note: We do preview the websites to which we link, but are unable to peruse them completely. We try to check others' faith statements and make sure they do profess Jesus Christ as God's Son and salvation is found only in Him. It must, however, be your responsibility to personally dig into God's Word and allow the Holy Spirit to be your first and final teacher on all subjects.

"Our website may contain affiliate marketing links, which means we may get paid commission on sales of those products or services we write about. Our editorial content is not influenced by advertisers or affiliate partnerships. This disclosure is provided in accordance with the Federal Trade Commission's 16 CFR § 255.5: Guides Concerning the Use of Endorsements and Testimonials in Advertising."
---
Creative Bible-Bits Newsletter:

Let us help you keep up with what's new at Creative Bible Study with free Bible study lessons and ideas straight to your email!  Your information will be kept confidential and not be used for solicitation.

Free Ebooks: