Search our site:

Christmas Devotion  #9

This is the ninth Christmas devotion of twenty-five Christmas countdown on-the-go, active, object lesson devotions with Bible verses to help us keep our focus on the true reason for the season!  Each day snap a photo of each item for a visual and use as a photo challenge on Social Media, or with your family, small group, friends or just for yourself.  It's a fun way to enjoy the presence of Christ each and every day as we look towards celebrating His birthday!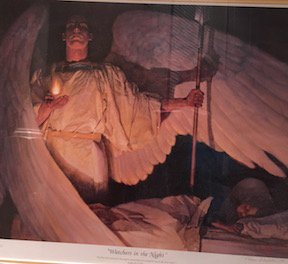 Dec. 9th - an angel - Luke 2:10-11

 "But the angel said to them, "Do not be afraid; for behold, I bring you good news of great joy which will be for all the people; for today in the city of David there has been born for you a Savior, who is Christ the Lord."
---
Although I have several angel ornaments on our Christmas tree, I didn't choose one of them for my countdown photo for today's Christmas devotion.  Nor did I choose one from our nativity set.
I chose to take a picture of Thomas Blackshear's "Watchers in the Night" that hangs in our bedroom.  I like how it portrays this messenger of God as mighty and strong.  I believe it better portrays how the Bible describes angels.
Here in Luke 2:10-11 an angel of the Lord delivers a powerful  message to the shepherds - "Do not be afraid."
Fear strikes the hearts of men and women every day.  Fear is no respecter of persons.  It reaches out and causes us to either cower and retreat or to become paralyzed due to dread or awe.
The shepherds were probably struck by both - dread of the unknown of what was happening and the awe of these majestic mighty creatures surrounded by the glory of the LORD!
However, the fear itself is not the main point here.  The reason they did not need to fear is.  The angel told them the "good news" - the Savior has come, the Messiah is born!
How many glorious verses in the Bible begin with two precious words - "But God..."  No matter what happens today or tomorrow, no matter what the known or unknown of it may be...God is still in control! 
"But God demonstrates His own love toward us, in that while we were yet sinners, Christ died for us."  Romans 5:8
His perfect love casts out fear. (1 John 4:18)

When we know Christ as our Savior, nothing can separate us from the love of God.
"But in all these things we overwhelmingly conquer through Him who loved us.  For I am convinced that neither death, nor life, nor angels, nor principalities, nor things present, nor things to come, nor powers,  nor height, nor depth, nor any other created thing, will be able to separate us from the love of God, which is in Christ Jesus our Lord."   Romans 8:37-39

So any time you see an angel during this Christmas season, let it remind you of the angel's message in this Christmas devotion - Do not be afraid...there is Good News!  God's love has made a way to cast out fear - trust in Jesus.  No matter what happens, God is in control and He can cause all things to work for good to those who love Him and are called according to His purpose!  (Romans 8:28)

Christmas Devotion Activities
Object Lesson - Use a backpack to share how God does not want us to carry around fear and anxiety; we can overcome these by changing our focus to rejoicing, prayer & giving thanks!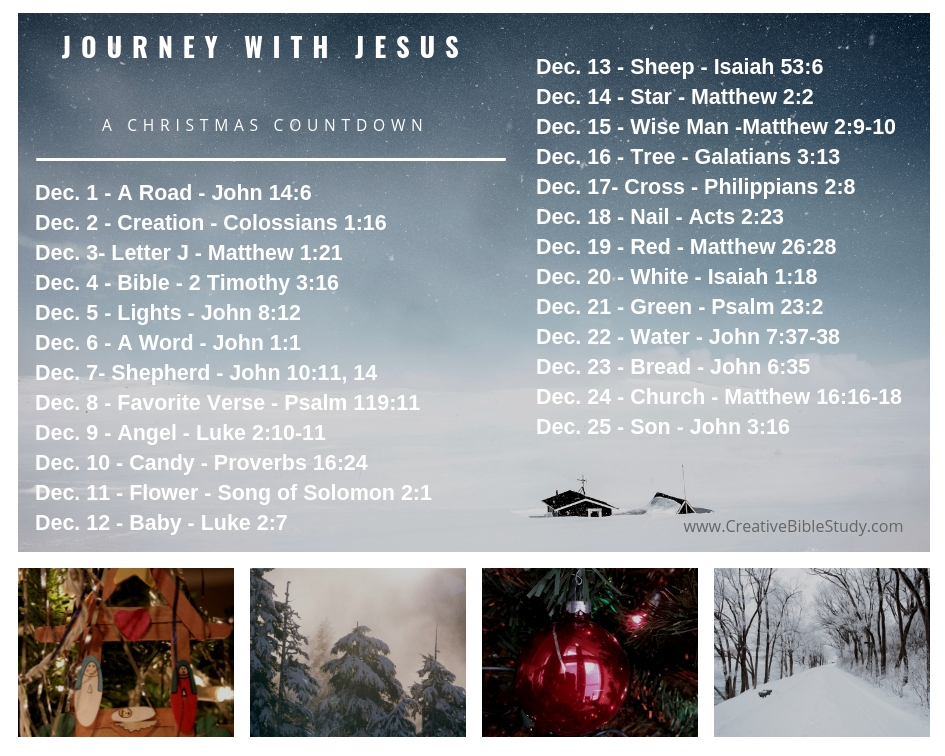 Special note: We do preview the websites to which we link, but are unable to peruse them completely. We try to check others' faith statements and make sure they do profess Jesus Christ as God's Son and salvation is found only in Him. It must, however, be your responsibility to personally dig into God's Word and allow the Holy Spirit to be your first and final teacher on all subjects.

"Our website may contain affiliate marketing links, which means we may get paid commission on sales of those products or services we write about. Our editorial content is not influenced by advertisers or affiliate partnerships. This disclosure is provided in accordance with the Federal Trade Commission's 16 CFR § 255.5: Guides Concerning the Use of Endorsements and Testimonials in Advertising."
---
Creative Bible-Bits Newsletter:

Let us help you keep up with what's new at Creative Bible Study with free Bible study lessons and ideas straight to your email!  Your information will be kept confidential and not be used for solicitation.

Free Ebooks: