Search our site:


Bible Object Lessons

We can help others see God at work in their everyday lives by using Bible object lessons; think of these as modern day parables!
Jesus is the master teacher and chose to teach through parables and stories many times to help people better understand spiritual truths.  Not only that, but He knew they, as well as us, would need reminders in our lives so that we would remember the lessons He taught.
If you're in a hurry though, try using our quick Object Lesson Index.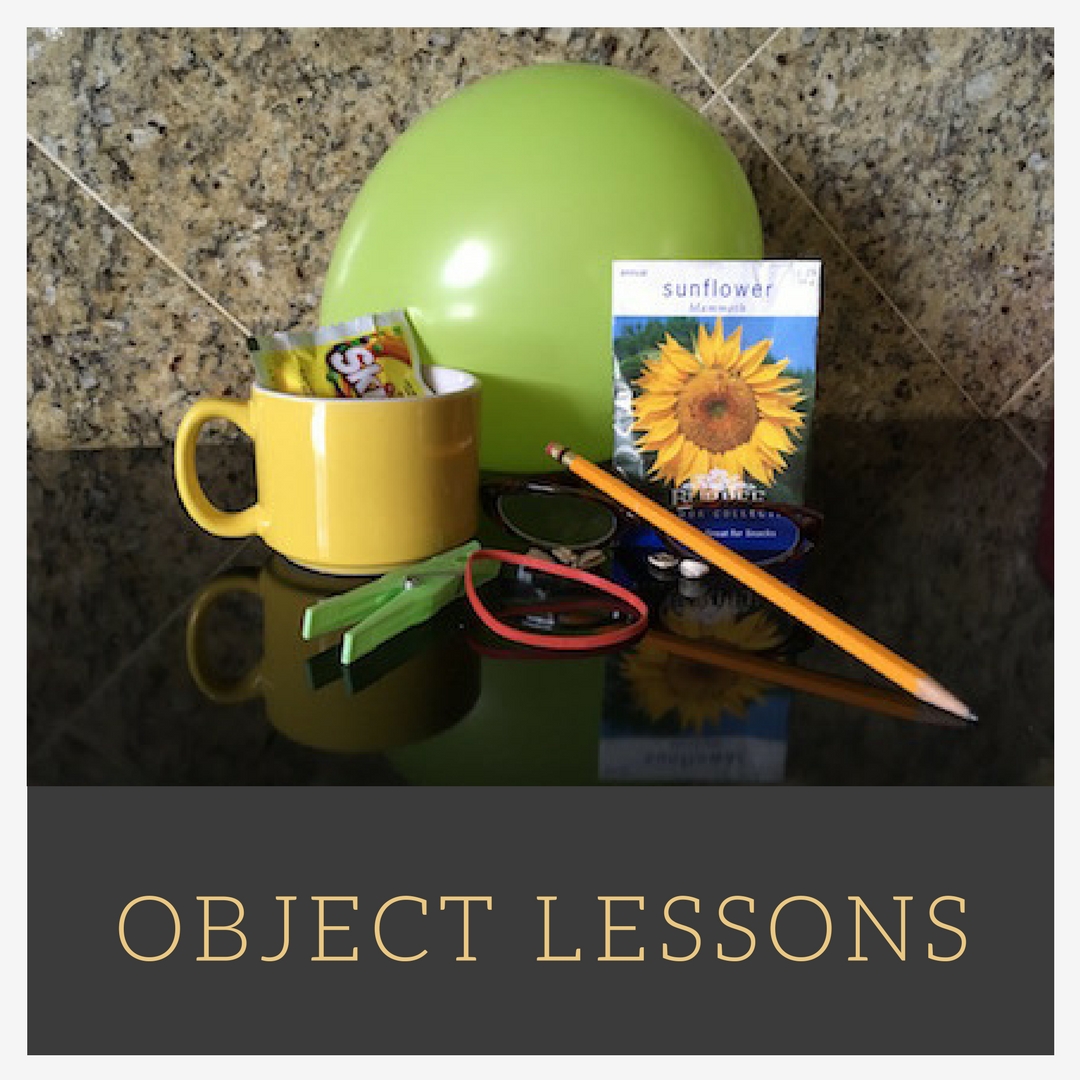 Christian object lessons can come from many different avenues of life such as a  cell phone object lesson, a chocolate cake, or a toolbox, and therefore relate to students in all walks of life!

There are also specific groups such as hunters or football players whose experience with an area will help them relate even more so to topic specific Bible object lessons.  Jesus often talked about sheep with shepherds, taxes with tax collectors, etc.  He reached people right where they were, and we are called to do the same!


Object Lessons for Seasons & Holidays

Each season actually brings it's own objects for great seasonal & holiday object lessons such as Christmas lights, Valentine's candy, Easter eggs, and more!

Everyday Bible Object Lessons

Simple everyday objects can be used to teach amazing Bible study lessons for students of any age - children, youth, and yes, even adults! . Use a Swiss army knife to teach the importance of every believer in the Church. Kolby and Mary Beth King have created six balloon object lessons to help illustrate the story of the rich young ruler in Luke 12 and other parables!  Simple but memorable Christian lessons to teach powerful Bible truths that will have lasting and practical effects.
There may however be times you need a creative Bible lesson for a specific age group. 

Object Lessons for Preschoolers:

Sometimes you may need more simplified Bible object lessons for younger groups of children including preschoolers.
"Simple object lessons for preschoolers" offers many inexpensive, quick ideas to relate Bible lessons to young children during any ordinary day.

Object Lessons for Youth/Teens

There are Christian object lessons written specifically to be used with youth or teens. Take a look at 63 more Christian object talks arranged from A-Z for youth too.
When we owned and operated our Christian bookstores, we were able to become familiar with many of the top Christian publishers.
Group Publishing is one of the top publishers in creative teaching materials for children, youth and adults. A preview of one of their youth Christian object lesson books is available online with eleven great object talks that are free for your use. They are copyrighted though; so please don't reproduce them. You may, however, want to purchase the book from them. It contains a total of 50 innovative and interactive Bible lessons for youth (or really any age).
The Faith Metaphors: 50 Interactive Object Lessons for Youth Ministry preview offers the following Bible lessons:
Object Lesson Topics:
Binoculars/Failure
Jump rope/Faith
Rubber ball/Family
Sidewalk chalk/Feelings
Cell phone/Following God (cell phone scavenger hunt)
Canned goods/Forgiveness
Clothespins/Friendship
Super glue/God's love
Popcorn/God's power
Cookie cutters/God's will
Holiness/Tin foil
In a rush?  Try our Object Lessons Index!

Special note: We do preview the websites to which we link, but are unable to peruse them completely. We try to check others' faith statements and make sure they do profess Jesus Christ as God's Son and salvation is found only in Him. It must, however, be your responsibility to personally dig into God's Word and allow the Holy Spirit to be your first and final teacher on all subjects.

"Our website may contain affiliate marketing links, which means we may get paid commission on sales of those products or services we write about. Our editorial content is not influenced by advertisers or affiliate partnerships. This disclosure is provided in accordance with the Federal Trade Commission's 16 CFR § 255.5: Guides Concerning the Use of Endorsements and Testimonials in Advertising."
---
Creative Bible-Bits Newsletter:

Let us help you keep up with what's new at Creative Bible Study with free Bible study lessons and ideas straight to your email!  Your information will be kept confidential and not be used for solicitation.

Free Ebooks: