Search our site:

Object Lesson of Worth & Value
This simple object lesson encourages students to see their worth and value comes from God and is not based on how others may see them or even how they see themselves.  Identity is something everyone deals with.  God desires for each of us to find our identity in Christ.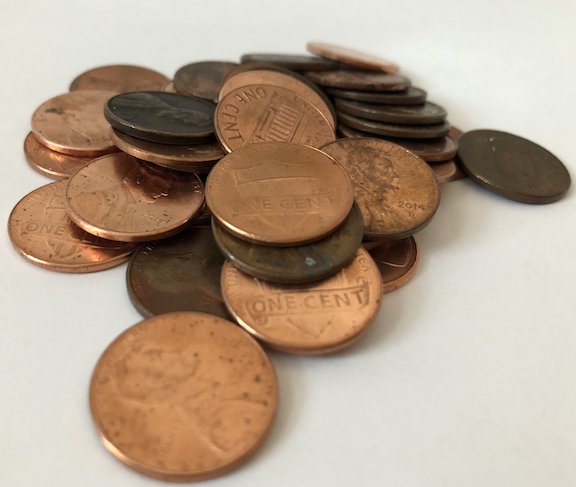 Topic: Identity - our worth & value
Object Lesson Title:  You're Worth It!
Object:

Pennies

Bible Verses:

Ephesians 2:8-10, Psalm 139:14, Genesis 1:27, Romans 2:11

Key Takeaway:  Our value is not determined by how others see us or even ourselves; it is based on what God says about us.  We are marked "valuable" by Him.  He does not show favoritism and neither should we.  We should view every person valuable and worthy.
Object Lesson:
Hold out a handful of pennies.  Ask which one is worth the most.  Hopefully they will say "They are all worth the same!"
Pretend to argue with them that you think the shiniest ones are worth more than the dirty or old worn pennies.  Finally ask them how they know they are each worth the same.  Answers may vary, but lead them to understand that they are "all pennies" and that each one is marked with the value of "one cent."
Give each student a penny to hold.
Just like all these pennies are the same, we as people, as human beings, as God's highest creation are the same.
Have students look up Ephesians 2:10 -
"For we are His workmanship, created in Christ Jesus for good works, which God prepared beforehand so that we would walk in them." NASB
Many Bible translations use the word "workmanship."  Take a few minutes to discuss how artists, cooks, craftsmen, builders, etc. may feel about something they have created.  Let them also express how they feel when they have worked really hard to make something.
I love how the New Living Translation states it this way:  "For we are God's masterpiece. He has created us anew in Christ Jesus, so we can do the good things he planned for us long ago."
We should be like the Psalmist in 139:14 and say, "I praise you, for I am fearfully and wonderfully made." 
Even in Genesis 1:27 God set men and women apart from all other creation.  He marked us with His image.
"God created man in His own image, in the image of God He created him; male and female He created them."
God has marked each of us with His image.  Even when that image became damaged by sin, God valued us.  Our value and worth to Him did not change - so much so that Jesus came to die for each one of us.  God deemed each of us worthy of sending His son to die for our sin.
"But God demonstrates His own love toward us, in that while we were yet sinners, Christ died for us." Romans 5:8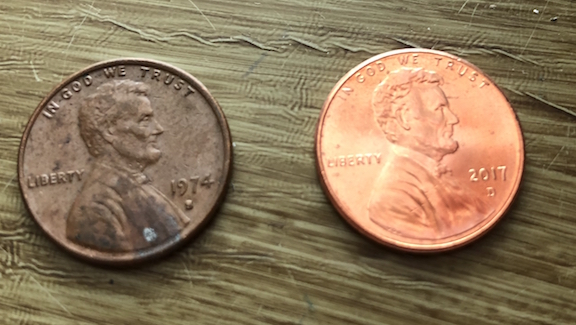 This object lesson demonstrates He didn't wait for us to get all shiny and clean.  We are of worth to Him even while we are dirty and dingy.
Have each student look closely at their penny.  Ask how many of them have the words "one cent" marked on them.  The answer - ALL.  Every penny is worth the same.  Every person is worth the same to God.  He does not have favorites.

Romans 2:11 says - "For there is no partiality with God." NASB or as the NLT phrases it - "For God does not show favoritism."
Have students read the words written over the head of Abraham Lincoln on their pennies.  Read together out loud - "In God We Trust."

Because we are of such value and worth to God, He sent Jesus to die in our place because of our sin.  Jesus took our punishment.  All God asks is that we turn away from going away from Him and come back to Him by believing and trusting in Jesus.  In God we trust.

Going back to Ephesians 2, read verses 8-10 now.

"For by grace you have been saved through faith; and that not of yourselves, it is the gift of God;  not as a result of works, so that no one may boast.  For we are His workmanship (His masterpiece), created in Christ Jesus for good works, which God prepared beforehand so that we would walk in them."  NASB

Encourage students to remember each time they see a penny that they matter to God.  He loves and values them and wants them to put their trust in Him every day.  Also remind them that every person matters to God; therefore, they should also matter to us. We can share this good news with them by using the object lesson of a penny.
© Copyright 2018 Susan Smart
Special note: We do preview the websites to which we link, but are unable to peruse them completely. We try to check others' faith statements and make sure they do profess Jesus Christ as God's Son and salvation is found only in Him. It must, however, be your responsibility to personally dig into God's Word and allow the Holy Spirit to be your first and final teacher on all subjects.

"Our website may contain affiliate marketing links, which means we may get paid commission on sales of those products or services we write about. Our editorial content is not influenced by advertisers or affiliate partnerships. This disclosure is provided in accordance with the Federal Trade Commission's 16 CFR § 255.5: Guides Concerning the Use of Endorsements and Testimonials in Advertising."
---
Creative Bible-Bits Newsletter:

Let us help you keep up with what's new at Creative Bible Study with free Bible study lessons and ideas straight to your email!  Your information will be kept confidential and not be used for solicitation.

Free Ebooks: