Search our site:

Object Lessons - Righteousness
Bible object lessons are similar to the way Jesus taught with parables in that they take earthly objects like a shirt or even candy and use them to teach a spiritual lesson like the concept of righteousness.
These Christian object lessons work well with all ages! I've used these with kids, youth and adults!
object lesson #1 -
Wear It! - Imputed Righteousness
Bible Object Lesson: Jesus gives us His righteousness to wear
Lesson Title:  Wear It
Objects:  Dirty shirt & Jersey 
Primary Scriptures:  2 Corinthians 5:21, Romans 13:14
Main Point:   Jesus died to pay the punishment for our sin.  He took our sin upon Himself and gave us His righteousness.
Object Lesson:

Come in wearing a dirty, stained shirt.  As you begin the lesson, talk about the stains and how you couldn't wash them out.  Point out that this is a lot like sin. 
God offers us not only a way to wash away our sin, but to protect us from further permanent sin stains.  Put on the jersey you brought & ask students why a jersey is important for a member of a team – it identifies you with the team.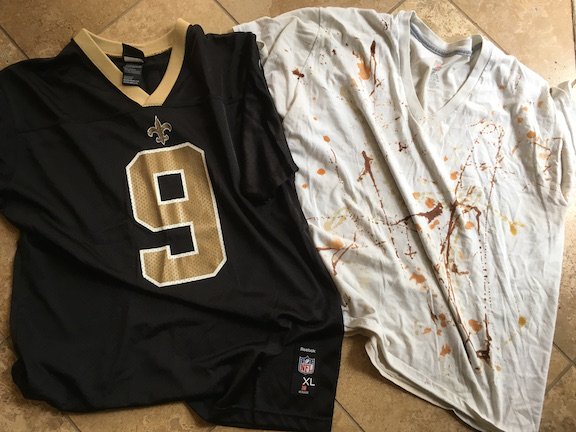 Comment that the jersey "covers up" the stained shirt and identifies you with a team.  In the same way, in salvation, Jesus gives us His righteousness that covers our sin, but also identifies us as God's child (born into His family) a part of God's team, so that when God looks at us, He no longer sees our sin, but the righteousness of Jesus.  

Look up & read aloud – 

2 Corinthians 5:21 – "God made Him who had no sin to be sin for us, so that in Him we might become the righteousness of God" 
Romans 13:14 – "But put on the Lord Jesus Christ, and make no plans to satisfy the fleshly desires"

This is called "imputed righteousness".  This means Christ gives us His righteousness (He transfers His sinless account to us and our sinful account to Himself) which makes us a part of God's family forever! 
Some call this "justification" – "just as if I never sinned."  This takes place at the moment of salvation when we invite Jesus into our lives and trust Him completely with our life now and forever & receive His forgiveness and righteousness.

Knowing we are on God's team, in His family forever, brings confidence and security.  This protects our heart from fear and doubt, but ultimately protects it from death because He gives us eternal life!  
---
Object Lesson #2 -
Bear it! - Practical Righteousness
Bible Object Lessons 
Bible Object Lesson: We should choose to live righteous (like Jesus) every day.
Lesson Title:  Bear It!
Objects:  Wrapped Candy 
Primary Scriptures:  Romans 13:14, Philippians 1:11
Main Point:   As a child of God, we not only have received Jesus' righteousness, but we can also live righteous by His Holy Spirit.
Object Lesson
We never lose Jesus' righteousness once we have received it; we'll always be a part of God's team, and His Holy Spirit lives within us.  But in everyday life, it's our choice to wear and "bear" His righteousness so others see the difference in our life.  We still have a choice of living daily for Jesus and following the prompting of His Holy Spirit, or not.  When we don't, it can lead us into dangerous places such as temptation and sin.
Think about what would happen if the quarterback of the football team ran out on the field to play in the game without his jersey!  He would be clobbered by all because he wouldn't be showing whose team he is on!
Putting on the breastplate of righteousness is a choice we must make daily in the way we live.  
If we back up to Ephesians 2:8-10, it clarifies we are NOT saved by good works or our own righteousness, but God did create us to do good works that reflect what Jesus has done for us through salvation.
"For by grace you have been saved through faith; and this is not of yourselves, it is the gift of God; 9 not a result of works, so that no one may boast. 10 For we are His workmanship, created in Christ Jesus for good works, which God prepared beforehand so that we would walk in them."
When we choose to follow Jesus daily by walking close to Him and following the way the Bible points us to live, we walk in God's good works which lead us away from dangerous places and away from sin.  
This is what we mean by "practical righteousness."  Our good works could never save us, but after we receive Christ's righteousness at salvation, His Holy Spirit helps us walk in living daily more like Jesus; this helps protect us from Satan's schemes and temptations that lead to sin.
Hold up a sucker or piece of wrapped candy and ask what the purpose is of a sucker/candy. (to be enjoyed)
What purpose does the wrapper on the sucker/candy have?  (protect it so it can fulfill its purpose)
Take the wrapper off your sucker and roll on the floor or in dirt, etc.  Ask if anyone wants to enjoy the sucker now!   (hopefully they say no)
Take another sucker with the wrapper still on and do the same.  Ask if they'd like to enjoy this sucker.  Then ask what was the difference. (the wrapper protected the sucker from getting dirty & nasty)
In the same way that the wrapper protects the sucker from picking up dirt and yuck, righteousness can protect our hearts from sin.
God's Word tells us: 
Proverbs 4:23  "Guard your heart above all else, for it is the source of life."
2 Corinthians 5:21 – "God made Him who had no sin to be sin for us, so that in Him we might become the righteousness of God" 

Romans 13:14 – "But put on the Lord Jesus Christ, and make no plans to satisfy the fleshly desires"

 Galatians 5:22-23   "But the fruit of the Spirit is love, joy, peace, patience, kindness, goodness, faith, gentleness, self-control. Against such things there is no law." 

Philippians 1:11  "May you always be filled with the fruit of your salvation—the righteous character produced in your life by Jesus Christ—for this will bring much glory and praise to God."
Facts about Righteousness:
Righteousness is doing what is right in God's sight. 
Righteousness is in part reflected by our attitude. 
We need to be upright in character as well as actions. 
Righteousness comes from the heart. 
"Flee the evil desires of youth and pursue righteousness, faith, love and peace, along with those who call on the Lord out of a pure heart." – 2 Timothy 2:22
• Flee evil – go away from anything evil so the enemy doesn't knock you down!
• Pursue righteousness…, run towards God's goal & purpose!
• Along with…your own team! (Who you hang with matters!)
If we choose each day to try to live like Jesus, we won't go to places or do those things we shouldn't where Satan can trip us up and cause us to fall into sin.  
Also, others will see by our actions and attitudes that truly we are a part of God's team & His breastplate of righteousness will protect our heart and be seen as we identify with His team.
 "But the fruit of the Spirit is love, joy, peace, patience, kindness, goodness, faith, gentleness, self-control. Against such things there is no law."  - Galatians 5:22-23
Think about it:
Have students discuss the following situations and how the right decision (righteousness) can protect their heart.
1. Jenny has been invited to stay over at a friend's  house, but their parents won't be home part of the night. What should she do?
2. John offers Mike a cheat sheet to help him on a History test.  What should Mike do?
3. Beth & Avery are talking bad about the new girl in their class.  Rachel walks up.  When she hears what they are talking about,  what should she do?
4. Ben and James were best friends until James really hurt Ben's feelings.  Ben got so angry at James.  What should Ben do?
5. Betsy has been asked to go to a movie with the popular group of kids from school, but knows her parents wouldn't approve of the movie.  What should she do?
Prayer Time:
Take time to pray Paul's prayer he prayed over the Philippians in Philippians 1:9-11:

 "And this is my prayer: that your love may abound more and more in knowledge and depth of insight,  so that you may be able to discern what is best and may be pure and blameless until the day of Christ,  filled with the fruit of righteousness that comes through Jesus Christ--to the glory and praise of God."
© Copyright 2016 Susan Smart
These two object lessons are part of another lesson which looks at the breastplate of righteousness - a piece of the armor of God mentioned in Ephesians 6.
Special note: We do preview the websites to which we link, but are unable to peruse them completely. We try to check others' faith statements and make sure they do profess Jesus Christ as God's Son and salvation is found only in Him. It must, however, be your responsibility to personally dig into God's Word and allow the Holy Spirit to be your first and final teacher on all subjects.

"Our website may contain affiliate marketing links, which means we may get paid commission on sales of those products or services we write about. Our editorial content is not influenced by advertisers or affiliate partnerships. This disclosure is provided in accordance with the Federal Trade Commission's 16 CFR § 255.5: Guides Concerning the Use of Endorsements and Testimonials in Advertising."
---
Creative Bible-Bits Newsletter:

Let us help you keep up with what's new at Creative Bible Study with free Bible study lessons and ideas straight to your email!  Your information will be kept confidential and not be used for solicitation.

Free Ebooks: