Search our site:

Object Lesson for Kids

Basketball...Aiming for the Greatest Goal
This object lesson for kids, teens or adults can be used for Sunday school, Awana, youth lesson or even family worship time!  
I used it as an Upward basketball devotion to share salvation with the kids and also the parents and families in the stands!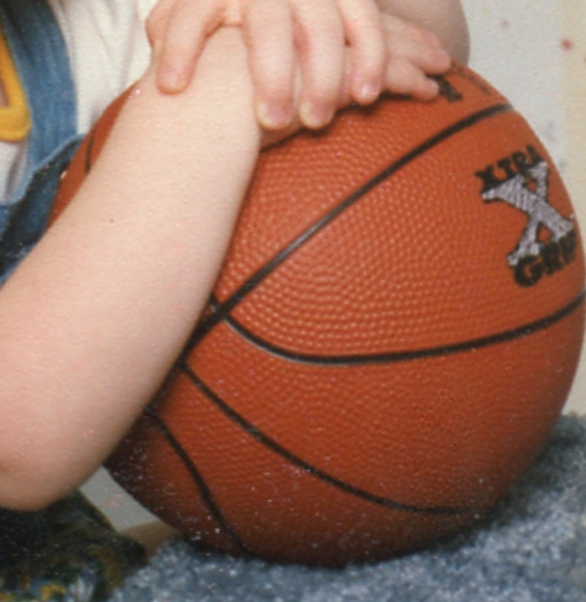 Overview
Topic: Becoming Like Jesus
Object Lesson for Kids Title: Aiming for the Greatest Goal
Object:  Basketball
Bible Verses:  Romans 3:23, Isaiah 53:6, John 3;16, 1 Corinthians 1:2, Ephesians 5:1, 1 John 2:6
Key Takeaway:  The greatest goal in life is to know Jesus, draw near to Him and aim at following His example.
Basketball Object Lesson for Kids
Ask:  "What is the object of the game of basketball?"  "What is the main aim?"
Hopefully someone will say - "To make a goal!"  
Demonstrate:  Ask one of them to hold the basketball and demonstrate how to do this.  Point out how first they face the goal, then they move toward it, aim the basketball and shoot.
Object Lesson for Kids


Point 1:  The Goal

Would it be harder to make the goal if you turned away from it?  What if you were moving farther and farther away from it too?

Romans 3:23 talks about another goal - "All have sinned and fall short of the glory of God."  Sin causes us to turn away from God - our goal. 

None of us have reached God's perfection or even come close!  Only Jesus lived a perfect life without sinning.  We have all turned away from God and on our own we wander farther and farther away.

"We all, like sheep, have gone astray, each of us has turned to our own way; and the LORD has laid on Him the iniquity of us all."

Isaiah 53:6

God knew even before creation He would need to save us from wandering our own way and ending up lost and not knowing Him.  He sent Jesus to take our sin and bring us back to Him.

"For God so loved the world that he gave his one and only Son, that whoever believes in him shall not perish but have eternal life."

John 3:16
Object Lesson for Kids


Point 2 - In Christ

Most basketball games are played in a gym.  In this case, we must be inside the gym to even be near the goal.  I'd have one student take the basketball outside the gym and ask him/her to shoot a basket from outside.  It's impossible!

God invites each of us to come into fellowship with Him and have eternal life.  Jesus made the way!  When we accept Jesus as our Lord & Savior and surrender our lives to Him, He comes in and saves us! We are forgiven and become a child of God;  we now are "in" Him, "in" God's family!

"To God's church at Corinth, to those who are sanctified in Christ Jesus and called as saints, with all those in every place who call on the name of Jesus Christ our Lord—both their Lord and ours."

1 Corinthians 1:2

This is just one of the many verses that refers to believers as "in Christ" or "Christ in us".




Object Lesson for Kids


Point 3 - Playing the Game

Point out: 

We are all "in" this gym right now, but how many of us are really playing the game and scoring goals?  Some may be in the stands as spectators, others on the bench, but only a few are actually on the court playing the game and making goals.

We become a child of God as soon as we accept Jesus as our Lord and Savior; our eternity is settled, but our new life is just beginning.  It's not time to sit and just watch others or go through the motions of practicing, wearing a team jersey, but always sitting on the bench.  

To make a goal, we need to not only be inside the gym, we need to be in the game, facing the goal, trying to get closer to it and aiming at it.

Think about:

Are we "in Christ" but just sitting on the bleachers watching other Christians live life loud for Jesus?  Are we going through the motions, but actually just sitting on the bench? Are we on the court but not even facing the goal or aiming to score?

Jesus called His disciples to follow Him.  Paul tells us in Ephesians 5:1 -




"Follow God's example, therefore, as dearly loved children"

The greatest goal in life is to know Jesus, draw near to Him and aim at following His example.

"whoever says he abides in him ought to walk in the same way in which he walked."

1 John 2:6


Summing it Up:
Why is it that we need to turn towards God like facing a hoop when shooting a basketball?  Because of sin we are not even facing God...we are going our own way in rebellion against God...and also because of that sin we are on the outside nowhere near God!  
Without Jesus, it is impossible to live a life pleasing to God; it's like being outside the gym.  Jesus is the only one Who can bring us into God's family, but He won't force us; He waits for us to ask.
Once we're in God's family, we need to be on the court, drawing near the goal and aiming to know Him more and follow His example.
Prayer Time
If possible, ask kids to sit in a circle.  As they pass the basketball around the circle, encourage them to say a one sentence prayer.  Give them starter phrases such as - "Thank You, God...", "Help me...,"  "I praise You for...," "I'm sorry...", etc.
If they'd rather "pass", tell them to hand the basketball to the next person.  After everyone has had a chance, close asking God to help each come to know Him better and trust Him each day of their life as they aim to follow Him.
Object Lesson For Kids

Activity Options:
Take the Shot
Play a game of H-O-R-S-E where one person shoots a goal and if they make it, the next must try to shoot a goal from the same place or get a letter added.  When someone gets all the letters of horse, they are out.
 See how many free throws you can make in a row; think about ways we can take time to aim to know Jesus better and better and help others come to know Him too!
If you don't have access to a basketball or goal, use a piece of wadded paper or any other object and toss it into a waste paper basket or other goal.  
Written by Susan Smart - 2015
---
Special note: We do preview the websites to which we link, but are unable to peruse them completely. We try to check others' faith statements and make sure they do profess Jesus Christ as God's Son and salvation is found only in Him. It must, however, be your responsibility to personally dig into God's Word and allow the Holy Spirit to be your first and final teacher on all subjects.

"Our website may contain affiliate marketing links, which means we may get paid commission on sales of those products or services we write about. Our editorial content is not influenced by advertisers or affiliate partnerships. This disclosure is provided in accordance with the Federal Trade Commission's 16 CFR § 255.5: Guides Concerning the Use of Endorsements and Testimonials in Advertising."
---
Creative Bible-Bits Newsletter:

Let us help you keep up with what's new at Creative Bible Study with free Bible study lessons and ideas straight to your email!  Your information will be kept confidential and not be used for solicitation.

Free Ebooks: