Search our site:

Important Lesson About the Bible
This week I get to teach a lesson about the Bible to our large group in Awana Club; it is easily adapted to any age.  We will be focusing on 2 Timothy 3:16 which is our memory verse for this week. 
There are many facts about the Bible that are important.  In this Bible lesson we will focus on the inerrancy of God's authorship and how the Bible is important and relevant to our lives in the present.
Photo Credit:  Nappy@ Pexels
Lesson About the Bible Summary:  The Bible did not happen by accident.  God spoke it to men that they could write it correctly without error.  He gives us the Bible as His story that we might know Him and find direction for our lives in it.
Key Takeaway:  God is both the author and the subject of the Bible consistently through all 66 books.
Focal Scripture:  Hebrews 4:12; 2 Timothy 3:16
Prep or supplies:  You'll need a white board and markers or sheets of paper.  Have a variety of colors or writing tools such as marker, pen, pencil, crayon, etc. There is also an object lesson using a GPS.
---

Key Facts About the Bible
"All Scripture is inspired by God and profitable for teaching, for reproof, for correction, for training in righteousness;"
2 Timothy 3:16
1 

Lesson about the Bible - God Inspired All of It
Ask students to name one of their favorite books or favorite authors.  
Hebrews 4:12 tells us the Bible is unlike any other book.  It says it is living and active.  This means the Bible can change lives!
"For the word of God is alive and active. Sharper than any double-edged sword, it penetrates even to dividing soul and spirit, joints and marrow; it judges the thoughts and attitudes of the heart."

God is the author!  An important lesson about the Bible we need to understand is God inspired all of it without error.  He is the author.
Activity 1 - Whisper Pass along
Have them circle up so that they can "pass" a whisper from one end to the other.  Whisper your favorite book and author and a little bit about it to the first person.  Then they whisper to the next, etc.  It will be interesting to see how distorted it will be after passing through so many people!
---
God did not risk having His Word just passed from one person to the next and to the next, etc.  The Bible says "God inspired" Scripture.  Another translation says "God breathed" it.  

Read 2 Timothy 3:16 aloud.  
NASB - "All Scripture is inspired by God and beneficial for teaching, for rebuke, for correction, for training in righteousness;"
NIV - "All Scripture is God-breathed and is useful for teaching, rebuking, correcting and training in righteousness,"
God's Holy Spirit spoke His Word to the hearts of 40 different men over a period of 1,500 years through 66 books, and it remains one clear seamless story about Him and about His promise to rescue us.
2

 Lesson About the Bible - It Helps us Know God
Everything we know to be true about God has been written down for us in His Word.  Yes, Romans 1:20 tell us that through His creation His eternal power and divine nature have been clearly seen. 
God went beyond that though; He didn't want to leave it to chance.  He tells us about Himself and had men write it down.  He wants us to know Him.  If that was not clear enough, His Word (Jesus) became flesh and lived a life on earth. (John 1:14)
Activity 2 - Writing Object Lesson About the Bible
Ask students what they know about you and how they came to know these things.  Many will include that someone else told them.  How can they know those things are true?  They can ask you.
Have a student come forward and whisper something about yourself into their ear; have them write that on the white board or paper for others to see and read. 
* Repeat this with other facts about yourself using different volunteers each time and have them use a different color or writing utensil.
Explain that although different students wrote the facts about you on the board, they can know these are true because you told them.  In the same way, God may have used about 40 different men to write the Bible, but God is the one that inspired/breathed/spoke His truth they each wrote.  They were just the tools God used to write His Words.
Just like you had different people come up and write with different writing utensils or colors, God used different men with different personalities, writing forms, experiences, etc. but they wrote God's Words not their own.
We can know the Bible is true because God does not lie.  He wants us to know Him.  He is truth. The Bible is not a Biography; it is an Autobiography.
The Bible is Not a Biography; it is an Autobiography.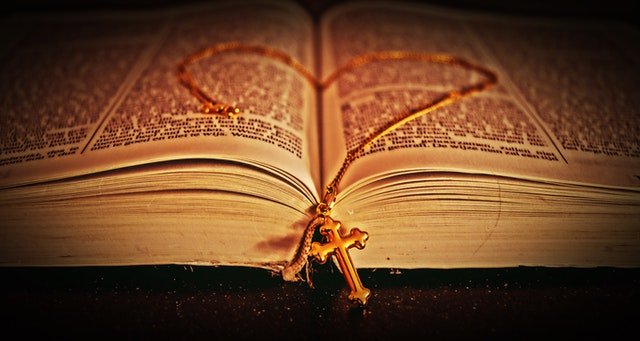 3

 Lesson About The Bible -
It Helps Direct Our Life
God also gives us the Bible to help direct our life now in the present to point us to Him and help us follow Him.  Read 2 Timothy 3:16 aloud focusing this time on how it is profitable or useful.
It would be one thing to tell someone directions to get somewhere, say to their house; it would be another for them to direct you to the same place. 
God does not leave it to chance that we will know how to find Him and follow Him all the way to His home in Heaven.  He gives us the Bible to instruct us.  Of course, He went even beyond that and sent His Son, the Word, to show us.
Bible Activity 3  - GPS Object Lesson
Use our GPS object lesson to demonstrate how God doesn't just tell us directions, He gives us the Bible to:
teach us - tell us where we are and where we need to go
for reproof - tell us when we're going the wrong way
correct us - tell us how to get back on the right path
train us in righteousness - continue leading us in the right direction
A Global Positioning System is able to use information from satellites far above the earth to tell us where we are in relation to where we want to go.  God sees the WHOLE picture throughout time and space far beyond any satellite.  He has given us the Bible as a tool to direct us to knowing Him and following Him.
---
Lesson About the Bible

 - Summary
Today we have learned that God inspired all Scripture; it is without error and completely true.  He is the author. God gave us the Bible so we can know Him and also to direct our lives to follow Him.  
Prayer
Father, thank You for making sure we don't miss out on knowing you.  Thank you that not only does creation show us your power and divine nature, but you also sent Your Son in the flesh to live among us.  Thank you that we can know the Bible is true because You spoke it directly to men to write it down without error.  Now we ask that Your Holy Spirit help us as we read and understand Your Word.  Help us to know You better and better and to follow You each day of our lives.  We love You, LORD; thank You for loving us!
© Copyright 2018 Susan Smart.

Special note: We do preview the websites to which we link, but are unable to peruse them completely. We try to check others' faith statements and make sure they do profess Jesus Christ as God's Son and salvation is found only in Him. It must, however, be your responsibility to personally dig into God's Word and allow the Holy Spirit to be your first and final teacher on all subjects.

"Our website may contain affiliate marketing links, which means we may get paid commission on sales of those products or services we write about. Our editorial content is not influenced by advertisers or affiliate partnerships. This disclosure is provided in accordance with the Federal Trade Commission's 16 CFR § 255.5: Guides Concerning the Use of Endorsements and Testimonials in Advertising."
---
Creative Bible-Bits Newsletter:

Let us help you keep up with what's new at Creative Bible Study with free Bible study lessons and ideas straight to your email!  Your information will be kept confidential and not be used for solicitation.

Free Ebooks: