Search our site:

A Godprints  Devotion

This Godprints object lesson devotion takes an everyday occurrence and connects it with God's Word to teach us a spiritual truth to help us grow in Christ and bring encouragement. 
God is at work in us and all around us.  Our fingerprints identify us, and God has placed His identifying marks all over our world and lives to point us to Him!  This type of Bible devotion lesson is meant to help us see His "Godprints."

Walking with God  

[A Godprints Bible Devotion Lesson]
Photo by Gantas Vaičiulėnas from Pexels

Meditate:
Have you taken a walk lately?  Have you ever stopped to think about what it takes to walk?  You may be thinking a walk begins with one step, but I believe it actually takes two to begin a walk.  Then these two steps are repeated over and over.
A walk can become a Godprints truth in our life connecting an everyday action reminding us of the wonder of walking with God.  One of my friends shared a verse with me that got me to thinking –
"Thus says the LORD, stand by the ways and see and ask for the ancient paths, where the good way is and walk in it; and you shall find rest for you souls.  But they said, "We will not walk in it."  - Jeremiah 6:16
Here God is using Jeremiah to remind the people of Judah to choose to walk in God's way.  I began to wonder – "What are these ancient paths?"  It caused me to think of Enoch, Noah, and Abraham…they walked with God.  Could the ancient paths, where the good way is, point to walking daily with God?  
The Bible talks a great deal about walking.
Enoch – Genesis 5:22 – "Enoch walked with God after he fathered Methuselah 300 years and had other sons and daughters." Genesis 5:24 – "Enoch walked with God, and he was not, for God took him."
Noah –  Genesis 6:9 – "This is the account of Noah and his family.  Noah was a righteous man, blameless among the people of his time, and he walked faithfully with God."
Abraham –  Genesis 17:1 – "When Abram was ninety-nine years old, the LORD appeared to him and said, "I am God Almighty; walk before Me and be blameless.  I will confirm my covenant between me and you and will greatly increase your numbers."
Micah 6:8 – "He told you, O man, what is good; and what does the LORD require of you but to do justice, to love kindness, and to walk humbly with your God.
Micah 6:8 gives us a partial description of how walking with God is marked by humbleness, justice and kindness or mercy.  But how does this walk begin and then continue as the ancient paths portrayed by Enoch, Noah, and Abraham?  It begins and continues with two steps...putting one foot in front of the other!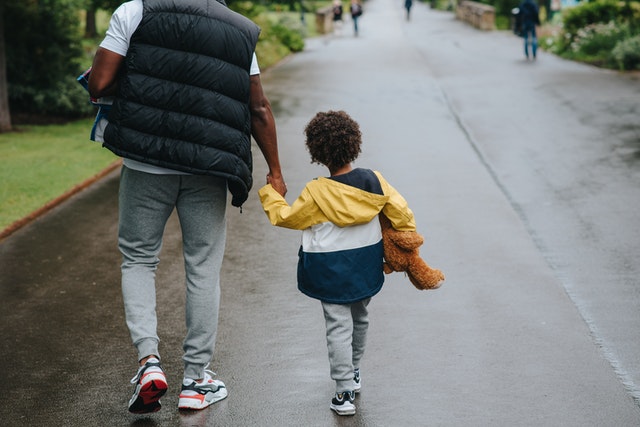 In the New Testament Paul encourages believers in Colossians 2:6 – "Therefore, as you have received Christ Jesus the Lord, so walk in Him,".   How did we receive Christ Jesus the Lord? We receive Him through repentance and faith. 
Repentance is that turn around step that changes our direction from going our own way away from God and turns us back to Him.  We receive forgiveness, but we are still standing still until we take the next step…a step of faith. Through faith we then are able to step towards God in total surrender and trust.  These should mark our spiritual walk with God so we are moving forward in the same direction with Him.  
Notice the very last phrase of Jeremiah 6:16 though – "But they said, "We will not walk in it."  God gives us a choice.  He will not force us to turn to Him and walk with Him finding rest for our souls.  He invites us though out of His great love for us. 
John the apostle and one of Jesus' closest friends says in 1 John 2:6 – "the one who says he abides in Him ought himself to walk in the same manner as He walked."  John knew what it was like to walk with God in the flesh.  He walked with Jesus.  He knew Jesus.  We can too as we daily walk just as we received Christ – turning away from sin and our own ways, turning to God and His direction, and by moving forward with Him in faith, trusting Him in every way and every circumstance.
What choice will we make?  To begin the journey with Jesus, it takes repentance and faith.  We receive salvation, God's free gift of eternal life.  But we also have a daily choice to remain in Christ, to daily walk with God each and every day the same way – repentance and faith. That's where we will find rest for our souls and the peace that surpasses all comprehension along with overflowing joy and SO MUCH MORE! 
Ready to go for a walk now?!
Photo by Anete Lusina from Pexels

 Godprints Devotion Bible Verses

"Thus says the LORD, stand by the ways and see and ask for the ancient paths, where the good way is and walk in it; and you shall find rest for you souls.  But they said, "We will not walk in it." 
- Jeremiah 6:16
"He has told you, mortal one, what is good;
And what does the Lord require of you
But to do justice, to love kindness,
And to walk humbly with your God?"
Micah 6:8
"Therefore, as you have received Christ Jesus the Lord, so walk in Him,"
Colossians 2:6
"The one who says he resides in God ought himself to walk just as Jesus walked."

1 John 2:6
Activate:
Godprints Devotion Take-alongs

If you're like me, my Bible devotion time is limited by the busyness of the day.  Therefore I like to find ways for God to continue to bring back the thoughts and lessons from that time. That's where Godprints take-alongs come in!
Be aware of your steps.  As you walk today, be aware of your steps with your two feet.  Let them remind you to be walking with God - going the same direction He is and trusting Him for every step.
Stand facing a wall.  Think of anything that may be in your life right now that has become a wall between you and God.  Pray and talk to God about it; ask Him for forgiveness.  Now turn around and see all that is before you.  The best is yet to come with God walking alongside you!
Take a walk!  This walk isn't just for physical exercise, but also for spiritual wellness.  Think about the steps you are taking right now in life.  Know that God is with you.  He also goes before you and behind you (Psalm 139); wow!  Take deep breaths as you walk allowing your soul to rest trusting in this truth.
Write one of the verses from this lesson on a card or sheet of paper.  Take it with you and begin memorizing it.  Also, share it with someone else.  A walk may be exactly what they are needing in their life too!


© Copyright 2021 Susan Smart
More Godprints devotions like this one...or our Bible Seeker Object Lessons with extension activities for teaching. 
Special note: We do preview the websites to which we link, but are unable to peruse them completely. We try to check others' faith statements and make sure they do profess Jesus Christ as God's Son and salvation is found only in Him. It must, however, be your responsibility to personally dig into God's Word and allow the Holy Spirit to be your first and final teacher on all subjects.

"Our website may contain affiliate marketing links, which means we may get paid commission on sales of those products or services we write about. Our editorial content is not influenced by advertisers or affiliate partnerships. This disclosure is provided in accordance with the Federal Trade Commission's 16 CFR § 255.5: Guides Concerning the Use of Endorsements and Testimonials in Advertising."
---
Creative Bible-Bits Newsletter:

Let us help you keep up with what's new at Creative Bible Study with free Bible study lessons and ideas straight to your email!  Your information will be kept confidential and not be used for solicitation.

Free Ebooks: