Use this ultimate free Christian ebook list to gain access to so many wonderful tools for ministry and personal Christian growth!  In using the Internet as a pathway to get the Gospel out to a lost and dying world, many Christian authors and publishers offer free pdf formats online.
Following we have grouped these by genre with summaries, reviews and links for you to access.
This free Christian ebook is offered by Lifeway through their Gospel Project.  Written by Aaron Armstrong, this is an absolute great foundational doctrine devotional which walks through thirty short yet profound basics of the Christian faith.  Each chapter includes further Scriptures to dig deeper into God's Word.
I received the paperback copy of this devotional in my Bible Study Insider box from Lifeway Publishing and have enjoyed using it this summer; I have no doubt I will refer back to it time and time again!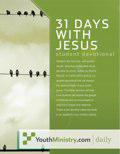 This student devotional takes a look at Jesus through the eyes of His disciple Matthew as it walks students through the Gospel of Matthew over a period of 31 days.  Youthministry.com has made this free ebook available.
Proverbs for Teens is the product of a personal friend's teaching not only her own four teens, but hundreds of teens through years of Sunday School small groups.
Jodi takes teens step by step walking through the wisdom found in the Book of Proverbs.
One way to find a free Christian ebook from Amazon that's fiction is to type in the keywords "Christian fiction" into the search box for the Kindle store, then set the "sort by" to "low to high" (price).  These change from time to time; so go back often to look.  I have found free Christian Kindle books by top authors such as Judith Pella, Dee Henderson, Terri Blackstock, Angela Ewell Hunt, Francine Rivers, Jerry B. Jenkins, and so many more.  I have also found wonderful new authors I may never have known about!
Do use caution before clicking to buy; make sure it is a $0.00 and not a sponsored advertisement that costs!
The Libby App from Overdrive can be your ticket to a huge number of free Christian fiction books!  I love to checkout ebooks for my kindle here.  You may get a library card from your local library to access these or some libraries allow you to use you cell phone number if you live within their area code.

Let us help you keep up with what's new at Creative Bible Study with free Bible study lessons and ideas straight to your email!  Your information will be kept confidential and not be used for solicitation.