Search our site:

Bedtime Books for Sweet Dreams
Reading bedtime books  with children before sleep is a great routine to set the stage for a restful night and good dreams.  We all know how important sleep is especially for young children as they are rapidly growing and developing. 
Bedtime books normally have a more calming rhythm many times using rhyming and a gentle flow.  They can change a child's focus from a possible worrisome day or not wanting to go to sleep to the magic found in a story. Books can reset the stage for a good night's sleep.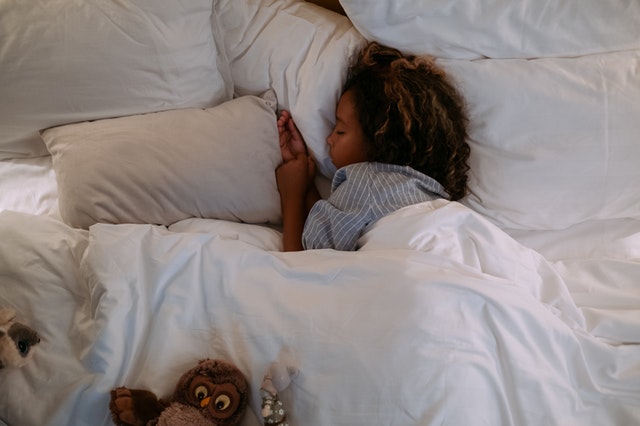 Photo by cottonbro from Pexels

Bedtime Books and Routines
Bedtime routines are important; they set expectations of moving towards sleep.  Many include bath time, putting on pajamas, brushing teeth and crawling into bed for a story.
Think about it...you sit still for a story.  Whether it's bedtime, nap time or just a quiet time, bedtime books can help a child transition from the go, go, go to a more slow, slow, slow!
Be consistent and keep it short.  Bedtime books will vary in length depending on the age of your child.  As children grow older, they need more time to settle or can even enjoy parts of a book read over a period of several nights.  
For Young Children (0-5)
Choose books with only one or two lines of text on each page.
Read slowly and pause for them to look at illustrations.
Limit reading time to less than three books. One will be enough for the very young.
Choose books with a sweet message and happy ending.
For older children (5 and up)
As children reach preschool and elementary age, not only does their reading enjoyment and ability change, but also their need for a longer bedtime routine.  More is going on in their lives; it takes longer to banish the thoughts from the day and worries of tomorrow and achieve a restful mind ready for sleep.
Bedtime books help with this!  This sweet time before bed becomes more than a routine, it becomes a time together.  Reading books and stories becomes a shared experience and expression of love.
Reading tips at this age:
Let your children choose what to read from a selection of bedtime books.
After reading together, give your child a set amount of time to continue looking at the books by themselves.
Now is not the time to focus on reading skills; focus on the enjoyment and message of the story.
Read at a relaxed pace allowing your child to enjoy the rhythm and sound of your voice as well as the illustrations.
Choose calm bedtime books for their choices - not excitable adventure picture books.
Reading Chapter Bedtime Books
Chapter books are great tools to add to your child's bedtime routine once they are at the age of listening well and imagining the story on their own without the aid of pictures.  This is also a wonderful way to introduce the fun and adventure found in chapter books for emerging readers who may see them as daunting!
Reading tips:
Set a time or page limit before and stick to it.
Since there are few to no illustrations, set aside a few minutes for book conversation; listen to his/her thoughts about the story or anything else for a set time limit. Remember bedtime stories for kids can become shared experiences.
Don't let your child read ahead without you; let the book be special for bedtime.  This will help them want to go to bed!
If your child is a reader, take turns reading pages.  Allow them (even if they are slower) to enjoy reading for the simple enjoyment of reading and not doing it alone.
Photo by Tatiana Syrikova @ Pexels

Our Favorite Bedtime Books
The soothing rhythm of Goodnight Moon has rocked many a child to sleep over the past 74 years!  I would say that makes this a classic bedtime story for children.Margaret Wise Brown based this sweet tale of a bunny telling its toys and surroundings goodnight on her own childhood bedtime routine of doing the same herself.  More ideas for Goodnight Moon
Max Lucado's classic has touched thousands of children over the past 25 years and has now been released with new illustrations in hopes of impacting new generations with its special message of God's love!
Ideas for Just In Case You Ever Wonder
This sweet bedtime book is unique because although Nancy Tillman illustrated it, the text is actually a lullaby by Eric Metaxas.  The author takes the reader on a journey through a series of animals ready to go to sleep and some putting their own young to sleep with words of love. 
Ideas for It's Time to Sleep, My Love

 I bought Time for Bed in board book format for my granddaughter.  I have always enjoyed books by Mem Fox, and this one is such a special read! I love books that use animals for these could be a mom or dad or grandparent or foster parent, etc. tucking a child into bed with love.
Special note: We do preview the websites to which we link, but are unable to peruse them completely. We try to check others' faith statements and make sure they do profess Jesus Christ as God's Son and salvation is found only in Him. It must, however, be your responsibility to personally dig into God's Word and allow the Holy Spirit to be your first and final teacher on all subjects.

"Our website may contain affiliate marketing links, which means we may get paid commission on sales of those products or services we write about. Our editorial content is not influenced by advertisers or affiliate partnerships. This disclosure is provided in accordance with the Federal Trade Commission's 16 CFR § 255.5: Guides Concerning the Use of Endorsements and Testimonials in Advertising."
---
Creative Bible-Bits Newsletter:

Let us help you keep up with what's new at Creative Bible Study with free Bible study lessons and ideas straight to your email!  Your information will be kept confidential and not be used for solicitation.

Free Ebooks: