Search our site:

An Easter Quiz Game
An Easter quiz game is a fun activity to be used to remind us of so many facts about Easter and its true importance in our lives!  Use this for a fun family Easter activity discussion or Sunday School review quiz.  This can become a yearly challenge to learn more of what the Bible says for kids, youth and adults.
Who's Who of Easter
There are many ways to use this Easter quiz.  Because the questions are divided by difficulty, you can use it with a variety of ages.  
You may want to print the "question eggs", cut them apart and place in a basket on your table for a fun mealtime discussion and look up the answers as a family for a fun Easter family devotion or worship time.
It can also be used with your small group at church as an Easter quiz challenge review or as a full Easter Bible lesson as you work your way through the various Bible verses and discuss.  Take time to think about each person represented in the Easter story remembering they were real people who lived and experienced emotions and thoughts.
Or use it as a fun Easter game keeping points with the following game rules.  A printable set of rules and Easter quiz questions are available to print at the end.
However you choose to use the Easter quiz, finally ask the final question to emphasize that the most important "I AM" of Easter is Jesus.
Final Question:  

Who Am I? 
I paid the ultimate price, died for your sin and rose from the grave because I love you!
Easter Quiz Rules & Questions:
Divide group into teams of 2-4 people.  Give each team something to write with and a stack of index cards or sheets of paper cut into 3"x5" strips.  As a question is asked give each team 30 seconds to write their answer on a card; they may talk among their team and/or look up the Bible reference to decide on the answer.  When time is up, have the teams turn their answers over.  If the answer is correct they get the number of points assigned to the question.  If none are correct give them the verse reference where it is found, and the first team that finds the answer gets the points.

Level 1 - Easy - 1 Point Questions
I betrayed Jesus for 30 pieces of silver; who am I? (Judas) - Matthew 26:14-15
I denied Jesus three times before the cock crowed; who am I? (Peter) – John 18:15-27
The people called for me to be set free instead of Jesus; who am I? (Barabbas) – Matthew 27:17
I was crucified beside Jesus; who am I? (thief) – Matthew 27:38
I went early to the tomb and saw the stone rolled away; who am I? (Mary Magdalene) – John 20:1
I met the women at the tomb and told them Jesus had risen; who am I? (an angel) – Matthew 28:5-6

Level 2 - Harder - 3 Point Questions
When Jesus was on the cross, He asked me to take care of His mother.  (the disciple Jesus loved, John) – John 19:26 
I laid Jesus in my own tomb; who am I?  (Joseph of Arimathea) – Mark 15:43-44
I was the High Priest who accused Jesus and wanted Him dead; who am I?  (Caiaphas) – John 11:49
I anointed Jesus with expensive perfume; who am I?  (Mary, Lazarus' & Martha's sister) – John 12:1-8
They brought Jesus to me for trial, but I found no guilt in Him; who am I?  (Pilate) – John 19:4
I cut off the ear of the High Priest's servant; who am I?  (Peter) – John 18:10
Level 3 - Hardest - 5 Point Easter Quiz Questions
I was the High Priest's servant who had his ear cut off; who am I? (Malchus) – John 18:10
I went with Joseph to bury Jesus in the tomb; who am I?  (Nicodemus) – John 19:39
I saw Jesus after His resurrection on the road to Emmaus; who am I?  ( Cleopas) – Luke 24:18
I carried the cross for Jesus when He could no longer; who am I?  (Simon of Cyrene)  - Luke 23:26
Jesus took us with Him to the garden to pray, but we kept
falling asleep." (Peter, James, John) – Mark 14:33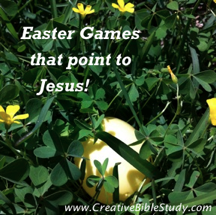 Other 
Special note: We do preview the websites to which we link, but are unable to peruse them completely. We try to check others' faith statements and make sure they do profess Jesus Christ as God's Son and salvation is found only in Him. It must, however, be your responsibility to personally dig into God's Word and allow the Holy Spirit to be your first and final teacher on all subjects.

"Our website may contain affiliate marketing links, which means we may get paid commission on sales of those products or services we write about. Our editorial content is not influenced by advertisers or affiliate partnerships. This disclosure is provided in accordance with the Federal Trade Commission's 16 CFR § 255.5: Guides Concerning the Use of Endorsements and Testimonials in Advertising."
---
Creative Bible-Bits Newsletter:

Let us help you keep up with what's new at Creative Bible Study with free Bible study lessons and ideas straight to your email!  Your information will be kept confidential and not be used for solicitation.

Free Ebooks: