Search our site:

Easter Lessons for Youth & Kids
These Easter lessons for youth and older children take a new spin on the Easter story by tying in interactive ideas and object lessons.  
Many of us have heard the Easter story so many times, we've lost our wonder.  This first lesson focuses on hearing the Easter story again with a renewed awe and worship of Who Jesus is and all He has done!
Here is a sample video version I recorded for my class during 2020 and then below is the written out Bible study lesson.  At the end you'll find a link to a pdf printable copy also.
"THe Wow Factor" 

Easter Lessons for YOuth 
Easter Lessons for Youth -


"The Wow Factor!"






Scripture: Verses from the Gospel of John

Key Take-away: When we base our identity on our relationship with Jesus and Who He is and all He has done, we can live in the amazement of Easter every day and say "Wow!"



Introduction Activity
Hold a plastic Easter egg hidden in your closed hands.  Tell students you have a surprise for them and give them a chance to guess what it is.
Once you show it to them ask if they were surprised...probably not since it is Easter and they see these everywhere right now.
Give them a chance to guess what may be in the egg; then show them it is empty.  Now were they surprised?
Sometimes the Easter story becomes so familiar to us, we've heard it so often, we lose our sense of wonder.  We lose the "Wow" of Easter.
Today we'll look through the eyes of an eyewitness though and see Easter wasn't just an event that happened about 2,000 years ago; it's something that can fill our life daily with its amazing wonder!
Finding Our Identity...Who Are You?
Ask students - "If you were to tell someone who you are without using your name, what would they say?
On what do we base our identity?
John's Identity
When we read from the Gospel of John, we first need to identify which John this is that God used to write this Book of the Bible. This was not John the Baptist, but it was John the disciple, the fisherman.  John was most likely one of the first two disciples to begin following Jesus along with Andrew. 
John never calls himself by his name in his writing; through his writing we can see his identity was based on his relationship with Jesus.
Read the following Bible verses together:
John 13:23 - "The disciple Jesus loved was sitting next to Jesus at the table."
John 18:15 - "Simon Peter followed Jesus, as did another of the disciples. That other disciple was acquainted with the high priest, so he was allowed to enter the high priest's courtyard with Jesus." (Acts 4:6 mentions John as being related to the high priest.)
John 19:26 -  "When Jesus saw his mother standing there beside the disciple He loved, He said to her, "Dear woman, here is your son."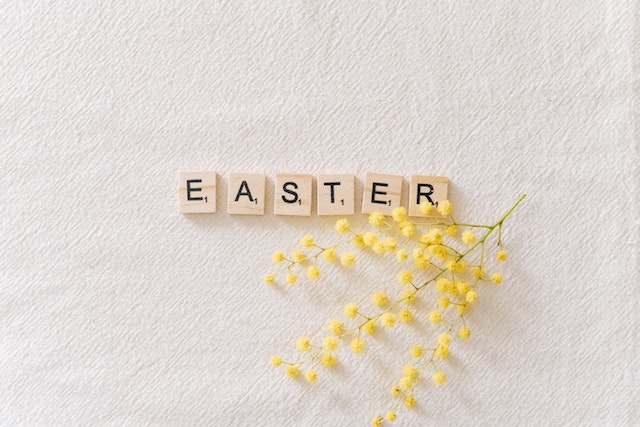 Resurrection Morning
Read John 20:1-10
Even in the account of that resurrection morning, John does not call himself by name.  He calls himself - "the disciple Jesus loved."
At first glance we may think John is being a little conceited, but in actuality, John is being humble having learned the lesson from Jesus that the first shall be last and the last shall be first.  John chose not to bring attention to himself by using his name; instead he focused on who he was in relationship to Jesus.  John also was not saying Jesus loved him more than the others, but he based his identity on the fact he was loved by Jesus.
John recognized the "Wow" and wonder of Easter.  He identified himself as someone Jesus loved, someone Jesus died for, someone Jesus rose from the grave for, someone Jesus forgave and gave eternal life to.
The Scripture says in verses 8-9 of chapter 20, "Then the disciple who had reached the tomb first also went in, and he saw and believed—  for until then they still hadn't understood the Scriptures that said Jesus must rise from the dead."
John now understood the story of Easter had become personal for him, his very identity and life was found in Jesus and ours can be too!
Easter Lessons for Youth


WOW Factor

John 20:8 said John saw and believed.  He had known with his mind what the Scriptures said about the Messiah, but now he understood with his heart!  When we experience with our heart Who Jesus is and all He has done for us we can believe, trust our lives to Him, and experience the "Wow" of Easter!
Have students make a "Wow face" by holding three fingers in a W on each hand beside their face and making their mouth into an O as they say the word - "Wow!"
Most of us know another Bible verse written in John's gospel - John 3:16. 
Have students turn to John 3:16 in their Bibles and say it together as a group.
Say it again as a group, but this time have everyone substitute their name in place of the world - "God so loved ____________..."
These words Jesus spoke to Nicodemus explaining how we can be born again spiritually and receive eternal life.  
Optional - Faith Demonstration Object Lesson
If we are already a believer in Christ, we need to take time to remember Who Jesus is and all He has done for us and experience the "Wow" of Easter anew and every day of our life.  We are a child of God!
Turn back to John 1 and read aloud verses 12-13:
"But to all who did receive him, he gave them the right to be children of God, to those who believe in his name,  who were born, not of natural descent, or of the will of the flesh, or of the will of man, but of God."
We are loved by God not because of anything we have done but because of our relationship with Him as His child.  
An EyeWitness
As we have seen, John could base his identity on Jesus because he knew Jesus personally not just about Jesus.  He saw Him, listened to Him and spent time with him.
He was one of the first to follow Jesus, he walked and lived with Jesus seeing His miracles and hearing His teachings for about three years.  He was one of the three disciples closest to Jesus along with Peter and James. He was beside Jesus at the Last Supper, in the garden when He was arrested, in the courtyard when Jesus was tried, at the foot of the cross with Mary and one of the very first to see the empty grave where he saw and believed!
When we come to believe and trust Jesus through faith and are saved by God's grace having our sins forgiven, we can also call ourselves, "a disciple Jesus loved!" 
Like John, we become eyewitnesses of Who Jesus is and all He continues to do.  We can experience Jesus with us every day and learn from Him through His Word, the Bible.
And as we continue to experience the "Wow" of Easter's gift of eternal life, we are to share it with others as John and the other disciples did.
Sharing the Wow
Sharing the "Wow" of Jesus isn't difficult; God has made it easy by giving us "Wow" factors in nature all around us! We can use these amazing occurrences to begin Gospel conversations about how awesome God is and that He loves us so much that He is willing to forgive us and give us new life!
Have students think about and share "Wow" factors such as the following and discuss how these can be used to start a gospel conversation:
Caterpillar turning into a butterfly. (1 Corinthians 5:17)
A tiny acorn that grows into a huge oak tree. 
Our eyes that see colors. 
An oyster can make a pearl.
A rainbow appearing.
Radio waves that transport information.
Saliva that causes chemical reaction for us to taste foods.
Piece of dust that becomes a snowflake.
A fun activity is to write several on cards and have students guess through a game of charades or Pictionary.  Then give them a chance as a group to discuss how to weave each into bringing up the topic of Jesus and the gospel.
Printable Lesson Plan - "The WOW Factor of Easter"
Music

Easter Lessons for Youth
The end of a lesson is a great point to allow students to have a few moments to "sit" in what they've learned.  This song by Lauren Daigle is one which can be played as they think on who they are in Christ and continue to be amazed by the Easter story impacting their life.

More Easter Lessons for Youth
"The Colors of Easter...Who is Jesus"
Special note: We do preview the websites to which we link, but are unable to peruse them completely. We try to check others' faith statements and make sure they do profess Jesus Christ as God's Son and salvation is found only in Him. It must, however, be your responsibility to personally dig into God's Word and allow the Holy Spirit to be your first and final teacher on all subjects.

"Our website may contain affiliate marketing links, which means we may get paid commission on sales of those products or services we write about. Our editorial content is not influenced by advertisers or affiliate partnerships. This disclosure is provided in accordance with the Federal Trade Commission's 16 CFR § 255.5: Guides Concerning the Use of Endorsements and Testimonials in Advertising."
---
Creative Bible-Bits Newsletter:

Let us help you keep up with what's new at Creative Bible Study with free Bible study lessons and ideas straight to your email!  Your information will be kept confidential and not be used for solicitation.

Free Ebooks: