Search our site:

Duck Dynasty & Faith
As I opened my iPhone Devotional App this morning, the words "Duck Dynasty" caught my attention!  Knowing some of the Robertson family and how real their Christian faith is, I was thrilled to see that another believer had written a devotion highlighting their family faith and how they share Jesus so naturally!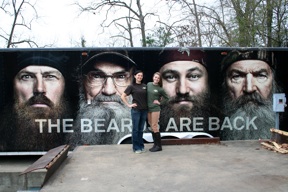 The following devotional was written by David B. Doty of Eden's Bridge.org.  Dave believes, blogs and shares how we as believers can and should share our faith naturally in the marketplace or any other line of work.  He has created excellent Faith Apps that are wonderful to have on your phone and/or iPad. Two are absolutely free, and all three are available for iPhone/iPad and Androids.
The Duck Dynasty devotional - "Stand Before Kings" was written for the Beyond Bible Devotion App.  After reading it, you'll probably want to purchase the app!  It's only $2.99 and worth every penny of having well-written and sound theological Bible devotions that challenge and encourage right at your fingertips any time of the day! You'll also be supporting his ministry!

Disclosure: Although I just sounded like a commercial - no, I don't work for Dave!  In fact, we haven't met in person.  Yet after reading his devotions, I have connected with another brother-in-Christ that loves Jesus and is using his gifts to help build His kingdom.  Also, he has graciously entrusted me with reprinting this devotional.  Please do not copy or share without his permission; all copyrights belong to him.
---
Stand before Kings
"Do you see a man skilled in his work? He will stand before kings; He will not stand before obscure (unknown) men" – Proverbs 22:29.
The television show Duck Dynasty is one of my current favorites. One of the first things I noticed is that the family gathers for a meal at the end of each episode and Phil, the family patriarch, prays before they eat. The show is funny but the Robertson family members do not swear. It is obvious they are a very close group. Today I found an article about Duck Dynasty on the Christian Chronicle web site. The story behind the televised "story" is that the Robertson's are all evangelical Christians, all active in their church.
 What is exciting is that television has given the Robertson family a platform to preach the Gospel. Now you will not hear much about their faith during the show. Their Christian faith becomes obvious if you watch more than an episode or two, but most of their faith-oriented comments made during taping end up on the cutting room floor. But watch out!
 The Robertson's are quickly becoming cultural icons…rednecks with money! But these "rednecks" also have college educations and they live wholesome, good lives amidst the wretchedness so prevalent in the world today. And they have an audience!
 The public cannot ignore the Robertson's and the television network cannot stop them from preaching the Gospel during their numerous (and growing) public appearances. And all of this because one man, the Duck Commander, Phil Robertson, worked hard at perfecting high quality duck calls, a product he uses as a prolific hunter, and because Phil Robertson and his wife Kay raised four godly sons (you only see three of them on the show…the other one does not have a beard).
 Now the Robertson family business has grown into a multi-million dollar a year enterprise and the family is doing quite well. But more importantly, they have stayed true to their Christian roots while becoming cultural pop stars in their own right. The good life they live is a testimony to anyone watching of the love of God poured out on his children.
 At this point, the Robertson's may not stand before kings but they are known to political and business leaders. Their testimony is being broadcast across the country and, via the Internet, around the world. Who knows who is watching!
 The Hebrew term for work in the verse above is melakah which we would usually translate as "occupation." How we spend our time, and especially our productive efforts in the marketplace, and how well we do what we do is a testimony to the glory of God. The Bible says Christians are "a nation of royal priests." That means we minister to God. . . our lives serving as sacrifice to God. In Genesis 2:15, the Hebrew term for work is `abad, which is used in several different contexts. In addition to Adam being made to work in the Garden of Eden, `abad shows up as the "service" of the Levitical priests in the Temple, and in Moses' argument with pharaoh when the people were to go into the desert to worship (`abad).
 God created us to work. When we do it well, it is more than simply a productive means to the end of receiving a paycheck. In the beginning, God created everything . . .he works. When we do our work well, it is a testimony to the glory of God and we can rest assured the world is watching.
© 2012 by David B. Doty
---
You may also enjoy reading the Christian Chronicle article Dave mentions that tells more about the faith behind Duck Dynasty!
Also, Sadie Robertson, of the Duck Dynasty family has recently begun a YouTube show designed to encourage young girls to be the "original" God has created them to be!  Following is her intro video:
Special note: We do preview the websites to which we link, but are unable to peruse them completely. We try to check others' faith statements and make sure they do profess Jesus Christ as God's Son and salvation is found only in Him. It must, however, be your responsibility to personally dig into God's Word and allow the Holy Spirit to be your first and final teacher on all subjects.

"Our website may contain affiliate marketing links, which means we may get paid commission on sales of those products or services we write about. Our editorial content is not influenced by advertisers or affiliate partnerships. This disclosure is provided in accordance with the Federal Trade Commission's 16 CFR § 255.5: Guides Concerning the Use of Endorsements and Testimonials in Advertising."
---
Creative Bible-Bits Newsletter:

Let us help you keep up with what's new at Creative Bible Study with free Bible study lessons and ideas straight to your email!  Your information will be kept confidential and not be used for solicitation.

Free Ebooks: